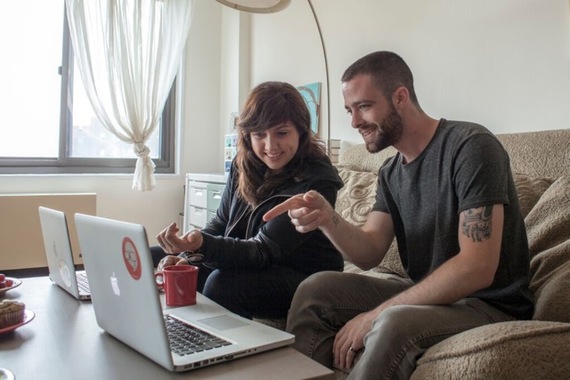 Finally, there's a coworking model in NYC that won't break my business budget. As a full-time, small business owner who works solely out of my home, I am grateful to have an alternative option in the NYC co-working scene.
Meet Weleet--a start-up company who is focused on building a true community. Yes, Weleet provides space to work, and yes, you'll get to meet inspirational people and work alongside of them. But, the real value for all Weleet members is due to an exchange in skills, resources, ideas, energy, wisdom, and support. Entrepreneurs will be the first to tell you that once they find support in their weakest areas their businesses take off. It is at this crucial point of optimal support that they are then able to offer amazing services and products to the world. Coworking allows us the opportunity to meet others who can help our businesses flourish--but not if we are shelling out upwards of $500 a month for a shared, crowded, noisy room.
You might be wondering, how does Weelet work? Weleet helps freelancers, entrepreneurs, consultants, creatives and others connect to cowork and trade and share space, skills, and resources. Anyone can join the Weleet community through a subscription-based membership plan. The free version allows you to set up your profile, post your schedule, list your space (for coworking) and explore the existing community. For $9.99/month, you can do all of the above, connect with others, send and request invites to share space, and leave ratings and reviews of other members.
Probably the most fascinating feature of the Weleet model is the Totem assessment tool. Weleet Totems represent the community's coworking personality types and groupings. Are you a shy, quiet, whiz kid? Then your Totem might be The Genius. Are you an outgoing, chatty, passionate public speaker? Then your Totem might be The Champion.
Whether you're a freelance writer or designer, a startup entrepreneur, an independent consultant, or even someone who has an office--but just likes to work from home or other spaces to mix things up--you have a certain coworking personality type when you work with others. Weleet helps you find the people you are going to be compatible with when working.
Once you have received the results of your Totem, you can connect with others in the community using Weleet's own algorithm. Then, it's time to create, attend, and manage your own coworking sessions using the calendar and booking tool. You will also have exclusive access to Weleet sponsored coworking sessions at unique venues.
For example, you can join a coworking "field trip" hosted by Veronica, one of Weleet's Featured Members. The last field trip included a day of coworking outside in Bryant Park, followed by a screening of Ghost Busters on the park lawn. Snacks and blankets were included. Or maybe you'd like to join Michele, a designer, for a morning or day of creative brainstorming and writing at her home art studio in Harlem, where she always serves up amazing teas from her travels around the world. If neither of these suit your coworking personality, you can join a coworking session at a local coffee shop where you will not only be guaranteed a seat by Weleet, but you will also receive free coffee and/or other perks throughout the day.
Weleet's founder, Jennifer Gore, grew up in Santa Fe, New Mexico and went to college in Texas. In 2000, when Jenn arrived in New York City for her first job as a copywriter at Young & Rubicam on Madison Avenue, she was shocked. There was no way to know that she was joining advertising at the end of an era. Jenn watched the advertising industry move from the days of Mad Men to complete failure due to missing the digital revolution.
Jenn then became fascinated by social media and the potential of the sharing economy. She witnessed firsthand the shifting values of Millennials and Generation Z, who both continue to show that they don't value making money as much as they value making an impact on the world they live in. "This notion is completely transforming our workforce and will continue to do so as these two generations begin to age into decision and policy-making roles," say Jenn Gore.
It were these key points that made the Weleet founder recognize that with the shifts in economics, education, and technology, these newer generations would comprise a workforce unlike any other workforce we've ever seen. Thus, the idea of Weleet was born. "I think 9-5 jobs will begin to subside as people create work days (or nights) that cater best to their own personal and family needs, wants, and internal clocks. The what, how, when and why people work the way they work is definitely on a spectrum and not cookie cutter...which is why I think a platform like Weleet can benefit them. I started Weleet to solve my own problem and quickly realized I was not alone. Literally."
As for the name "Weleet", Jenn really wanted a name that conveyed a sense of community and togetherness--but also spoke to the tectonic shift that was happening in the workforce. By the year 2020, over half of the US workforce will be independent workers. Hence Weleet means "We + Elite" (or together). Collaboratively, Weleet is building this new elite workforce. Jenn reflected, "I also loved the idea that the name was a new word as it's describing a whole new way of working."
Calling all HuffPost superfans!
Sign up for membership to become a founding member and help shape HuffPost's next chapter