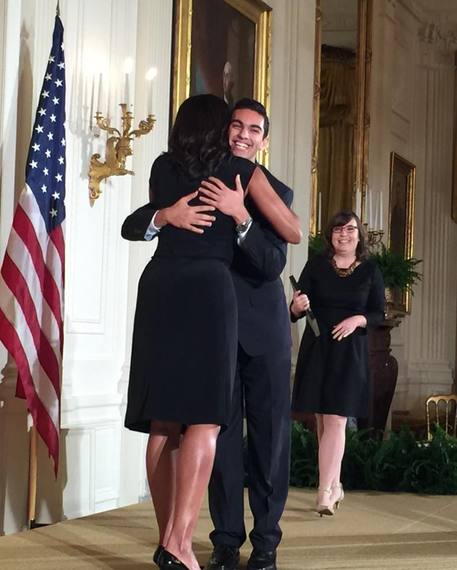 On November 17th, "the biggest party ever" was held at The Telling Room in Portland, Maine to watch a live stream of First Lady Michelle Obama awarding its executive director, Heather Davis and Deering High School student Ibrahim Shkara the 2015 National Arts and Humanities Youth Program Award, the nation's highest honor for exemplary after-school arts programs.
The program being honored is The Telling Room's Young Writers & Leaders, a national model for assimilating immigrant and refugee communities that serves 30 students from close to 20 different countries each year.
This program helps improve these students' writing skills, academic performance, social and emotional wellbeing, and increases their chances for future success.
100% of the program's seniors have gone on to college.
By writing, sharing their personal stories publicly, and publishing a collective book of their essays, the students humanize their experiences, encouraging the Maine community to respond.
The party goers watching the White House award presentation from Portland included alumnae of the Young Writers & Leaders program, teachers, Telling Room staff, volunteers, board members, and friends of this vital organization, whose range of programs serve 2,500 students ages 6-18 each year, including mainstream students, at-risk youth, homeschoolers, gifted and talented students, and those with learning challenges.
Since its founding in 2004, The Telling Room has engaged more than 12,000 young people in their youth writing programs.
On stage, the message from First Lady Michelle Obama and others was clear: "Arts education is not a luxury, it's a necessity."
"You can't help but be moved by these kids, who show us the transformative power of the arts and humanities," said Rachel Goslins, executive director of the President's Committee on the Arts and Humanities. "They are staying in school longer, getting better grades, graduating from high school and going on to college at significantly higher rates than their peers. And they're building skills that will last them a lifetime."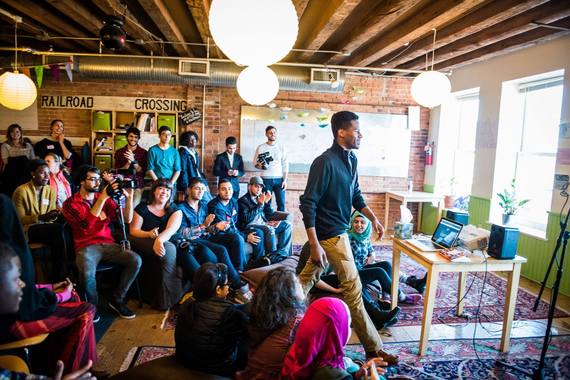 At the party in Maine, while waiting for the live stream to begin, the Telling Room staff, ever-warmly and sincerely, invited alumnae of the Young Writers & Leaders program to come to the microphone and share a phrase of what the program or the Telling Room has meant to them.
As a teacher myself, I thought this was risky - would anyone dare come forward in a crowd so large?
And then, over the course of an hour, I watched nearly every student come forward and share phrases that at times brought tears to the eyes of the group gathered.
They told how the program had welcomed them, given them confidence to share... changed their lives.

"The Telling Room is about love," said Congolese alum Emmanuel Muya. "It's about getting to know someone strange to you and about welcoming immigrants to this country from all over the world, because we're all immigrants to this country."
The juxtaposition of the Paris attacks and the ensuing fear and dialogue was not lost on me as I left the party on that sunny afternoon. I was walking six inches off the ground, having experienced the deep positive energy of love, gratitude and community both in my small town and our nation's capital.
We at The Telling Room hope the White House recognition will help us raise funds to ensure that every child who wants to take part in our programs has the opportunity.
Smiles so broad is how I'd describe both those gathered at the White House accepting awards from Mrs. Obama and for those of us fortunate enough to share the experience from afar.
I didn't turn on the evening news that night...
...preferring instead to let the love that human beings can share and accept wash over me.
Photo of the Telling Room party in Portland, Maine by intern, Brian Threlkeld
Calling all HuffPost superfans!
Sign up for membership to become a founding member and help shape HuffPost's next chapter