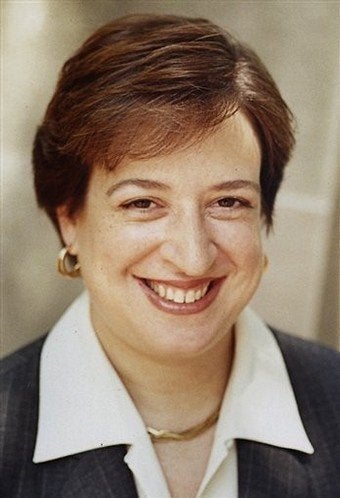 It's an odd thing to get attacked by the White House for a blog post, and odder still when the attack is for something mentioned in passing, and intended to highlight a political positive about a potential Supreme Court nominee.
As Sam Stein writes: "The White House reacted strongly to the assertion, relaying that Kagan is, in fact, straight. It was the first public pushback by the administration in defense of any potential Supreme Court nominee."
I erroneously believed that Ms. Kagan was openly gay not because of, as Stein describes it, a "whisper campaign" on the part of conservatives, but because it had been mentioned casually on multiple occasions by friends and colleagues -- including students at Harvard, Hill staffers, and in the sphere of legal academia -- who know Kagan personally. And as the reaction from Julian Sanchez and Matt Yglesias shows, I was not alone in that apparently inaccurate belief.
Look, it's 2010 -- no one should care if a nominee to any position is gay. The fact that conservative Senators John Cornyn and Jeff Sessions have recently expressed openness to confirming an openly gay nominee to the Court is a good thing. Senators should look at things that actually matter -- evaluating a nominee's decisions, approach to the law, their judgment and ability -- to see whether there are actually good and relevant reasons to oppose the nomination. That's all.
But that's about getting the job. As a political matter, there are ramifications for nominations to the Supreme Court, and the core elements of a nominee's biography, like his or her family life, are inescapable when the nation focuses on such a high-profile life-tenured appointment. Making history is a noteworthy thing: many in the Latino community were pleased when Sonia Sotomayor (who I supported) was nominated, and many in the LGBT community would welcome the opportunity to confirm an openly gay justice. Glenn Greenwald and others agree with me on this point, and I can't think why anyone would disagree.
That's why I listed it as a positive: after so much frustration with the White House from the gay community on lack of action on other policy fronts, an openly gay nominee might serve to mend that strained relationship.
As I told Howard Kurtz, and I say again here, I offer my sincere apologies to Ms. Kagan if she is offended at all by my repetition of a Harvard rumor in a speculative blog post. It still seems odd to me that the White House would single out this statement for attack, adamantly slamming closed a door that nobody was trying to open, as opposed to issuing a mild correction. As Yglesias notes, "I'd like to think we're past the point where saying someone's a lesbian counts as a dastardly 'accusation,'" and it certainly was not intended as such.
But on the other hand, if I were Ms. Kagan, I'd feel pretty good about the fact that the White House specifically responded to this, and did so in such an aggressive and forceful manner -- after all, it seems like quite a clue as to who the pick will be, doesn't it?
Related
Popular in the Community