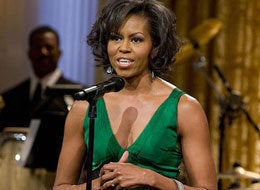 The United States has a bright, classy, and dedicated First Family. Virtually every day brings another example of how we might actually have the real "Best and Brightest" living at 1600 Pennsylvania avenue.
Its most important role, Mrs. Obama said, will be to educate children about healthful, locally grown fruit and vegetables at time when obesity has become a national concern.
Who know what sort of influencers or discussions helped Michelle arrive at this decision? Does it really matter, it is the very sort of exemplary activities that have could have real meaning, associated with real policies that help others pursue the same sensible paths.
Twenty-three fifth graders from Bancroft Elementary School in Washington will help her dig up the soil for the 1,100-square-foot plot in a spot visible to passers-by on E Street. (It's just below the Obama girls' swing set.) Students from the school, which has had a garden since 2001, will also help plant, harvest and cook the vegetables, berries and herbs.
We've heard that Michelle had decided that Washington, DC, would receive special attention her, that the White House (that she) would pay attention to its 'neighborhood.'
What a path for engagement. And, what a path for the Obama girls to establish friendships beyond their private school classrooms, weeding and getting food for their dinners all summer long with these Barcroft students.
And, this was advocated by many as a symbolic measure as 'Edible Estates', transforming America's addiction to sterile grass lawns into producing food, is a key path toward a more sustainable and climate-friendly society as, year-by-year, the average distance from the farm to the kitchen table gets longer and longer (over 1000 miles, on average, in America).
Now, don't know about the Bush family, but the previous Democrats also had some home-grown vegetables, but nothing as impressive.
The Clintons grew some vegetables in pots on the roof of the White House. But the Obamas' garden will have 55 varieties of vegetables -- from a wish list of the kitchen staff -- grown from organic seedlings started at the executive mansion's greenhouses.

The Obamas will feed their love of Mexican food with cilantro, tomatilloes and hot peppers. Lettuces will include red romaine, green oak leaf, butterhead, red leaf and galactic. There will be spinach, chard, collards and black kale. For desserts, there will be a patch of berries. And herbs will include some more unusual varieties, like anise hyssop and Thai basil. A White House carpenter who is a beekeeper will tend two hives for honey.
Have to say, this sounds like a pretty impressive 1,100 square feet.
While most of use don't have dedicated greenhouses, a staff beekeeper, and other support, what is the sort of cost to get this done?
Total cost for the seeds, mulch, etc., is $200.
Less than 20 cents per square foot for the dirt and the seeds for how many $1,000s worth of food? Imagine the formal White House dinner where the President calmly mentions to another nation's leader that they're eating salad that he picked earlier in the day with his daughters.
And, how organic will this plot be?
The plots will be in raised beds fertilized with White House compost, crab meal from the Chesapeake Bay, lime and green sand. Ladybugs and praying mantises will help control harmful bugs.
Have to say, this is one time where we should just say: go to the New York Times article, it's worth the read.
Now, this is partially about motivation. Will Michelle, Barack, Malia, and Sasha motivate anyone with the dirt under their fingers. If D-Day is any indication, the answer is yes:
This has inspired me. I currently don't have the space for a garden, but I've been meaning to get one of those small planters on rollers to grow a few crops. Thanks, Michelle.
Tuesday, Michelle was with YouthBuild on the Mall where one of the training areas was on how to put in an organic vegetable garden on the roof of an urban building. Friday, she will be getting dirt under her fingernails helping to create an organic urban garden.
For helping foster a more sustainable, a healthier, a richer America, Michelle Obama has had a good week.
I don't know about you, but I'm looking forward to seeing what she'll do next week.
Calling all HuffPost superfans!
Sign up for membership to become a founding member and help shape HuffPost's next chapter