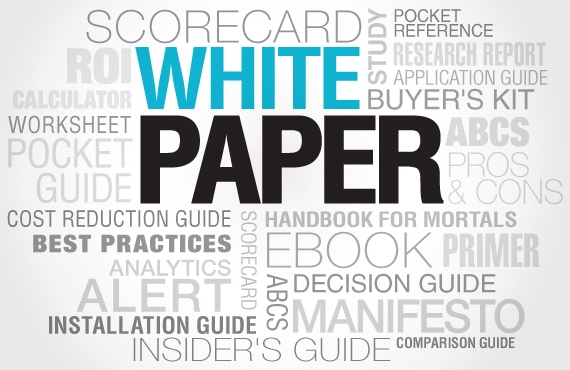 White papers seem to be falling out of favor. Perhaps our preferred screens have become too small and our attention spans too short. Or maybe it's the perception that white papers are only for large, corporations selling complex technologies.
I am here to tell you that rumors of the death of the white paper are greatly exaggerated. And they're not just for the Fortune 500. White papers may have the longest shelf life of all content, and they can be sliced and diced to meet a variety of marketing purposes and repurposes.
I sat down recently with Gordon Graham, aka "That White Paper Guy" and author of White Papers for Dummies, which is part of the "Dummies" series from Wiley. My interview with him will debunk some of the misconceptions about white papers, and may get you thinking of ways to include them in your own content mix - even if you are a small business or a B2C marketer.
Fox: Gordon, I want to key in on your small business background and how a white paper can help a small company find and connect with customers. I understand as VP of Marketing you helped take a company in wireless barcode scanning from $250,000 to $14 million. How did you do it?
Graham: I think it was the willingness of the business owners to try different things. I would suggest something, and more often than not they would say, "Yes, let's try that." Two things that really connected for us and really got us traction were white papers and case studies.
Fox: Give an example of a successful white paper you created for the business.

Graham: It ended up being more of a booklet that featured a fictitious company we called Acme Tricycle Works. It involved two people - Victor the Vice-President, who was the decision maker, and Martin the IT Manager, who made technical recommendations. We had them walking through Acme, going into every department and making observations about how things were before our technology and after. It was something of an extended customer story based on a fictitious composite of a lot of our customers.
Fox: It was a published as a physical document?
Graham: Yes, as a book. It was the late '90s, so I might look at it differently now. But we deliberately decided to make it like a physical trophy. It was the most lavish thing we ever did, but that little booklet earned us millions of dollars' worth of sales.
Our west coast sales rep summed it up nicely when he said, "I go to a meeting and I put a copy of our little book at everyone's place, and you can see in their eyes that we have just risen to the top of their vendor short list because we look like a big, professional company."
Fox: What's interesting is that here you turned a lowly white paper into a story that people could identify with.
Graham: It was powerful, especially since we were a small company competing with big companies who had been in business much longer and had millions of dollars to spend. Yet, we would regularly beat them out on projects. Finally, one of our big competitors got so tired of dealing with us, they just bought us out.
Fox: That is powerful, yet when I talk about white papers to clients these days, their eyes roll up in the top of their heads. They're like, "Oh, no. Here we go again!"
Graham: Well, I guess there is something of a fatigue factor. I've seen so many articles lately with people posing the question, "Are white papers dead?" or outright declaring, "The white paper is dead!"
I think anything that's poorly done is going to fatigue people and I would say the majority of white papers out there are not very effective. They make the same mistake over and over - too much selling. A white paper's not supposed to be a sales document. It's supposed to help people understand some kind of issue or solve a problem or make a decision.
Fox: It seems to me that another attribute of a good white paper is that it contains content you can re-purpose and reuse.
Graham: Yes, a problem-solution white paper can generate probably three or four blog posts. You just take every section, boil it down a bit and post it. Then at the bottom say, "For more discussion, see the full white paper here." Another obvious way to re-purpose a white paper is to boil it down to a slide deck, and then you can post that on sites like SlideShare.
Fox: We have been talking mostly about B2B - how can white papers help companies that sell consumer goods and services?
Graham: Here is a B2C example from a small business in Pennsylvania, a guy who runs an interesting niche. He mails invitations and special offers to new people who have moved into a neighborhood, information he gets from residential sales, movers and the US postal service. People who move into a new house in a new town need all new services and information on local businesses. Imagine you get this mail with offers like, "Come to Joe's Garage and we'll give you a free oil change." You go to Joe's Garage and chances are they will become your new garage.
We developed a white paper to help attract local retailers like Joe's Garage. It talks about why people move, how they move, where they're moving and other information, including graphics to show the opportunity. This white paper has been on his website for seven years now, and it's still being downloaded hundreds of times a year! As long as prospects are still suffering the same pain and struggling with the same problems, it remains relevant and useful.
Fox: How does a business go about developing a white paper?

Graham: The general process of doing an effective white paper is to start with a problem that your prospects are facing [most likely, your customer service team has a long list and FAQs]. And then do some research to flush out the problem in detail. Also, get a good handle on your purpose, which is most often related to the sales funnel. Are you trying to generate more leads? That's the top of the funnel. Nurture existing prospects or keep them engaged through a complex sale? That's the middle. Supporting an evaluation or business case is the bottom of the funnel.
Fox: In your book, you discuss three kinds of white papers that you label as the popular ice cream flavors of vanilla, chocolate and strawberry. I think that's brilliant because everyone loves ice cream, or at least can relate to it!
Graham: Exactly! The idea came to me while I was going through the list of white papers I had written, and realized that most of them fell into one of three buckets. I figured, why not turn them into buckets of ice cream!
Fox: Vanilla is the prototypical backgrounder, the usual technical or financial business benefits of something. My apologies in advance for a bad pun, but how about a few licks of strawberry and chocolate...
Graham: Chocolate is the problem-solution white paper. I call it chocolate because it's the richest and most complex flavor. It's the one you can post on a website for years, refreshing it if needed with more recent statistics. It will keep generating leads, literally for years.
Strawberry is light and lively. The really fun, fresh flavor of strawberry white papers is the Numbered List. I would say these days at least half of the white papers I do wind up being numbered lists because everybody likes them. Another light version of a white paper is something I call the "Cheat Sheet" which is a geared to help B2B marketers when their sales reps ask for something short they can leave behind at a meeting or e-mail to prospects. The fact is, we all have too much to read and too much information coming at us from all different angles. That's what makes strawberry so popular.
Fox: Do you include graphics or anything else to liven up the story or highlight particular points? And how are most white papers published these days?
Graham: White papers have become more visual and better designed over the years. I would say definitely put a visual cover on it. Use charts and graphs and good typography. If you have a budget, spend some extra money on a professional designer.
As for publishing, usually they are published as PDFs and distributed online. There are sites like Knowledge Storm and Find White Papers for publishing white papers. Also check out your industry trade magazines or associations to see if you can get your white paper posted on their site or run and ad with a link to the white paper back on your site. It's a great way to attract new prospects.
Too much information remains locked up in the minds of subject matter experts. A white paper can capture that know-how to help promote any B2B concern, and many B2B companies as well. It's a foundational piece of content that sales teams want and prospective customers need.
Additional resource:
: Here's a list of common synonyms for "white papers." Depending upon your audience, these terms may help you strike the right tone for your resource...even better than "white paper."
White Paper
Pros & Cons
ABCs
Decision Guide
Analytics Alert
Insider's Guide
Worksheet
Scorecard
Handbook for Mortals
Manifesto
Study
Application Guide
ROI Calculator
Cost Reduction Guide
Installation Guide
Pocket Guide
Bulletin
eBook
Primer
Pocket Reference
Buyer's Kit
Research Report
Comparison Guide
Best Practices
© 2014 John Fox. All Rights Reserved.
REAL LIFE. REAL NEWS. REAL VOICES.
Help us tell more of the stories that matter from voices that too often remain unheard.