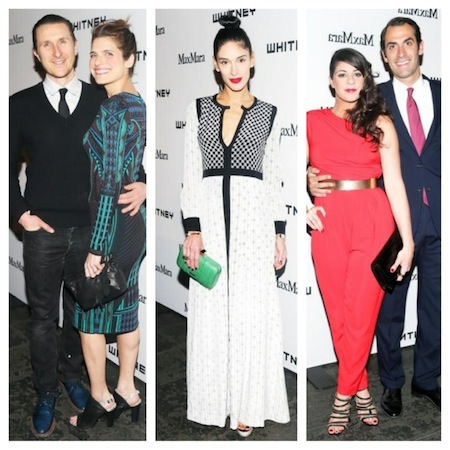 Scott Campbell and Lake Bell, Althena Calderone, Maria Giulla Maramotti and Roberto Magnoni
On perhaps the most beautiful evening of the spring season so far in New York City, the Whitney Museum joined forces with the iconic luxury brand MaxMara and threw an Art Prom (Party) for 1,000 of their closest friends, artists and up-starts.
Held in the Skylight room of the Moynihan Station (a fancy name for a kick-ass refurbished parking garage) guests sipped the finest champagne, nibbled on the tastiest hors d'oeuvres, danced to the trippiest music and oh yeah - viewed some of the most awe inspiring art created by a hand picked group of young artists.
While each creative faction trotted out their coolest, hippest and richest human trophies, there were a few well placed attendees that seemed to hover and reign above the rest of us mere mortals.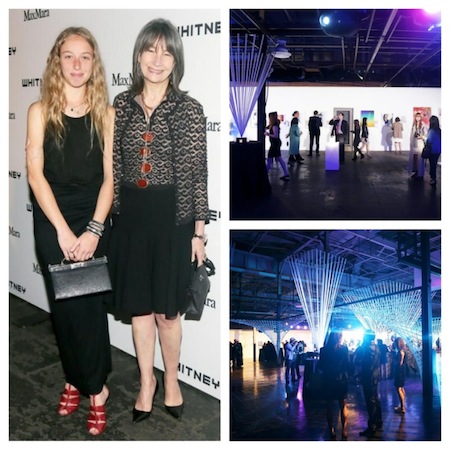 Mallory Neidich and Brooke Garber-Neidich
I don't know how to put this in nicer or more politically correct terms, but the board of the Whitney Museum should thank their lucky stars for Mrs. Brooke Garber-Neidich. If there was ever a course in how to effortlessly work a room from top to bottom and side-to-side, the professor could only be Brooke Garber-Neidich. Mrs. Garber-Neidich, a dedicated and prominent figure at "all things Whitney", always appears to be genuinely interested in meeting and greeting almost everyone in the room. At moments she can be found whispering with silver-haired patrons in a corner, while seconds later listening intently to an emerging painter, sculptor or burgeoning curator. How she maneuvers these dueling paradigms is truly performance art at its height. But she does it all with tremendous style, grace and intelligence.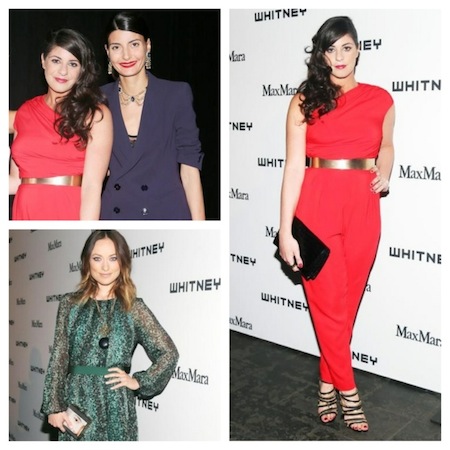 Giovanna Battaglia and Maria G. Maramotti, Olivia Wilde, Maria G. Maramonti
Representing the fashion industry and her family's business and legacy was the animated and feisty Maria Giulla Maramotti of MaxMara. Where do I begin... When we sat down for a little chat I was completely expecting to receive a barrage of talking points nicely packaged and recited. But what I received was the exact opposite. This young spit fire knows her family's business inside and out and has zero desire to chit chat about hemlines and shades of greige. She's all business, strategy and numbers delivered with an Italian flare. I must admit it was refreshing listening to her explain about her daily visits to MaxMara's New York boutiques and showroom as well as how she conveys this important feedback to their corporate offices in Italy. However, what was the most intriguing and inspiring is how vested she and the MaxMara brand are in the art world and more importantly, young/emerging artists.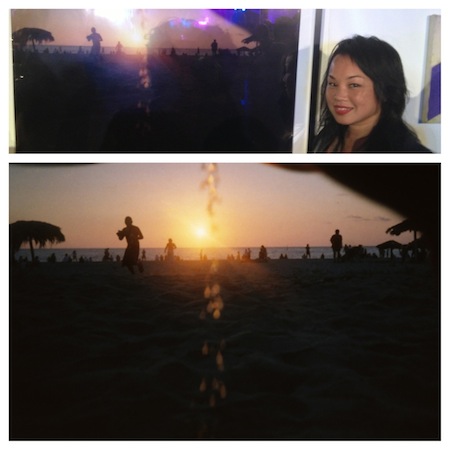 Artist Ellen Jong, Millennium (2013)
And finally this brings me to the highight of the evening, the Whitney Art Prom Queen - Ellen Jong.
While there were many impressive works by artists such as Daniel Newman, Amy Globus and other notables - the piece that stood out the most and perhaps created the most well deserved buzz was Ms. Jong's piss portrait entitled Millennium (2013) . According to Ellen, the photo was taken during the last sunset of the millennium on December 31, 1999 on an active and spirited beach in Puerto Escondido, Mexico. What I found to be the best part of people watching came in the form of witnessing the faces of onlookers as they slowly came to realize what was taking place within the confines of this engaging frame.
As the evening finally came to a satisfying close and the well heeled New Yorkers started making their way towards their awaiting chauffeured Escalades, taxis and subways - I was suddenly overcome by an inexplicable sense of disappointment. What was this feeling? Then it hit me like a ton of bricks - I had once again been denied the title of Prom Queen. Oh well, there's always next year and something tells me I may also have a piss portrait or two inside of me just dying to get out.
all photos courtesy of: David X. Prutting, BFA
Popular in the Community