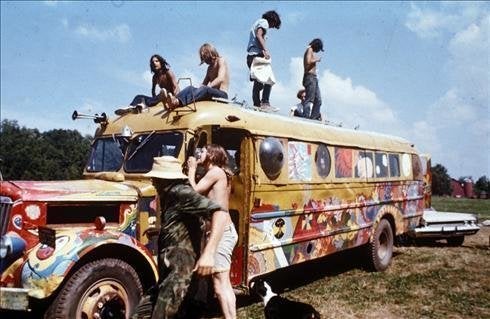 In the book Back to the Garden: The Story of Woodstock (Touchstone), author and legendary New York radio personality Pete Fornatale collected first-hand accounts to tell the tale of the world's most famous concert.
In the below essay, the author looks at a significant moment at Woodstock where Abbie Hoffman took the stage during a set by Saturday headliners, The Who.
It was well after midnight when the Who took the stage. Townshend was already a bit grumpy. Meanwhile, festival organizer Michael Lang invited Abbie Hoffman to sit on the stage next to him to watch the set. Hoffman had been working as a volunteer in one of the medical tents, consuming large amounts of LSD to keep himself awake. Lang thought it would be beneficial for him to take a break, chill, and enjoy some great music.
Hoffman was still very involved in various types of political activism. One of his causes at the time John Sinclair. Sinclair, the leader of the White Panther Party, had recently been busted for selling a small amount of marijuana to an undercover cop. Hoffman, quite sensibly believed the sentence was an outrage, and that Sinclair was really being punished for his radical politics. Hoffman wanted to get up on stage and rally the crowd the injustice against Sinclair.
Let's just say his timing was a little off. Pete Townshend, never one to tolerate sharing the stage with anyone who didn't work with The Who, was already in a bad mood. There were rumors circulating that the tea and coffee backstage were spiked with acid. He was just looking for a place to sit down when, as he put it, "Some lunatic would come up to me like Abbie Hoffman or some stagehand and go, "Ahhhhhhh! Aaaaaaaah! Buuuuuuuupw."
Joe McDonald: I knew Abbie and I knew Jerry [Rubin] because I moved in circles where there were radicals. I knew that it was not uncommon for the pontificators, politicians, underground politicians to get up and try and make a speech. I knew he had been making a scene around there. He was stoned. Someone said he had taken acid and he was stoned, and I can believe that because it was crazy what he did. I was watching and all of a sudden, there was a pause because they didn't introduce their songs. Which was something that bands would do. Then -- boom -- Abbie walks up to the microphone and starts giving this talk, which I knew about. I remember thinking at the time that the audience was not going to be able to process this.
Hoffman remembered shouting into the mike, "Four hundred thousand of our brothers and sisters [are being persecuted] for no more than we're doing on this hill. It's only fair that we help out. We are the Woodstock Nation. We are one."
Joe McDonald: The Who was well into their set, and all of a sudden, this guy shows up and starts talking politics and anti-marijuana laws. I don't think Townshend was even aware that he was there. He just kind of looked up and "Who the hell's this guy?" A stranger shows up and starts talking in your microphone. It's your turf, but it wasn't a hostile takeover.
The mic went dead and Hoffman thought to himself, "What the fuck did they do that for?" and he kicked the mic.
What happened next provided one of the true Roshomon moments of Woodstock. Actually, that's not strictly speaking true. There were only two versions of what happened next: Hoffman's and everybody else's.
Hoffman remembered that he and Townshend bumped.
Joe McDonald: Peter walked over and bonked Abbie in the head with his guitar. Abbie's response was so funny because he just looked at Peter and then jumped into the press pit and went through the crowd and kept going.
And so ended one of the few moments of violence at a festival that celebrated peace.
Popular in the Community