If we're lucky, life sometimes gifts us with full circle moments - an instant, where a seemingly unrelated snapshot from the past, makes its way into the present, as a reminder that there is always a bigger picture we don't see, and there is never a wasted drop of time or experience.
Last night, at the WhyHunger awards dinner in New York City, I had several of those moments.
WhyHunger is a non-profit organization founded by the late singer/songwriter Harry Chapin and his friend Bill Ayres in 1975. It was created with the intent not only of feeding the hungry, but with the express purpose of addressing the issues of social justice, or really injustice, that are the root causes of hunger and poverty worldwide.
I met Harry Chapin in August of 1978 after a concert in a tent in Hyannis, Massachusetts. I was all of thirteen. And in the words of Maya Angelou, "People will forget what you said...but people will never forget how you made them feel." And though I have long since forgotten the specifics of that conversation, I remember quite clearly that Harry Chapin spoke to me with respect and made thirteen-year-old me feel like I mattered and could make a difference in the world.
The WhyHunger organization that Chapin started has not only been in existence for forty-one years now, but still possesses the spirit of the artist who was as passionate about easing human suffering as he was about music.
Monday's awards dinner honored artists Kenny Loggins and Tom Morello for their humanitarian efforts, as well as Brazil's Landless Workers Movement (MST).
It was a spirited evening of award-giving, fundraising, music and humor, infused with the passion and purpose of those in attendance.
One of my other full circle moments of the evening was having the opportunity to sit down and chat face to face with Kenny Loggins.
Loggins recorded the duet "Friends Like Me & You," which appears on my recently released CD In Color. And though recording a duet with me does not qualify as a humanitarian effort, it does speak to the generosity and good-heartedness of this year's ASCAP Harry Chapin Humanitarian Award recipient.
I asked Loggins about being an artist and an activist. "I think that it's up to the individual and what you feel is calling to you, what you feel you need to do to be a person in this world," Loggins said.
As the evening drew to a close, Tom Morello got the crowd on its feet, singing and dancing, as Tom Chapin, Harry's brother, led us all in what, for me, was the most appropriate song lyric there could have been for the event - "All my life's a circle."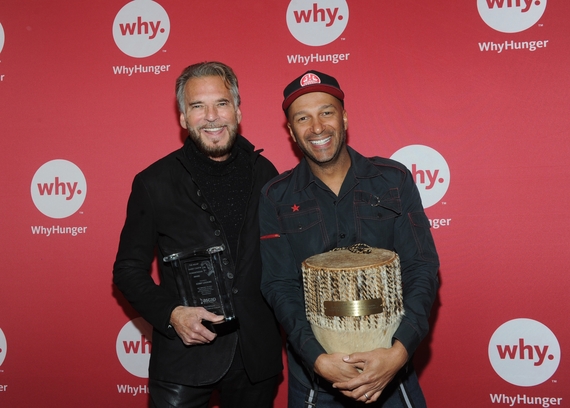 Pictured Left to Right: Award Recipients Kenny Loggins and Tom Morello
Photo Copyright: Diane Bondareff for WhyHunger
Support HuffPost
The Stakes Have Never Been Higher
Related
Popular in the Community