When I started out on this journey, I did so selfishly. After all, exercise is the only thing proven to slow the progression of this non-curable disease I'm fighting (Parkinson's). I didn't do this to champion the cause. In fact, just one year prior, I did it to just have fun, never expecting what events would unfold.
June 20, 2015, I entered a small alumni track meet 20 years after my last competitive meet, benefiting local Junior Olympians. I ran in the 800M relay, for the first time ever. And then the 400M run, which was my event in high school. I won against men, women and children! I will never forget a comment I read to a picture I posted on social media that day. "Whatever you do, don't stop. If you do, your disease will take over!" I have no idea who wrote those words, but I will never forget them. Those simple words have probably had some of the greatest impact in my life.
Because of those words, I said "yes" to competing in a mud run several months later. Because of those powerful words, I ran despite kidney stones, tendinitis in both hips, cold and rainy weather and my Parkinson's. Because of those earth shattering words, I didn't quit when my body begged to, causing me to finish in the top 13% overall against more than 1400 competitors. Because of two sentences, comprised of 13 words, I applied to be on American Ninja Warrior against more than 75,000 others. Because those words held the heavy weight of my life, I ignored intimidation, facts that I only trained for 4 months and that I lacked the strength and coordination over the other incredible athletes. I still competed. And because of those basic words, my fight will never end.
That is the thing about our words. We never know the scope of them. We are dumbfounded by how far our actions travel. We are left in the dark as to the bones that hear our thoughts and the hearts jolted by what we do.
In the past 7 days, my world has been rocked. Not by seeing myself on national television. But, by the overwhelming magnitude of my reach.
I am a 38-year-old mom. That is a title I'm familiar with. But in the last 7 days, I've been referred to as a hero, a warrior, an athlete and a badass. Hearing those words created a humbling feeling inside that simply replied, "I'm unworthy."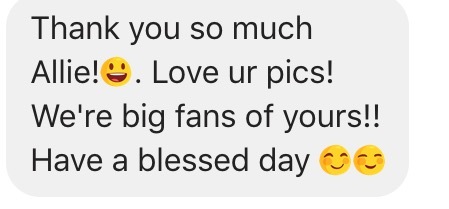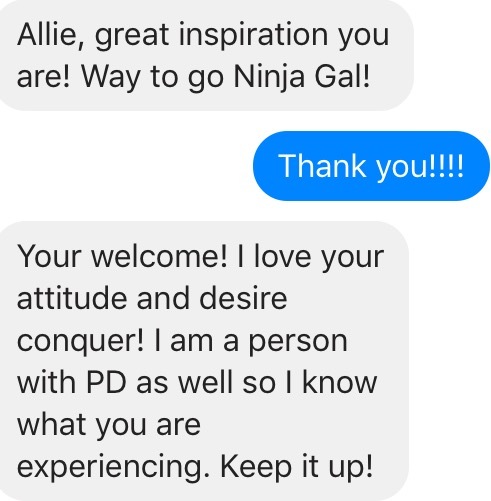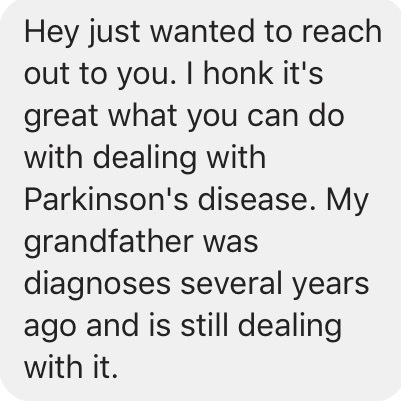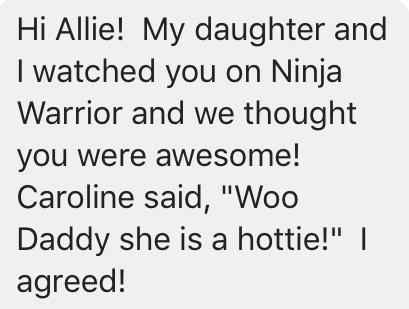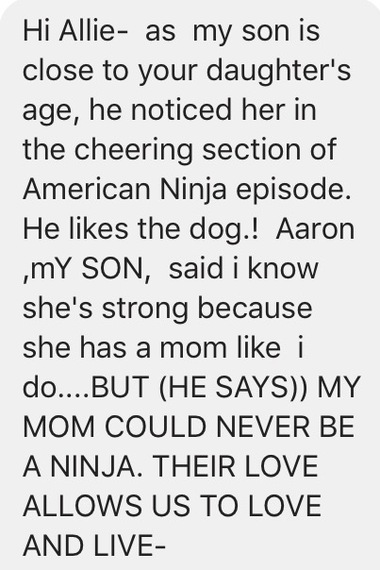 I had both American Ninja Warrior Hosts Matt Iseman and Akbar Gbajabiamila praising me on social media for my run. The National Parkinson Foundation, Team Fox and the Davis Phinney Foundation tweeting accolades of support. And the hundreds of friends, family and even strangers sharing videos and posts. Immediately following my run I had dozens of text messages, hundreds of notifications and thousands of views. All of this was because I inspired them with my words and empowered them by my actions.
"We cried during your whole run on Ninja Warrior. You are amazing. Thank you!" -A stranger wrote.
By Thursday, the buzz began to slow. I had resumed training and was back at Iron Sports, the ninja gym I attend. There were many new faces, inspired by a TV show. At the beginning of our workout, I was talking to another ninja when one of the new faces chimed in.
"I saw you on the show," Rick said.
I politely smiled.
Then, as if electrocuted by lightning, he said words that shocked every fiber in my body.
"I have Young Onset Parkinson's. I watched you on the show and that is why I'm here."
I looked at him with murky eyes, stunned. I was left without words. And anyone that knows me, knows just how rare that is for me.
Words can slice through you like the sharpest ninja sword. Words can mend a broken heart and seal a fate. But, actions can back up those words or negate them all together. When the two are together, they are a force enough to begin and end all the planet's problems.
Rick showed action. Rick heard my words. I inspired someone to take back their life, say, "NO! I will NOT give up! And this is not how my story will end!!"
Not always will there be a Rick who proves the width of your reach. More often than not, your actions and words will be silently felt. But, remember, they ARE felt! Each of us holds an incredible power, simply by waking up and breathing. Each person we encounter, we leave a mark. Each smile or frown has the ability to wound. The tone of our voice can create a gaping hole that stitches can not fix. The width of your reach far surpasses the stretch of your arms.
I'm not a superwoman. I fail every day. There are times when I am depressed, lazy, or like when I began this fitness journey, selfish. But, I am blessed knowing my impression here on Earth will eventually turn into stone. On that stone, I wish them to write, "She lived, she loved and she did for nothing more."
REAL LIFE. REAL NEWS. REAL VOICES.
Help us tell more of the stories that matter from voices that too often remain unheard.