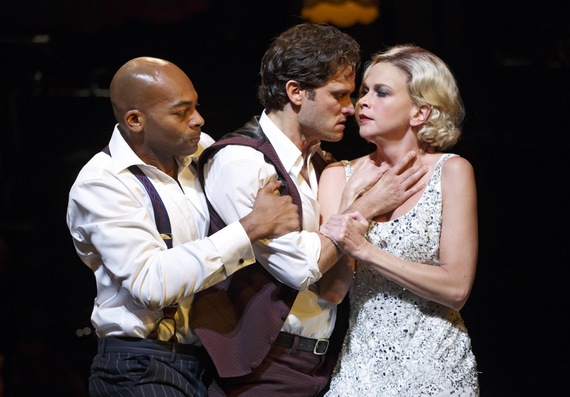 Photo credit: Joan Marcus
That's what The Wild Party is all about. Sex, booze, relationships. And how it's sometimes good to be bad.
Andrew Lippa's musical returned to New York for City Center's Encores! Off-Center series, and it made for a raucous eve. The Wild Party debuted with Manhattan Theatre Club during the 1999-2000 season, when it earned Drama Desk and Outer Critics Circle Awards. Its cast featured some of today's biggest names on Broadway, including Brian d'Arcy James, Taye Diggs, and Idina Menzel. But while the work gained notoriety among savvy theatergoers, it lacked the mass appeal of other '20s musicals like Chicago. And so, as any worthy shindig should, it slipped into the shadows.
Until last week, when director Leigh Silverman reawakened a snoozing beast filled with glitz, glam, and grit. Energy emanated from the stage as actors dug into an era of flapperism, rebellion, and lots of booze.
Based on source material written by poet Joseph Moncure March in 1928, The Wild Party is a look at love when it turns sour. Queenie and her partner Burrs are vaudeville performers with an abusive connection -- the party in question is spurred by a particularly toxic morning, when Burrs calls Queenie a "lazy slut" before violently pinning her down to assault her. Incapable of handling her mixed emotions after the incident, Queenie opts for escapism (instead of logic) to forget her relationship troubles. When the attractive Mr. Black attends her soirée, Queenie finds him fascinating, though she's more willing to play than pounce. But never fret: add social climber Kate to the scene -- a lovelorn party girl vying for Burrs' affections -- and the world turns to chaos with the snap of her fingers.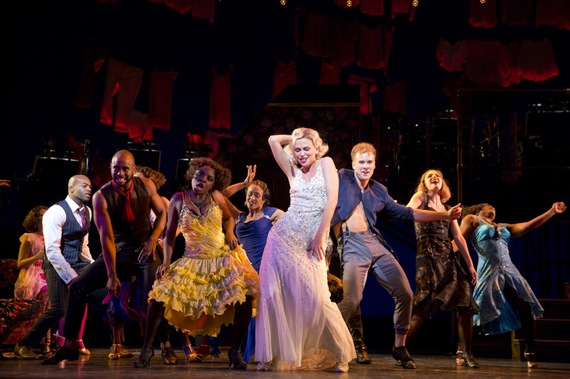 Photo credit: Joan Marcus
Even after extensive rewrites since its premiere, the show's subtext is underdeveloped -- Queenie, Mr. Black, and Burrs are all defined by their lusty triangle, and we know little about them beyond the strength of their love and libido. That's a shame; no one should exist only as the manifestation of a relationship. Thankfully, Kate's more interesting. Born in a West Virginia ditch, she evaded her personal hell by becoming a gold digger. When she enters the turmoil, she's sick of her fast-paced lifestyle but can't quite give it up.
In City Center's revival, Kate was the most relatable, the most human. Joaquina Kalukango played her extraordinarily well, with all the range and depth that you could expect from Lippa's book. Sometimes, her fickleness felt like whiplash, but that's why she was so real. Coked out and on a cross high, most of us wouldn't be too decisive or composed. As Kalukango tumbled around the stage, sloppy and sad, she was every woman who has ever fallen for a disinterested man. She made excuses, babbling about her identity as "the life of the party." She was fine, she jeered. She was great, actually. She was "the cream of the crop."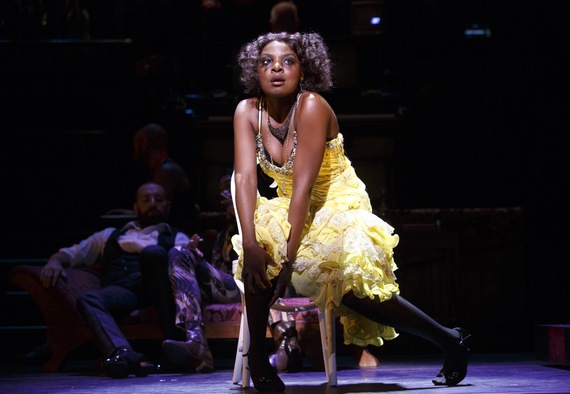 Photo credit: Joan Marcus
Atop Kalukango's acting chops, her voice soared. She stood out in the show, though her colleagues also merited their time in the spotlight. Miriam Shor forced a laugh from even the most stoic audience member as Madelaine True, a lesbian fishing for a catch. Basically, she's in dire need of a hookup and preys on the ensemble after they get tipsy. But her attempts at seduction are thwarted, and as she breaks into song, she whimsically admonishes a culture where she can't get some. Her best line? "I understand a bird in hand's worth two in the bush."
Steven Pasquale slayed as Burrs, a part I'm sure he itched to play when he was in the chorus for the original production. Caustic and vicious, he still harbored incredible charisma while singing in a bathtub. Perhaps he was unfaithful. Maybe he was insane. With Pasquale, you almost didn't care. He was dynamic and fun -- the guy you want to meet at a party, enjoy for half the night, and never see again.
As Mr. Black, Brandon Victor Dixon's riffs gave goose bumps; he came off as sensitive and suave, the perfect contrast to Pasquale. And then there was our star, Sutton Foster, as Queenie. She didn't have the same tough-skinned façade as Julia Murney. Instead, she chose to highlight Queenie's confused existence as a sweetheart who's been through trials and tribulations in the big, bad city. Sometimes, the character grew tiresome in her soiled innocence, but Foster remained flirtatious and enthusiastic, stuffed with the panache that gave her fame. And when she and Dixon danced in "The Juggernaut," they shared the type of instant chemistry that sets your stomach ablaze, where satisfaction becomes number one on your hierarchy of needs.
In fact, the whole thing seemed orgasmic, on the verge of climax. Sonya Tayeh's choreography was hot, executed with passion and punch. Lippa's songs -- especially the jazzier tunes -- made you want to strut, shake, and shimmy without inhibitions. The production felt like two hours of good-natured, old-fashioned sexual tension.
That's why it was a ball.
The Wild Party ran July 15-18 at New York City Center.
REAL LIFE. REAL NEWS. REAL VOICES.
Help us tell more of the stories that matter from voices that too often remain unheard.