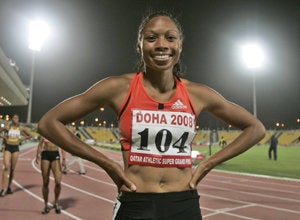 If you think sexuality is bad for women's sports than you ought to stop watching all sports, male or female. Because that's where it's headed -- as if it isn't already there and has been for some time.
But with the advent of "The Wilhelmina 7" I'm not sure I know of a more overt targeted marketing effort aimed at enhancing the profile of a major professional women's sport by exploiting individual player's looks and ability. And why shouldn't they?
As Dieter Esch, chairman of Wilhelmina Artist Management explains:
"There was simply not enough pizazz on the LPGA Tour. The players had no representation to speak of, no advertisements to speak of. It's a crime, so Wilhelmina is taking it upon itself to change that."
Esch hand-picked seven LPGA pros who will be represented by Wilhelmina Artist Management, a division of the world famous New York modeling agency. The "Wilhelmina 7" are Minea Blomqvist, Sandra Gal, Anna Grzebien, Kim Hall, Johanna Head, Mikaela Parmlid and Stacy Prammanasudh.
The agency will seek sponsorship and endorsement deals for the women as a group and as individuals. [...] Clients interested in one of the group or all of them may make up their mind as they thumb through a bound booklet of color photographs of the players, posing in bikinis, summer dresses, and more slinky dresses.
This is good news for the often flailing LPGA marketing department. Female golfers fare poorly in the endorsement game. It doesn't help that their viewing audience is woefully small. To put it in perspective, as men's golf openly frets (whines) over what will become of its audience with Tiger Woods on sidelines, one thing they don't worry about (unlike men's tennis vis-à-vis women's tennis) is the women's game taking over. The LPGA poses not even a remote threat to a Tiger-less PGA.
LPGA officials claim they haven't had time to study the deal and so far have withheld comment. But players on the LPGA tour don't seem to mind. From Annika Sorenstam to Lorena Ochoa to Hall of Famer Amy Walcott, they've responded quite positively.
In fact it's rare you hear anything negative from the overwhelming majority of female athletes when one of their sister athletes goes for the "exposure." Even the venerable Women's Sports Foundation never gives their constituents any hassle about posing in Playboy or in Maxim or other lad mags.
Anna Kournikova still gets endless shit about being "all looks" but never winning a major tournament. (She won two Wimbledon doubles titles, by the way.) Well, let's see you be ranked in top 12 on the WTA. It's not just no small feat. It's a huge achievement. It's elite athlete status. It's hours and hours and hours and years and years an years of practice and hard work.
The double-standard women athletes endure with regard to marketing their sexuality is totally unacceptable. We'd never hear it about with Tom Brady. We never heard it about with Michael Jordan. Or Terrell Owens who is shirtless on every magazine cover he does. Or David Beckham posing nearly naked. For both men and the women athletes it's about the same things: it's about making money, it's about endorsements, it's about potential acting and broadcast opportunities. It's about their total careers as "athlete-celebrities." It's not just good for their sport but it's good for them. And that's nobody's business but theirs.
Prudish hypocrisy has kept women's sports and women athletes in the dark too long. The Wilhelmina 7 should be praised as a bold business model.
Time will tell, but according to Dieter Esch the initial response from potential corporate partners has been "tremendous." That's no surprise to Esch, given the near total lack of marketing female athletes this way. As he says, "Have you ever put water in the desert?"
REAL LIFE. REAL NEWS. REAL VOICES.
Help us tell more of the stories that matter from voices that too often remain unheard.