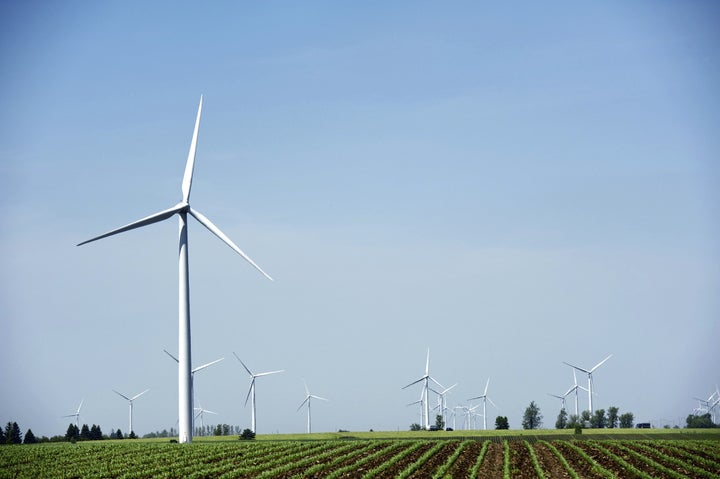 Jobs are not a political issue. Jobs are a people issue. I've enjoyed reading the clean energy jobs profiles in Sierra magazine -- especially this one about Lester Johnson, a wind worker in Arkansas. Lester's pride in the hard work that pays his bills is inspiring, as are these words from him:
I think anything you do with the environment, it's a plus. It's not like we have another Earth. Every time a blade is built, it saves the environment. We are setting our children up for success or failure depending on what we do now. From plastic bags to gas in our cars, we have to take care of our air and water. It's all that we have.
If we have a chance to create more of these good-paying, productive jobs - why not jump at it? Well, in Washington, D.C, far from Lester's home in Little Rock, it's because of politics.
For the past two decades, the PTC has been a key driver in both wind-industry job growth and megawatts of clean wind energy. Ten states now generate more than 10 percent of their energy from wind energy because of it. Colorado, for example, generates approximately 20 percent, while Iowa and South Dakota generate more than 25 percent of their energy from wind.
Nationally, clean, renewable, and affordable wind energy supplies approximately five percent of our energy needs, but can and should provide much, much more. The Department of Energy estimates that wind energy can produce 20 percent of our energy in just six years.
So what's the problem? Why isn't this tax incentive cheered from across the aisle and easily passed through both chambers of Congress and sent to the President's desk? Wait for it...the fossil fuel industry.
Our permanently subsidized, well-funded, polluter friends are running scared at the prospect of a competitive wind energy sector. Wind energy, after all, is a problem solver for climate change, air pollution and job creation. Also, since it draws its fuel from an inexhaustible natural resource (a good breeze), its power pricing is highly predictable and independent of global market pressures, which is a boon for businesses needing a steady supply of predictable energy.
Fossil fuel interests in Congress have perpetually pushed for ending the PTC under the guise of its "market distortion," while conveniently omitting the many permanent tax incentives their industry receives. Unfortunately, in 2013, due to the strength of our polluting antagonists, the credit was allowed to expire and the impacts were immediate.
The PTC leverages an average of $17 billion of private investment each year, which, in turn, provides the base of gainful employment of thousands of Americas. This is why there are over 500 Americans manufacturing facilities making parts for the industry in 43 states. With the PTC's expiration in 2014, all of these jobs and facilities have been put at risk.
Already, for example, a manufacturing facility in Pennsylvania has closed. Manufacturers and developers across the country are indicating that without an extension, they expect no additional orders for wind parts and they will have to shut down their operations.
What wind industry workers need, and what we are fighting for, is a long-term, stable expansion of the PTC that can sustain the industry's investment and give certainty to developers moving forward. Going half in will not cut it either. The American Wind Energy Association (AWEA) estimates that 30,000 jobs will be lost if we get a one year retroactive extension.
The PTC has expired and been renewed many times in the past, creating a boom bust cycle that isn't healthy for any industry. The last time this happened, 5,000 jobs were lost and some developers seriously questioned America's commitment to a clean energy future. It's time to stop beating around the bush and tell Congress and wind energy investors that Americans want clean, wind energy and our energy policies should reflect that.
Related