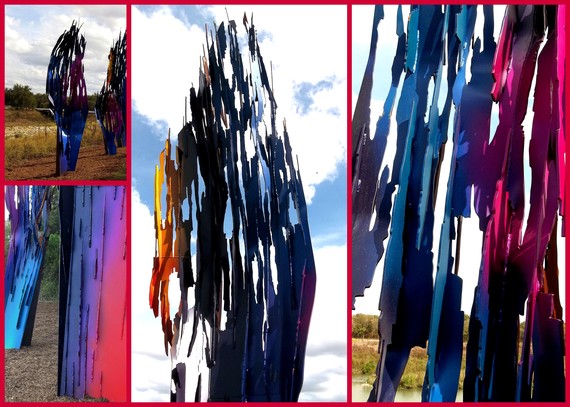 Arne Quinze (Queen-zé) is from Belgium, the flat country, the land of subdued colors and pastel views. Quinze is nothing like that. He is all red and blue, vibrant primary colors and striking shapes. His sculptures are monumental, in size and in the space they require to really be grasped.
The city of San Antonio River Foundation decided they wanted to be a part of his landscape and requested a piece of art to call their own from the genius sculptor. Quinze obliged. The masterful piece of art, now solidly resting by the bed of the San Antonio River, down South from the center of the city, occupies a detour of the bank well-known to cyclists and joggers, a curvy path following the natural curve of the river.
The majestic sculpture is made of eight separate parts, flames of metal screeching towards the sky with the allure of fierce sentinels. Its seemingly lace-like design indeed makes the wind whisper through it, hence its name Whispers. Their colors are solid primary on the front side, with a rusty color back meant to resist the elements -- heat waves and tornadoes, crushing water floods and dust swirls.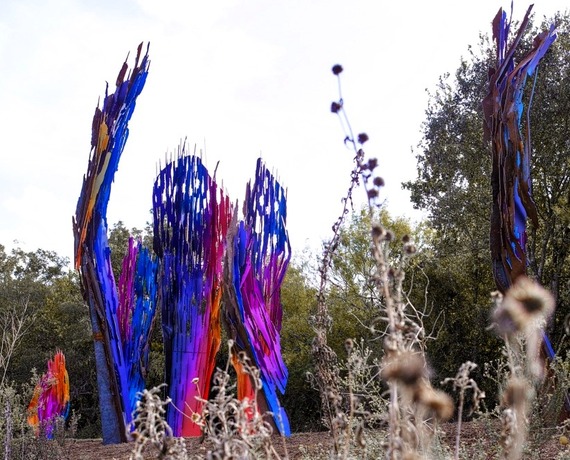 The tall sculptures look at you from the curve of the path, like fierce flames leaping out of the scorched brown dirt Texas terrain, their festive colors surprising the eyes with warm colors. To think that they are permanently anchored here is a visual joy. A mix of legendary artists Christo and Calder comes to mind.
The weather here can be mean -- as in three or four months of over 105-degree temperatures in the summer. Last winter the freeze lasted several weeks as well. Extreme fluctuations for an extreme city. Not quite in America, practically in Mexico, Texas has a long history of not being easy. Don't' mess with Texas they say. We heard them.
This October, the River Foundation unveiled the masterpiece located on one of the four San Antonio missions, the Spanish outposts, witness of the long history the state has with its neighbor down South. It's not all about the Alamo you see.
Arne Quinze started as a graffiti artist in the 80s and 90s. His look is still of that era -- long hair, a lot of unusual facial hairs and the tattoos, oh the tattoos. He told me he was glad that he did not inked himself, as he would want to change them constantly.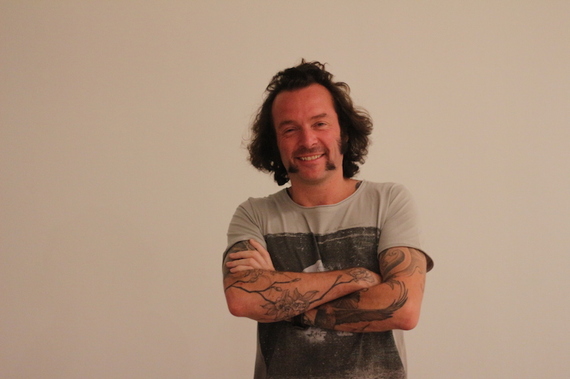 He started his career with pictures of cities (called Cityviews) where his creations followed a sort of natural chaos. To him,
"Cities are like open-air museums, in all their beautyness or ugliness." Quinze is like me, he makes up words. Several of his sculptures were already built and undone in various parts of the world, some even in the USA, but none were permanent here until Whispers was anchored by the river a couple of weeks ago.
One masterpiece was erected in three weeks at Burning Man, only to be set on fire (of course) at the end of the festival, like everything else in the desert, after revelers had their dose of music, fun, art and beers.
As a general rule, Quinze only uses recycled wood; he would never want a tree to be cut down for him. He re-uses wood destined for something else; he gives it a third life of sort. He is a fierce environmentalist and is very concerned with global warning and the wounds and hurts the planet goes through. He is determined to not add to the damage.
After creating with wood and glass, he now works a lot with metal, mostly in primary colors. He debuted with red as principal color, and now evolved with bright blues and purples. His metal pieces are treated to resist rust, as they are mostly meant to be outside.
He works with a team of about 80 people based in Belgium and in China. He is very confident that China is the country of the future as far as art is concerned. He has a studio there with 35 permanent workers.
The installation created for the San Antonio River Foundation was made in Liège, Belgium, where Quinze has a steel atelier. The eight separate parts of the Whispers work took about one year and was shipped over to Texas by cargo boat, a transport that took three weeks at sea.
The cost was around $400,000. The public relation person who works with Quinze, Dave Bruel, had this to say about the work:
"From the moment the sculpture was installed you will see it start living together with the environment. The rough rusty backside will transform to a more orange/brown and black nuance. And if the front will be cleaned once a year this piece will live for ages."
Stuart Johnson, the project manager at the San Antonio River Foundation explains that:
"The art is funded entirely through private donations, from corporations, through grants and from individual donors. Arne was selected by a River Foundation committee of local artists, curators, architects and public agency liaisons. Once selected we invited him to the site and worked to develop his idea."
See the press release about the project, part of the recent designation by UNESCO of the four San Antonio Missions as a World Heritage Site. The Whispers installation is located at the San Juan Mission.
Quinze is somewhat of a rebel; after all, he was a graffiti artist! And he once hacked the security system of the Statue of Liberty in New York, to install an app allowing people who downloaded it to see one of his sculptures showing up on top of the statue when a smart phone was pointed directly to it!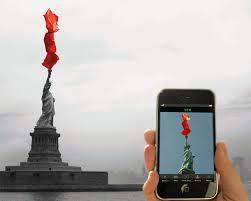 Sometime covering a bridge with nest-like formation, or placing red metal rocks on a flat beach somewhere, Quinze definitely takes over the spot and its entire vicinity in a shocking display of pure colors and giant proportions. You can't miss his sculptures, they are the focal point of whatever location they are been born into.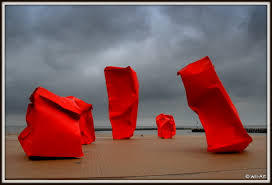 Another admirable concept of this artist is to remove a piece of his art from its location, after it's been there a while, to create a need for something else to be placed there. How many artists want to be replaced? To mark the way for another piece of art or something entirely different is a remarkable self-effacing and revolutionary idea, Quinze is full of them.
At the age of 43, with five children in his life, Quinze manages to live between Belgium and China -- with lots of travel in other parts of the world. He always has a multitude of projects and flies through life like those whispers in the wind. At least, the metal ones, you can now see them in Texas.
Questions /Comments: sidoniesawyer@gmail.com
Visit my website for more stories.
Related
Popular in the Community