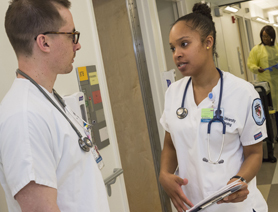 Few things are as rewarding for a nurse as working with vulnerable and underserved communities, and rarely can you make as big and immediate a difference in health care. But there are challenges as well. There are language barriers, cultural differences, mistrust. There are challenges that can come from within the nurse as well--from preconceived notions, stereotypes, or an inability to understand or, sometimes, empathize.
We can never truly walk in another's shoes, after all. As Assistant Professor Carmen Alvarez likes to say, "Know your limitations": Just because you speak a little Spanish, don't assume that you are getting your message across to a native speaker. And just because you can speak to someone of Hispanic descent, do not assume you can speak for them.
Dr. Alvarez is from the country of Belize and has firsthand knowledge of the lack of homogeneity between Spanish-speaking peoples of South America, and here in the United States.
It's why terms like "cultural competence" and "cultural humility" (in Dr. Alvarez's example) have become touchstones in nursing education. We work to live these ideals by seeing people as people, period, and meeting them "where they live." Cultural competence is woven into our core values of excellence, respect, diversity, integrity and accountability. That means, among many other things, helping female victims of violence in African war zones cope, acting as bilingual Birth Companions, serving a program that works to allow low-income, elderly African-Americans to live independently longer, or leading an initiative that guides parents in cities across the U.S. in solving behavioral problems that hold back their at-risk kids.
Global community health is a big puzzle with many of the pieces hidden. We need more nurse leaders who can see beyond our differences to the similarities where those pieces might be hiding. And that next generation of bright, driven nurses could come from anywhere.
At Hopkins Nursing, for example, about 10 percent of our student body annually are returned Peace Corps volunteers with a passion for community health across the globe. Programs like the MSN: Entry into Nursing, Doctor of Nursing Practice and PhD are built for such individuals to hard wire cultural competence into the core curriculum and the student body.
Misunderstandings happen in the field. Nurses often meet people--patients and families--at their worst and most vulnerable moments. We as educators must embrace our responsibility to turn out graduates who can find the sensitivity within themselves to assess, empathize and lean on that cultural competence to create a safe space for the suffering. With no exceptions.