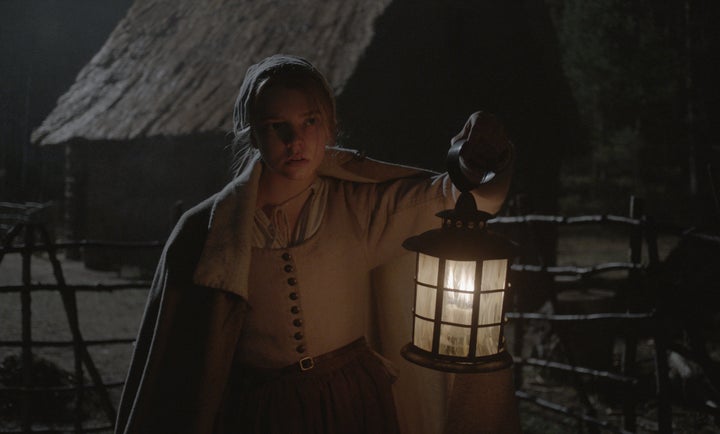 Around this time last year, anyone monitoring the chatter pouring out of Sundance knew "The Witch" was the festival's primo sleeper. Its esteem happened organically, without any star power or pre-festival buzz. Robert Eggers' assured directorial debut, set a few decades before the Salem witch trials and subtitled "A New England Folktake," was an unbridled Sundance success story. "A star is born," the industry seemed to say of Eggers and his collective cast. When the movie opens this weekend, we mortals will follow suit.
Eggers, a former production designer who also wrote the script, approached "The Witch" as a historical fantasy. It could be seen as a prologue to "The Crucible." After studying Puritan diaries, agricultural literature and folktales about villages' local occult anxieties, he devised the story of a devout family cast off to the edge of a 1630s township for not being the right kind of devout. The particulars of their conflict with the community leaders are vague, but the religious tussle forces them to settle in a remote woodland plagued by gray skies and dying crops.
Nestled on the outskirts of the sparse plantation grounds where the central clan take up residence, a forest invites certain horror-movie enigmas: Are the villains the characters or the supernatural forces surrounding them? Is the family's paranoia unfounded? Why does our blood curdle at the mere suggestion of demonic purchase? And what role does religion play in our cultural phobias?
The film's events ultimately unfold from the perspective of the eldest daughter, a wide-eyed teenage girl named Thomasin (Anya Taylor-Joy, newly 18 when the film began production) whose infant brother vanishes as she closes her eyes during an afternoon game of peek-a-boo. (Unbeknownst to the family but refreshingly transparent for the audience, a long-haired forest hag is seen smearing the child's blood across her flesh.)
The news renders Thomasin's relatives -- a younger brother and even younger twin siblings, along with her impulsive mother ("Game of Thrones" actress Kate Dickie) and deceptively collected father ("Game of Thrones" actor Ralph Ineson) -- distraught and dubious. The rest of the movie, crawling with hair-raising eeriness instead of overt frights, chronicles the family's descent into finger-pointing paranoia. Upon the first suggestion of devilish influences, all hope is abandoned. Even the animals, particularly a nefarious goat named Black Phillip, become players in this war on terror.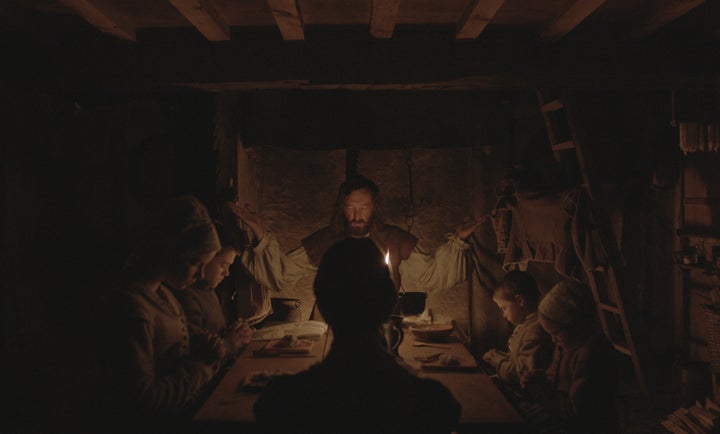 As a kid, Eggers loved old-school horror -- not the jump-scare kind popularized in the 1970s, but the nebulous creature fear of "Frankenstein," "The Mummy" and "Dracula." His interest in witchcraft dates back to his first viewing of "The Wizard of Oz." Combining the genre's classic trappings with the subjugation of women's bodies that was inherent during the 1600s' witch hysteria, Eggers found his own protagonist in an iron-willed girl contending with self-doubt and sudden exile. Even the film's score, by Mark Korven, is grounded in history, using period-appropriate instruments to repurpose a cappella Puritan psalms.
"Thomasin, for me, really does exemplify women in that time," Taylor-Joy told The Huffington Post at Sundance last year, during a joint interview with Eggers. "It's just like the corsets: You keep it in, you don't let it show. She doesn't have that support system that you'd like her to have. I find it really entertaining to hear people say 'horror film,' because obviously it is, it's a genre horror film, but for us in the cast, it's really a story of family breakdown and isolation and guilt and religious piety. We've all been in situations where things get so bad that you really stop feeling."
The imperious theocracy that incites the family's ouster and inspires their panic is also what prompted a recent endorsement from the Satanic Temple, a "civic-minded" branch of Satanism founded in 2013. In a rare move that has yet to attract much controversy, A24 -- the trendy distribution studio that acquired "The Witch" at Sundance -- partnered with the Satanic Temple to host screenings of the film followed by after-parties that incorporated miniature ritual worship sessions. Despite religious undertones having divided audiences in the past (think evangelists flocking to the allegedly anti-Semitic "Passion of the Christ," or Christian groups protesting the lucrative "Da Vinci Code" and arguing over the messages in "God's Not Dead"), A24 reached out to the Satanic Temple to gauge interest in a movie whose themes "may resonate," as the temple's spokeswoman, Jex Blackmore, told HuffPost. The studio covered the costs of events the Satanic Temple hosted in New York, Los Angeles, Austin and Detroit.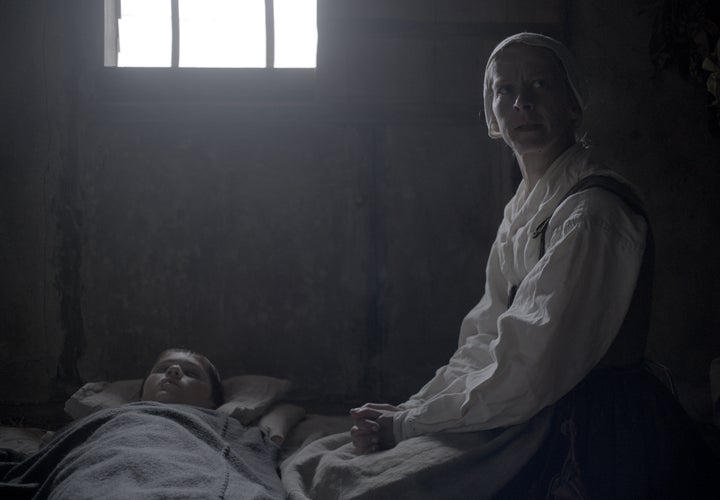 Regarding the Satanic Church's attraction to the film, Blackmore cited the "fetishization" of a time when Puritan law attempted to "control nature," as well as certain contemporary desires to "return to Christian values that America was founded on" -- a frequent mantra of right-wing presidential candidates and religious fundamentalists.
"What's most terrifying about the film is there are things about 'The Witch' that aren't supernatural," Blackmore said. "They're actually real claims made about people during this period who were outsiders. It's our hope that not only will it ask people to consider questions about separation of church and state, and questions about the fetishization of early America, but also it shows us that under those unnatural pressures, we will eventually rebel, and take to that as a positive note, rather than a negative."
Blackmore hasn't spoken with Eggers, but she said he's aware of the Satanic Temple's endorsement. It seems unlikely that the group's fervor -- or that of horror superintendent Stephen King -- will affect the box office. Early forecasts expect a decent haul for a talky art-house chiller initially slated for a lower-profile rollout. As the first project in A24's four-year history to debut in wide release, the film is projected to earn $10 million across its first three days in theaters. (The studio's most lucrative titles are "Spring Breakers," "Ex Machina" and "Room.")
Positive reviews aside, seeing a number that impressive would surely be a boon for Eggers, who called the Northern Ontario-based "Witch" shoot "difficult" and "rugged." (Imagine working with a "nightmare" of a goat while filming almost exclusively outdoors.) Eggers is attached to a "Nosferatu" reboot, pointing to a career defined by the same atmospheric Gothic horror that influenced him. But for now, Eggers can rest assured that he's made the buzziest title from last year's Sundance that isn't named "Brooklyn" -- and, for a first-time director, that's a feat.
"It was rough," Eggers said of making the film. "There were long hours, everyone worked very hard, but I couldn't imagine never having been through that. It was so special. These are my favorite people in the entire world. The film shows that; you can see how much went into it."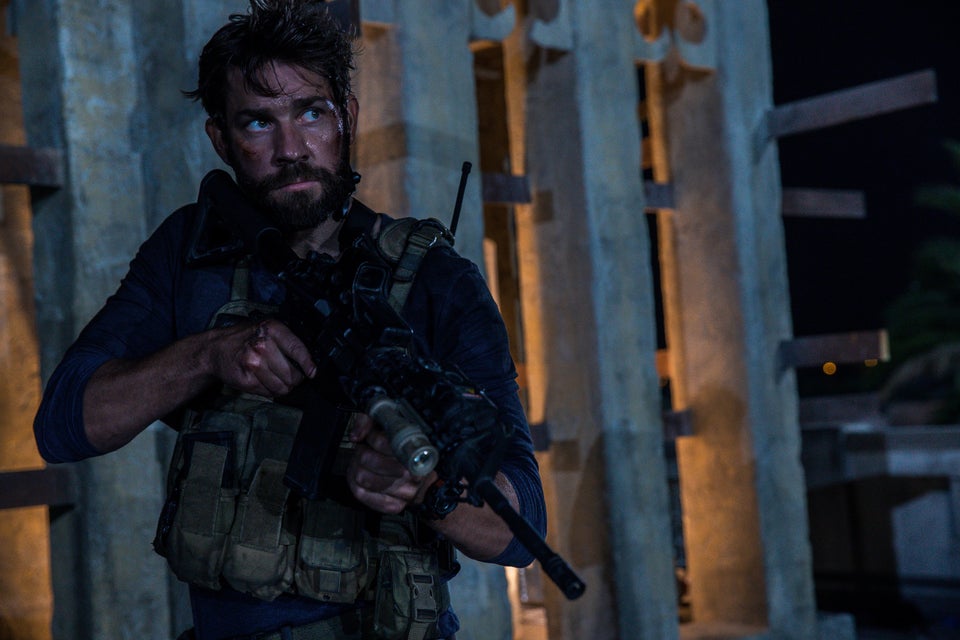 Winter Movie Preview 2016

Popular in the Community