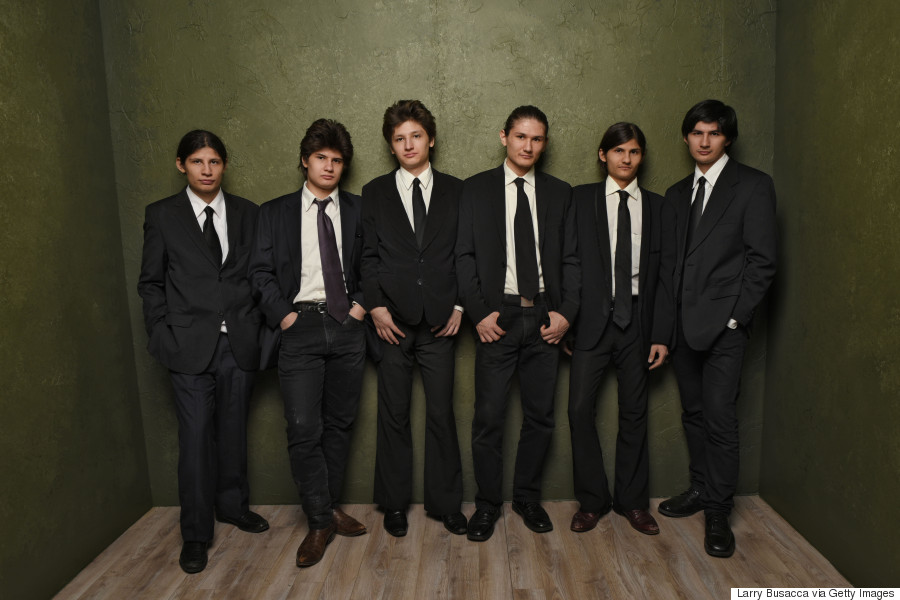 For the Angulo family, "The Godfather" is everything. So are "Lord of the Rings," "The Dark Knight" and "Pulp Fiction." These movies mean so much, in fact, that the six brothers know every word by heart. They've fashioned Legolas' bows and arrows from scratch, used yoga mats to create the Batsuit and celebrated Quentin Tarantino's birthday. But until recently, they'd never sat in a movie theater. In fact, they'd hardly stepped outside of their apartment.
The brothers grew up in a cramped housing project on Manhattan's Lower East Side, where their devout Hare Krishna father, Oscar, confined them at all times, citing a fear of violence and drugs. He wanted 10 children, all of whom would grow their hair long and function as a tribe. Oscar and his wife, Suzanne, only made it to seven (including one sister, Visnu, who has a developmental syndrome), but he held on to the apartment's only key anyway. When their mother wasn't homeschooling them, the brothers watched movies. Lots and lots of movies. And when they weren't watching movies, they were bringing the Battle of Helm's Deep to life in their bedroom or crafting handmade Michael Myers masks.
The siblings were permitted to leave a handful of times each year, if lucky. But one of the first times they broke free and began exploring on their own, back in 2010, the sextet -- Bhagavan, now 23; twins Govinda and Narayana, 22; Mukunda, 20; Krisna, 18; and Jagadesh, 16 -- was standing at an intersection when Crystal Moselle approached them. Curious about this unusual clan of long-haired young men, the director struck up a conversation. When the brothers said they were aspiring filmmakers, a relationship blossomed.
The results of that fateful encounter will be realized on Friday when "The Wolfpack" opens. Moselle spent five years peeking in on the Angulo family, visiting their small apartment to make a documentary about these young men who used popular culture as a means of coping with isolation. Sometimes somber and sometimes brimming with hope, "The Wolfpack" feels as raw as the experience it depicts. It won the U.S. Documentary Grand Jury Prize at this year's Sundance Film Festival, and the Angulo brothers were on hand in Park City, Utah, to celebrate its victory. They also walked the red carpet at the Tribeca Film Festival, where "The Wolfpack" screened in April. The Angulos can do things like that now, because four of them are no longer minors and none of them are settling for prolonged solitude.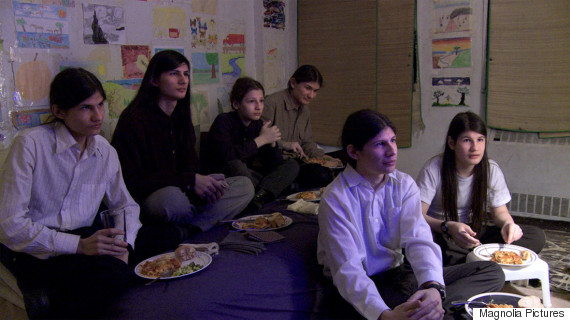 "When I first saw it, for me I would say it was very powerful and very emotional," Bhagavan said of the film. "Walking away with it, I guess I would say I probably did go with the idea that it's going to be pretty awesome sharing it with the world. I had absolutely no idea of how that was going to happen, but I knew that it was."
The Angulos were chipper when The Huffington Post sat down with the four eldest brothers, their mother and Moselle last month. Their names are Sanskrit, because Oscar, a Peruvian immigrant, wanted to give them identifiers from one of the world's oldest languages. During our conversation, each brother repeated his name before speaking so as to avoid confusion, and if one forgot, Narayana, who seemed protective of his siblings, gently reminded him.
Many 20-somethings spend their post-adolescence figuring out how to make life decisions for themselves, but this well-read group seems to have skipped that phase. Perhaps it's because they aren't jaded by the social pressures that define one's school days, or maybe it's because the movies they consumed while in captivity gave them a limitless idea of the surroundings they were denied. Whatever it is, the Angulo brothers are going places.
But first, they endured the prying lens of a documentary camera, which brought a rare intruder into their claustrophobic world. As it turns out, they didn't mind performing for an audience other than their parents. Moselle would arrive at random intervals, usually alone, and implant herself in a corner to capture the Angulos' doings. In between Suzanne's daily homeschooling (which doubled as the family's chief source of income) and joint dinner preparations, Moselle documented the brothers' favorite pastime: reenactments of the movies they loved.
They watched their favorite films so many times that they came to know the dialogue by heart. Still, they would transcribe and rehearse every word. "Lord of the Rings" was their first group production -- they once performed all nine hours of Peter Jackson's trilogy in a single span. The Angulos typically treated their remakes like plays, never stopping to correct mistakes. With Moselle's cameras in tow, however, they had to be mindful of who was in the shot and whether everyone was meeting their cues -- and they enjoyed performing even more as a result. All of a sudden, the Angulo brothers were actual movie stars.
"Since they were very young, they've always been filming each other," Suzanne said. "Maybe they're building something with Lego toys or they're playing pirates or knights or warriors and jumping from bed to bed. Whatever they were doing, they would always film, and many times when we wanted something filmed we would give the camera to them and say, 'Just do what you want.' That's what a lot of our home movies are."
When they weren't re-creating cinema, they were digging into its annals. But instead of growing up on Disney classics, their earliest memories come from genre fare: Arnold Schwarzenegger titles ("Last Action Hero" was the first movie they saw, around 6 and 7 years old), the early "Batman" flicks, and horror staples like "The Exorcist" and the "Halloween" franchise. Oh, and "Jesus Christ Superstar," because why not? The Angulos had cable, so Oscar would purchase blank VHS tapes on which the brothers recorded movies. Otherwise, Oscar would obtain DVDs from the library or at discounted prices. For the Angulos' favorites, like "Lord of the Rings" and "Reservoir Dogs," they would spend weeks constructing intricate props. An entire world, usually transmitted to harried folks who devote a few hours here and there to a dark theater, existed inside their world-deprived home.
Yet, imagine adoring film all of your life but never actually setting foot inside a movie theater. That's finally changed now that the four adult brothers have left home -- three of them live together, while Govinda is on his own -- and they can tick off a list of hits they've enjoyed since experiencing the multiplexes that most take for granted. (Said list includes "Interstellar," "The Tree of Life," "Nightcrawler," "Django Unchained," "The Fighter" and "12 Years a Slave.")
"Our relationship with movies always evolved," Narayana said. "We grew up with action and horror and fun, entertaining kind of movies, but when I saw 'The Godfather' for the first time, it completely changed my life. Then when you start getting more into the classics, like Stanley Kubrick and Martin Scorsese movies, and when we started going out more, we just pursued more and more movies, and one of the biggest changes was we got more into foreign cinema, so we started exploring Kurosawa, Truffaut, Fellini, Chantal Akerman and countless others. The biggest thing that we learned is there are absolutely no rules in cinema. Because we got into David Lynch later and we were were like, 'This guy's movies aren't like anything else. What is this?' There's this entire unlimited world in cinema, and that's why it's always so exciting and that's why we're passionate about it, because there's always more and more to discover."
Now they're left to discover technology -- a key blind spot -- and careers, the inevitable next stage for their fresh independence. Moselle said she's helping them to establish a production company, which they'll call Wolfpack Pictures. In the meantime, Govinda is an aspiring cinematographer who finds steady PA work. (In fact, Moselle handed off the camera to both him and Narayana to shoot various scenes for "The Wolfpack." Govinda would love to pursue documentaries, but he said they "can't afford" him.) When asked about his professional ambitions, Narayana channeled Ray Liotta's voice-over in "Goodfellas": "As far back as I can remember, I've always wanted to be a filmmaker. To me, being a filmmaker was better than being president of the United States. Ever since I would watch those old movies when I was little, I knew I wanted to be a part of that." Mukunda, the group's resident prop master, works at a media production company and aims to direct one day. Bhagavan teaches yoga in Jersey City and hopes to become an artistic director at a hip-hop dance conservatory. The two younger brothers are nearing the end of their high-school equivalency and will soon decide whether to set out alongside their older siblings.
Oscar, on the other hand, has not broadened his horizons. The brothers said he has seen "The Wolfpack," and while it opened his mind to the "big picture" of their situation, it didn't ignite any revelations. "Some people never think or will admit that they're wrong," Narayana said.
Still, the Angulo wolf pack blazes on, and pop culture will forever remain their haven.
"What I think that is important for people to take away from the film is to get a sense of the love that is shared in the family and how much everyone in our family really cares about each other, and also to have a sense of inspiration and hope that everything is always changing and that nothing really stays the same," Suzanne said. "Even when it seems very dark or very boring or very non-adventurous, it always changes and it always evolves into something else, which then evolves into something else."
"The Wolfpack" opens in limited release on June 12. It will expand to additional cities throughout June and July. Don't miss it.
Before You Go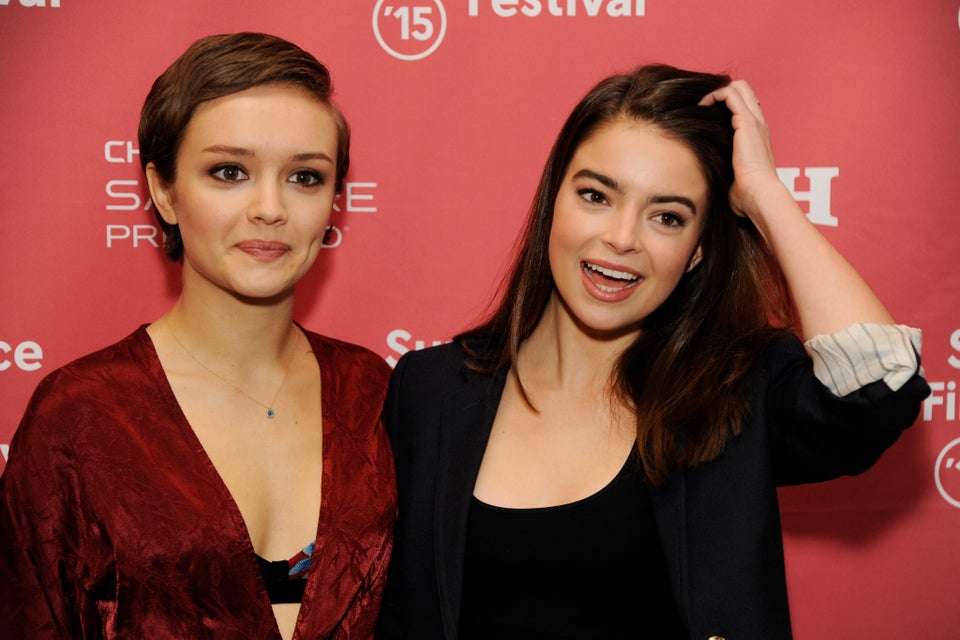 Sundance 2015
Popular in the Community