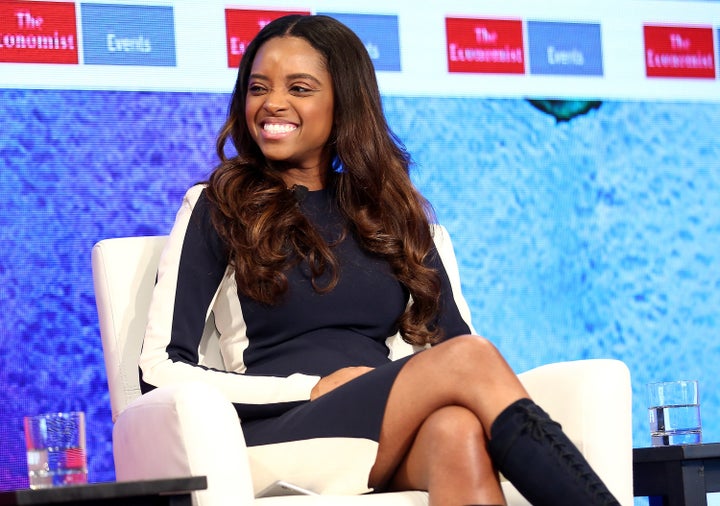 As Washington women with purpose and a to-do list clad their totes and networked in the foyer of the beautifully designed United States Institute of Peace, the passed hors d'oeuvres coming out with frequency and the wine flowing, there was a sense of peace and calm as guests prepared to hear stories about remarkable women at Tina Brown's fourth annual Women in the World DC Salon. It was by most accounts business as usual at a D.C. networking event, with the bright patterned hues of Lilly Pulitzer-wearing suburban A-listers mixed with muted, tailored suits and dresses that are more typical of the D.C. working woman. An authentic force of energy and fresh perspective would soon take stage, bringing a candid, unapologetically black perspective to a modern day feminism that has been critiqued for being non-inclusive.
Tamika Mallory took stage and the conversation catapulted into a very honest dialogue about the success of the Women's March on Washington and the direct strategy of putting diverse leaders at its forefront, including national co-chairs Carmen Perez and Linda Sarsour, to serve as voices for the underrepresented African-American, Latina, Muslim and Asian women, some of whom, particularly the working class and impoverished in those demographics, have been left behind by the Women's March on Washington, according to critics.
In response to the Women's March on Washington, prominent Black feminists spoke loud and clear about not needing to stand in solidarity with a largely white group who sat silent on issues like Black Lives Matter and the Dakota Access Pipelines, people who by and large had the luxury to ignore the ignored until the tables turned and they had the opportunity to sample the divisiveness that Black women feel daily. Social discourse and conversation ensued, with today's rising leaders and Black voices, like CNN Correspondent Symone Sanders, who suggested in a recent ESSENCE.com article that, "A lot of times we are disengaged with the women's movement because of the history. They have not done intersectionality well." Mallory echoed these sentiments, but with the lead Black woman at the helm of this historic, yet somewhat divisive, new group spearheading and redefining feminism, the elephant in the room is, "What's next for Black women?"
The Huffington Post spoke with National Women's March Co-Chair Tamika Mallory after the Women in the World DC Salon to learn about how the new-age activist plans to reshape and redefine feminism. When specifically asked how to bridge the gap between women of color, who do not support the Women's March on Washington movement, and new-age feminists who by some accounts support the same ideals as their ancestors, Mallory offered, "The bottom line is that history will record the issues that were discussed and the people who spoke from that platform. We had a woman who was incarcerated for 27 years speak [at the Women's March on Washington] to talk about the issues of incarcerated women. That happened because we were there. As a black woman, I was able to stand on the stage in front of over one million people here in D.C."
Mallory further expressed empathy with her dissenters, many of them peers who run in the same social circle.
"The concerns of black women are righteous concerns that.. stem from pain, distrust, abuse and a history of being used and not being empowered. I think for many black women, our existence has been in fear and pain and oppression, and so this is not new for us."
Mallory continues to share the concerns of the group she's working to engage. "I think there were a lot of black women who said, 'I did my job, and now that (you're) woke and it's personal for you and you want to have a march, that's awesome. And now I'm expecting you to meet me on the battlefield.' That's where the real work will begin. And so the skepticism can be not so much corrected, but it can be challenged by white women showing up literally everyday after the march."
When further asked about accountability, Mallory also notes that "The question that we have to ask ourselves is, 'What are we doing? In this moment, when so many dangerous things are happening with this new administration, and we have so many established organizations, where is the noise? What is our response? And not our response in terms of another program, but what is our response in the resistance movement today?'
On March 8, International Women's Day, Mallory and team spearheaded A Day Without Women, a national call-to-action for women to take off work, wear red in solidarity and avoid shopping with the exception of small-, women- and minority-owned businesses. This is one of 10 actions in 100 days led by the Women's March on Washington to keep women mobilized, "recognizing the enormous value that women of all backgrounds add to our socio-economic system--while receiving lower wages and experiencing greater inequities, vulnerability to discrimination, sexual harassment, and job insecurity."
What's certainly not up for debate is that we'll be seeing more of Mallory to come. As she works tirelessly behind the scenes to deliberately create an inclusive movement, she shares that "We are beginning to flip the concept of feminism and what it has traditionally meant. We are deliberately working at reshaping feminism in this moment."
When asked to share her main goal for this year, Mallory continues to drive a message of empathy, education and awareness, particularly for those communities that do not understand African-American communities.
"My goal this year is to turn the attention of this nation to Chicago, and other cities like it, to get people to own the shooter and the victim as if they were their own children. The shooter is a victim of oppression. The shooter is a victim of poverty. The shooter is a victim of mental illness. The shooter is a victim of pain, systemic racism, all of these things. We can't even begin to address the issues by deploying the feds. That will never solve the problem."
REAL LIFE. REAL NEWS. REAL VOICES.
Help us tell more of the stories that matter from voices that too often remain unheard.