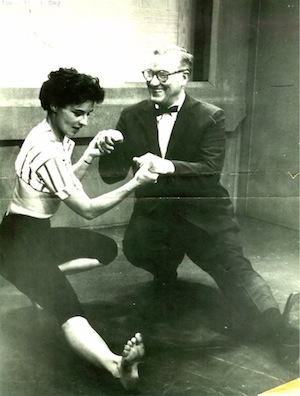 "Good morning. Who wants to get rid of a headache right now?"
My hand shot up with the speed of light. She beckoned me to the stage.
I had never heard of Bonnie Prudden (at right, with Dave Garroway in 1958), this dynamic woman in her mid-seventies who had jumped up on the stage with the grace of a panther, standing tall in her royal blue warm-up suit. She sat me in a chair, stood behind me, and the next thing I knew her middle finger was pressing on the muscle just above my eye socket. "It's tender right here, isn't it?"
Oh yes. She said, "I am going to press hard on this spot for seven seconds. When the pain gets to about 8 or nine, tell me and I'll let up." I told her, she let up and then gently massaged above my eyebrows. She moved her fingers to my neck, felt around until she made me jump, and pressed her knuckle on it too, hard, for seven seconds.
After working on my shoulders and down my back as well, she said, "These muscles have trigger points and they need to be found and erased." Then she asked me, "Where is your headache now?"
I was amazed. "It doesn't ache." She thanked me and sent me back to my seat.
"This," she said after the applause died down, "is Bonnie Prudden Myotherapy. Myo is the Greek word for muscles. I just did what I call a quick fix. But I assure you this woman's headache will come back unless she starts to do exercises for her neck and shoulders on a regular basis."
I had no idea at the time who this woman was, but I saw a table filled with her books: Your Baby Can Swim. Exer-Sex. How to Keep Your Child Fit From Birth to Six. How to Keep Your Family Fit and Healthy. Pain Erasure the Bonnie Prudden Way. Bonnie Prudden's After Fifty Fitness Guide, and Myotherapy: Bonnie Prudden's Complete Guide for Pain-Free Living.
I wanted them all. I started following her around the convention. We became friends. I signed up for a weekend workshop with her at her clinic in Tucson and watched her teach ordinary people from all walks of life all about the muscles' painful trigger points and how to get rid of them.
"Your muscles are like a vital woman in love," she said. "Work them sensibly and they will measure up and support you. Ignore them and they will fail you." She ought to know: at 22, she was smashed up in a ski accident, battled chronic neck and back pain, hip replacements, and enough stress to bury most mortals. Doctors told her she could never have children or walk normally again. She just stared at them.
She proceeded to have two daughters and lead exercise classes for every age group.
She went on to author 19 books, six record albums, and she became the first fitness guru in the early days of television.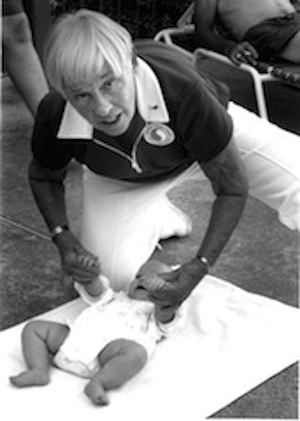 She shocked President Eisenhower with the news that American children were not half as fit as European children, and thus began the President's Council on Youth Fitness, which turned into the present-day President's Council on Physical Fitness and Sport.
Now and then, during that weekend at her clinic, she told us stories of her childhood. My two favorites are these:
When she was three years old, she loved to slip out her bedroom window in the middle of the night and wander the neighborhood. She once rang the neighbors' doorbell at 2 a.m. and told them she had come to pay them a visit. Her worried parents took her to a doctor who told them, "There's nothing wrong with this child that disciplined exhaustion won't cure. Put her in Russian ballet school." They did, and Bonnie went on to dance on Broadway.
When she was eight, she played hooky from school and went every day to the Miami docks. The dockworkers befriended her and, noticing what a superb runner she was, paid her to mail letters for them. A beautiful woman on a very fancy yacht hired her to run orders for gin to a local speakeasy. It soon became clear that Bonnie was a messenger/delivery girl for a floating brothel. She adored it.
Her life was a rainbow of colorful adventures and a passion for helping people keep fit and out of pain. Some of her many sayings:
"The best way to offset tension is with physical activity."
"Very seldom do wonderful things happen while we wait."
"You can't turn back the clock, but you can wind it up again."
Bonnie exercised patients in nursing homes in their beds. I watched her. "Okay," she said, "this lovely lady's legs do not work anymore, but by golly her arms do, so let's go, honey," and she would work the lady's arms high above her head and down again, to wonderful Broadway music. The lady would beam with joy.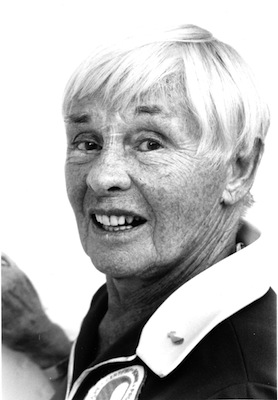 I watched her exercise a baby and saw that baby's face light up with delight in stretching and moving. "Babies need gentle exercise every bit as much as we do."
Bonnie died in her sleep December 11th, having done her exercises to music right up to the last, a smile on her face. She was 97. Her longtime assistant, Enid Whittaker, says the Bonnie Prudden Myotherapy clinics in Tucson will continue as before. Thank heavens.
Bonnie Prudden is one of the most fascinating and inspiring people I have ever met, and I adored her.
Sleep well, Skipper. You have earned it. But I know that, if it's possible, you'll be trying to figure a way to slip out your window and run in the night.