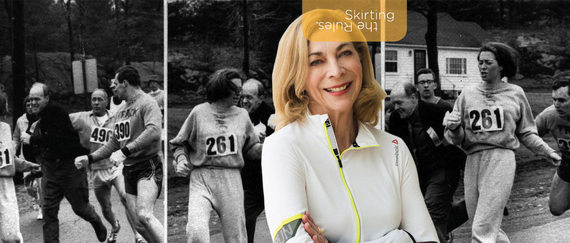 It may seem crazy to think that less than 50 years ago, women were not permitted to officially run the Boston Marathon. All that changed in 1967 when Kathrine Switzer was the first woman to wear a bib number while running that famous road race. She later helped pave the way for women to run competitively in the Olympic Games.
Kathrine Switzer, athlete, activist, and author, was a 20-year-old student at the S.I. Newhouse School of Public Communications at Syracuse University when she decided--after proving to her track and field coach that she could run the 42-kilometer or 26-mile distance--to sign up for the Boston Marathon. She did so using her initials, K.V. Switzer, not to pull the wool over organizers' eyes, but because that's how she always signed her name. When marathon official Jock Semple spotted her on the course, he tried to physically stop her--or at least remove her bib, number 261. Switzer's team mates blocked him from succeeding. In that moment, Switzer chose to not let the fear of what had just occurred stop her from making it to the finish line.
"I had to do it and no matter what, I had to finish the race to prove that women could do the distance and deserved to be in the Boston Marathon," she says, explaining what motived her to keep going. But these feelings also explain what she felt after, when she decided to keep fighting for women's rights to run long distances in races of all kinds, just like the guys.
One of those fights was getting women to participate in the Olympic Games' long-distance races and the marathons.
Switzer was faced with many obstacles when trying to get the women's marathon within the Olympic Games, yet she found creative ways to gracefully skirt around the traditional rules in order to create new ones. "People said it was impossible, that women couldn't run and wouldn't run. The solution was to offer women the opportunities to run in a non-intimidating and welcoming way, like women's-only events so they could experience running with other women. What we did was have thousands and thousands of women turn up to run, which proved to the International Olympic Committee that women could run, wanted to run, and had both the talent and the international representation. At the same time, we had medical evidence from really forward-thinking doctors to prove that, instead of people believing that running was dangerous, running was very healthy and mentally empowering for [women]. It gave them a lot of self-confidence. Women were naturally suited for endurance and stamina."
These were Switzer's words as she explained to Skirting the Rules one of the many efforts she made to get women into the Olympics. She separates these efforts into two occasions: Tokyo and Brazil.
In November 1979, a thousand women turned up to an event set up by Switzer to show the Running Confederation in Tokyo, Japan that women wanted to participate in marathons and races when they were prohibited from doing so. Brazil happened after when the executive of that country's federation said it was not socially acceptable for women to run. Switzer said that women could and wanted to. Switzer used the power of the collective to prove them wrong.
"The federation told me that a marathon would not be successful, they told me: 'Well, maybe you'll get a hundred women.' We had more than 10,000 women show up to our event, so the evidence was overwhelming. Women themselves spoke up, turned up, and changed the odds," Switzer says.
Moreover, thanks to Switzer, who was then the director of the Women's Sports Foundation, the first ever women-only marathon in the US, the Avon International Marathon, was held in Atlanta, Georgia in 1978. More than 250 women showed up from more than 25 countries. The idea that women did not want to run was disproved again in that moment. Still, it was not over--Switzer had to continue lobbying for years in order to help get the first women's marathon to happen in 1984 at the Los Angeles Olympics.
Today, as we saw with the Summer Olympics 2016 in Rio de Janeiro, women can do what men can do. Allyson Felix, 30, made the fastest time in the 400-meter sprint during this year's U.S. Olympic trials, even with a sprained ankle. Caster Semanya from South Africa's Olympic team is still unbeaten since 2009 in the 800-meter run with the best time in the event, as well. Of course, she won gold this year.
Kathrine Switzer and her organization, 261 Fearless--named after her infamous Boston Marathon bib number--are helping create a "community of women who are becoming empowered together and helping women overcome fear through the vehicle of running."
*Reporting by Sophia Melissa Caraballo
Calling all HuffPost superfans!
Sign up for membership to become a founding member and help shape HuffPost's next chapter