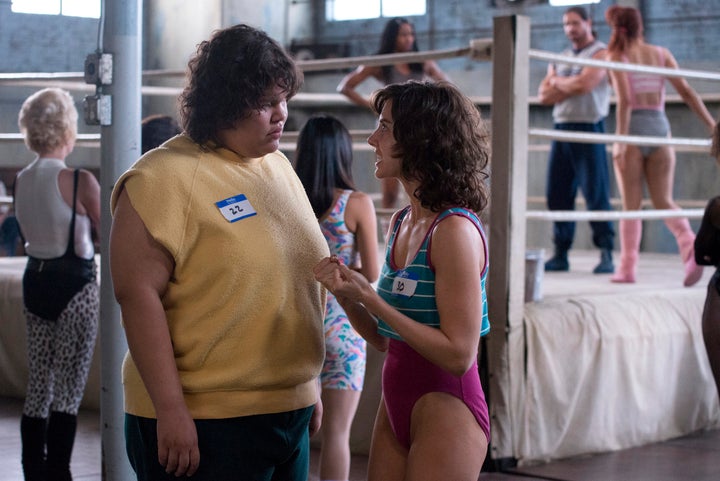 "GLOW," the Netflix show that centers around a gaggle of budding women wrestlers, is, ostensibly, about wrestling. There is a ring, there are fights, and '80s-style leotards make more than a few appearances. But the 10-episode series, brought to you by co-creators Liz Flahive and Carly Mensch and executive producer Jenji Kohan, has layers. Peel away a few of them, gratuitously stuffed with leg warmers and heavily permed heads, and you'll find a story about the pain, love and complexities of forming relationships ― and keeping them, too. 
It's heartening, then, to hear that the women who portrayed the Gorgeous Ladies of Wrestling ― actresses like Alison Brie, Betty Gilpin, Sydelle Noel and Britney Young ― are friends in real life, as well as on screen. According to Young, the various "GLOW" players are still on a group text, which they use to keep in touch, celebrate each other's successes, and just generally support each other until (fingers crossed) Season 2 actually happens.
"We have a text chain where we text almost every day," Young told HuffPost in a phone interview. "We just support each other, no matter what it is," she added.
Young, born in Tokyo, Japan, but raised in Eagle River, Alaska, plays Carmen, the daughter of a male wrestling dynasty who enters into the gimmicky world unbeknownst to her father and brothers. Unsurprisingly, it's not all smooth sailing. In one standout scene, Carmen battles a panic attack before her first fight, a scenario that Young portrays with authenticity and care, a rarity on television. She presses on, though, flanked by Ruth, Debbie, Cherry and the rest, steadfast in their solidarity, even when complicated personal issues wedge some of them apart. 
We checked in with Young this week to discuss the show's lasting impact on her life, the group text we all wish we could join, and the reasons she was honored to act out Carmen's experiences with anxiety.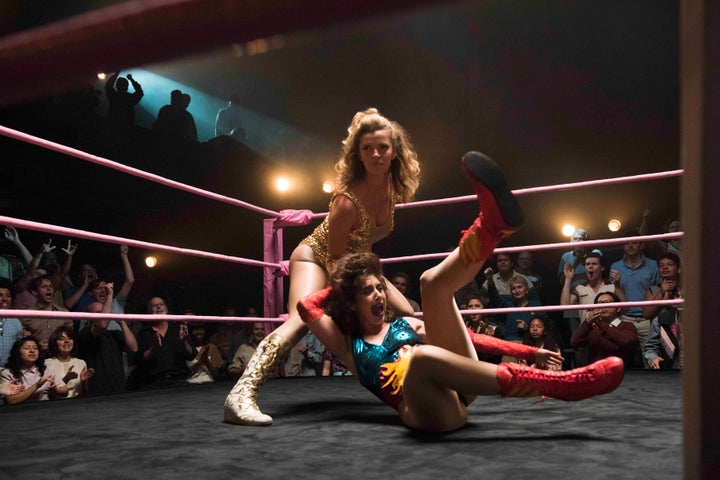 Carmen's relationship with her family is a pretty important aspect of your "GLOW" character. Were you able to draw on any of your own personal family relationships when preparing for the role?
I love Carmen's relationship with her family, but I will say, my family is so, so much more supportive and encouraging than Carmen's family is. But I think I drew a lot from thinking to myself, what happens if they weren't supportive? Specifically in that scene in Episode 4 when she stands up to her father, I thought a lot about what it would be like if my father wasn't as supportive or encouraging. How would that make me feel? I drew from her passion, of wanting this support and not getting it. That's what really brought out that [attitude of], "Fine, you can do you and I'm going to do me."
My dad is actually a football and basketball coach for high school, and has been for years, so I drew a lot from noticing the little things that can encourage you. Specifically in the finale when Goliath comes [to the fight] and starts chanting, "Machu, Machu!" That, to me, was something my dad would do, where it's just kind of a look or a word, where you're just like, yes, I can do this. That force is behind me and they're not going to let me fall, so I might as well try. 
In "GLOW," Carmen struggles with anxiety ― she has a panic attack before her first appearance as Machu Picchu. Did you identify with her experiences with stage fright or anxiety at all? 
I don't have stage fright, thank goodness. But I have posted on my Instagram a while ago a picture of the makeup aftermath of shooting that scene. I really was honored to do that scene. I have, probably since college, had maybe three or four panic attacks where I was at the brink of tears or crying, couldn't breath, heavy chest, had to get under my covers. I remember one where I was in the corner of my room rocking myself back and forth trying to get a rhythm with my breathing because I couldn't handle it. I was really honored that Carmen was the one that got to experience this, because I think we kind of, especially in media, shy away from talking about mental issues.
We also shy away from saying that anxiety is a mental issue. So many people experience it, but when they hear "mental issues" they think, I'm not crazy! That's not what we're saying. We're saying you have a problem that is a psychological problem. It's not something that's wrong with you, it's just something you experience.
I mention this in my Instagram post, after talking with my aunt, who also experiences anxiety, she once told me, "It's just the world's way of telling you you need to calm down and take a moment for yourself. It's OK to say, hey, I just need a minute." I got a lot of good feedback for not overdramatizing the scene, for not making it this huge oh-my-gosh-I'm-spinning moment. I just did what I know. And what I know is my panic attacks, where I can't breathe and I need to sit down and take a beat for a minute. I was really honored to do that scene where it was my truth, and now it's going to be Carmen's truth.
In previous interviews, you've talked about the importance of representation on TV. Who were some of the actors or characters you looked up to as a kid? 
As a kid, I was obsessed with Raven-Symoné. Here was this girl that was a light-skinned, sassy girl kind of like myself. I really gravitated toward her. As I got older, I really did appreciate what women like Rebel Wilson and Melissa McCarthy and Leslie Jones have done for plus-size girls, or in Leslie's case, taller girls. You can kind of go back to this typecasting where we think that plus-size girls always have to be the shy girl in the corner who have no friends and don't love themselves, or they have to be these mean-girl bitches who are going to beat you up even if you give them one look.
I really appreciate with Carmen that she's neither of these things. She's real. She's real to me. She seems like someone who, when you're on the bleachers waiting for an audition, would just be like, "Hey, you having a good day?" I gravitated toward that, where it wasn't so much about being the butt of a joke or being evil because of your size. It was ― we're going to celebrate your size, we're going to show you as a real person, because that's what we want to celebrate.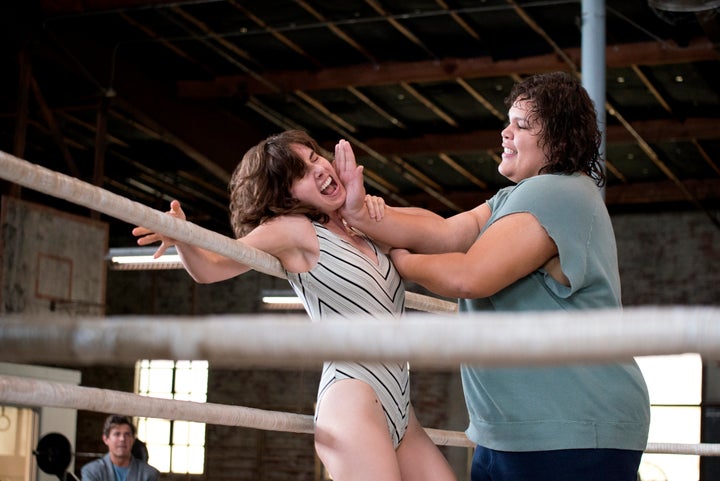 What was the audition process like for you for "GLOW"?
My audition process was much longer, because I was toward the beginning of when they started bringing in girls. I had originally seen an article in Deadline about the show and had this idea to send my agent an email saying, "Keep an eye out for this." Never did it. Skip ahead to where I got some audition sides from our casting director, Jen Euston, and I called my agent and was like, "What is this for?" He's like, "Oh, you're going in for 'GLOW,' Break a leg."
I went in and ― I don't mean to say this to be humble or an actor's cliche ― but I really didn't think I did a good job in the audition. Jen was amazing. She worked with me for 45 minutes. We did three scenes multiple ways. I wanted the role so bad that I got so nervous and interpreted everything as, eww, I didn't really do a good job ― she had to work with me! I called my agent after and was like, "Sorry buddy, that ship has sailed. I'll get the next one." So I was very surprised when I got an email later that day saying I got a callback with our co-creators and Jenji Kohan. I walked out of that audition and it was a complete change. I thought I nailed it. I thought it was mine. I walked out and was like, "I'm going to be Carmen."
That confidence threw me, because I didn't hear anything for weeks. I was so nervous and didn't know what was happening. Then they finally called me and asked if I would come in and do a stunt audition, which, I later found out, I was the only girl who did a stunt audition. I met with our wrestling coordinator, Chavo Guerrero Jr., and our stunt coordinator, Shauna Duggins, and we just did a couple of things. We ended the session with me telling Shauna to jump into my arms, just so I could show them that I could throw and catch people. I found out the next Monday that I got the role and that we were starting training the next week.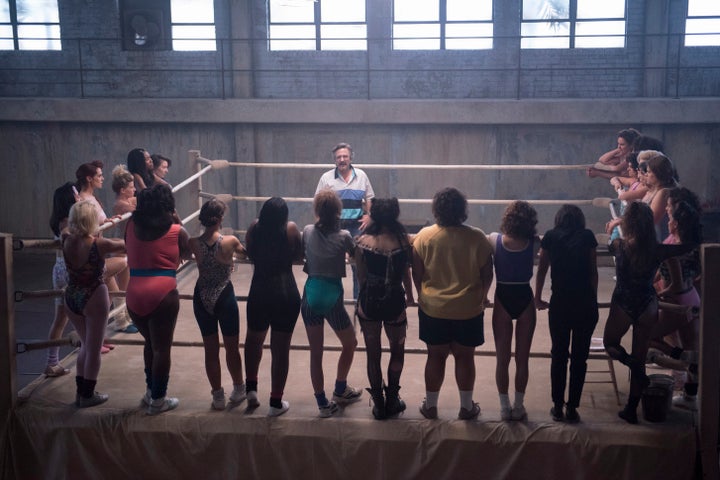 What was your favorite wrestling move you learned during training?
I don't even know if this is a move, but I love running the ropes. I think it's so fun to just run the length of the ring and just hit those ropes. I'm a bigger girl, so when I ran them the first time, Chavo was, I think, expecting that I'd have these long strides and be pumping my arms. No, I run like a T. rex. I got my arms tucked into my arm pits, and all the girls are laughing. "Try longer strides!" And I'm just like, dink-dink-dink. I think it kind of plays into Carmen and her innocence and her kind soul. She going to go out there and still be a little bit of her when she's Machu Picchu. She's going to daintily run the ropes.
Obviously the "GLOW" cast was dominated by women. Given the large number of actresses on set, did you have a close friend or group of friends that you gravitated toward?
Oh, everybody. And I don't say that because I don't want to hurt someone's feelings. Literally, what I loved about our cast, was that every day when they set up our cast chairs, we were always sitting by someone different. And I think that really helped us a lot to get to know each other. I also loved that at lunch, we never had cliques. You never saw the same group of girls eating together every single day. It just felt very natural for us. That's something that helped in portraying the personalities on screen. Because it was like, OK, we know where you're coming from. We understand why you are the way you are.
I just love them all. We have a text chain where we text almost every day. We hang out. A bunch of this weekend just went to see Alison [Brie] in a new movie, "The Little Hours." A bunch of us all over the country [in the text chain] were like, "We just saw this!" We just support each other, no matter what it is. We want to continue to work together and continue to be friends.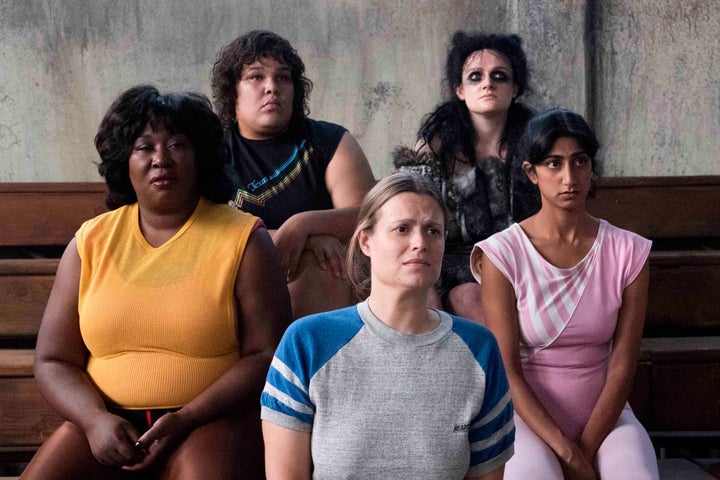 If it goes forward, what would you like to see happen in "GLOW" Season 2?
Season 2! I would love to come back. I really want to see how these women start to embrace or react to this newfound fame they'll have. Most of them are actors, so they wanted this fame. I want to see how this really does start to shape their characters or change and strengthen their relationships.
With Carmen, I want to continue to see her grow within herself. She is this innocent person, she hasn't been exposed to a lot of things. Especially coming into Hollywood in the '80s ― drugs, alcohol, boys, relationships, sex. Those things are going to come up, and I'm very curious to see how she reacts to those things if she's put into those situations. I'm really interested to see how she embraces the '80s Hollywood lifestyle, if she even does at all.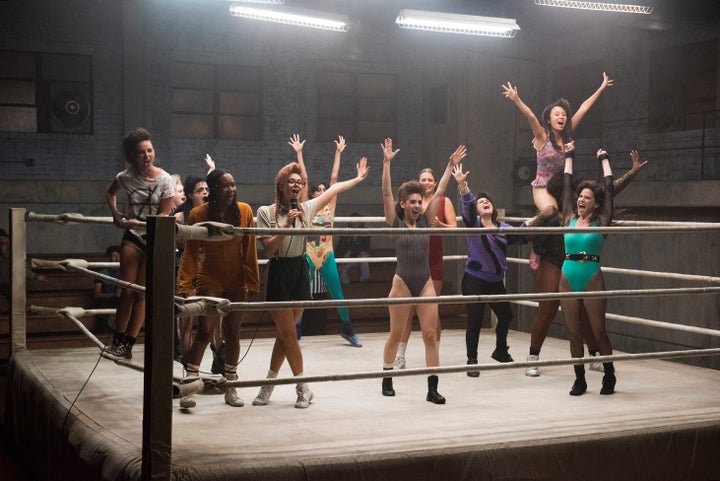 "GLOW" is now streaming on Netflix. 
REAL LIFE. REAL NEWS. REAL VOICES.
Help us tell more of the stories that matter from voices that too often remain unheard.
BEFORE YOU GO
PHOTO GALLERY
12 Essay Collections By Women To Read In Your 20s