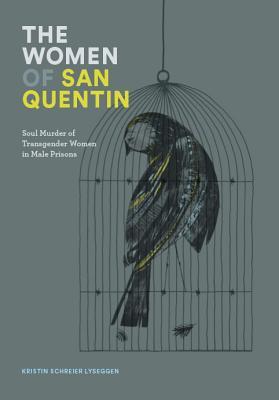 Norwegian-born Kristin Lyseggen is a journalist and photographer based in Berkeley California with lots of compassion and love. I was invited to meet Kristin, the author of the newly released book, The Women of San Quentin, at the City of Refuge Church of Christ in Oakland on a Sunday afternoon. I enjoyed meeting Kristin and her husband but I also enjoyed the worship service very much. Kristin has published two books, The Boy Who Was Not a Lesbian (2013) and The Women of San Quentin (2015). She and her husband, Dr. Herb Schreier, are working on long term independent projects including a film on sexual abuse and human trafficking.
The Women of San Quentin: Soul Murder of Transgender Women in Male Prisons exposes the horrendous, inhumane treatment of transgender women incarcerated in U.S. male prisons. The question arose should taxpayers pay for what has been deemed necessary medical treatment for transgender people in prisons? The book details the true stories of nine transgender women who come from a variety of backgrounds. Factors such as poverty, race and gender are very evident in their stories. After reading Kristin's book the question I asked myself was "Should any transgender person in jail be subjected to being gang raped, beaten, starved, denied medical treatment and a sex slave to survive in prison?"
During my interview with Kristin, I asked her why she wrote this book. She told me look to the front of the book and it says "The book is dedicated to people with gender identity differences imprisoned around the world, unable to be who they are." Kristin explained to me her book is for people like her, middle to upper class, who grew up in a safe environment where things such as racism and poverty were not so visible. Many of these nine transgender women come from backgrounds of extreme poverty, transphobia and rejection from their family. One of the nine women featured in the book was at the service and a member of the City of Refuge. Her name was Tanesh Watson-Nutall and she was featured in chapter 6 "A Girl Named Harvey." She had battled drug addiction for many years but now she was finally clean and married to her husband, Pierre, and they both had found strength in God and each other.
Kristin's goal with this book is to enlighten and educate society about what is happening in our prison system and that each individual regardless of their gender or sexual orientation, deserves to be treated humanely and fairly in prison. Her message is in spite of the conditions of these women's lives, regardless of what landed them in prison and their crimes, there should always be the possibility of redemption. Many of the crimes committed by these women were based off survival and the inability to get jobs because of discrimination, lack of education and bias against transgender people.
I enjoyed this book tremendously and the true stories told were amazing. Compassion for our fellow man and woman goes along way to create a dialogue of equality and fairness. To find out more about Kristin and her books, please go to http://www.kristinl.com. Her publicist is Kathlene Carney at kathlenec@carneypr.com.
Popular in the Community