Upstate New York (Albany and Troy) - For Brenda Ann Kenneally, it turns out home is literally where the heart is -- even if she wasn't physically present for decades. While the photographer's return and loyalty to her childhood roots in upstate New York might seem endearing, the words and work she's produced as a home turf honorarium, history and empowerment exercise aren't exactly fodder for Hallmark homilies and Norman Rockwell portraits. Actually, the location is home to one of Rockwell's most famous backdrops, but the scenery shot through Kenneally's lens doesn't agree with the artist's idyllic portrait of small town bustle and bliss. The bustle today is more like hustle -- not so much to make a comfortable living as to make ends meet. And bliss is likely to mean a brief respite from daily turmoil, insolvency and homelessness, thanks to meager material support from friends, family and the government.
What Kenneally captures aren't quaint stage shots sugarcoated for mass consumption. The cast is comprised of single upstate mothers living and working beneath the radar of the mainstream American dream and awareness. Most survive on minimum wage service positions. The portraits are sometimes jarring and brittle. All are refreshingly realistic. Rather than play for sympathy, Kenneally's subjects display a gritty determination and dignity, and no matter how grim the material support and circumstances, emotional assistance compensates. If ever there was a visual expression of fierce loyalty, tough love, righteous anger and brutal realism, it's displayed in the portraits Kenneally has shot over a seven-year period.
The sprawling project, titled Upstate Girls, is far from finished. Kenneally plans to compile her extended efforts into a digital collage highlighting poverty, along with the population and their plight, for the multimedia era. She concentrated on a group that serves as a microcosm of American poverty; one with which she's intimately familiar. The subjects and circumstances of her photography are latter-day reflections of her childhood. A gallery, book and full-length documentary are in the works, and the photographer recently collaborated with In Verse, an ambitious alchemy of "poetry, photography and sound" to produce an offshoot of her project, called Women of Troy.
What begin as a photo assignment turned into an epic endeavor. In 2002, the New York Times Magazine hired Kenneally to illustrate -- via photography -- Adrian Nicole LeBlanc's piece, "Prison Is a Member of Their Family." The location was Troy, New York, barely a whisper from Albany, Kenneally's hometown. A friend of one of her subjects reminded the photographer of herself, encouraging the photographer to revisit her deserted childhood and stomping grounds. It turned into a reunion with no end in sight.
She had fled the upstate New York depression as a teenager. Not much more than a baby, herself, the youth terminated both a pregnancy and contact with her mother (her father was absent from the household) before hitching a ride to anywhere. It wasn't merely a geographic change she sought. Rather, it seems she was searching for an environmental, perhaps even metaphysical, change. Even at a young age, while she may not have understood the full socioeconomic dynamics surrounding her class, she resisted the unspoken but already obvious limitations placed upon poverty and its inhabitants. Several years earlier, her first avenue of escape was an older boyfriend and the accompanying diversions -- music, drugs and sex. While she dodged the immediate consequences with an abortion and exit from the drudgery and dead-end surroundings of working class Albany, she never really escaped her childhood . As she wrote in the Virginia Quarterly Review:
Then came a twenty-year exile where I found photography and didn't die and did my best to forget. But I never lost my outrage at the wrongheadedness of the notion that people who are financially and emotionally vulnerable and generally ignored by society at large can then be "controlled" by the penal system.
She ended up in Florida. After a series of odd jobs and assorted challenges, including recovery from alcoholism, Kenneally graduated college. She launched a photography career, earned a graduate degree at New York University, and is now pursuing a Ph.D. while regularly winning awards and plaudits from colleagues and fans. But she's constantly reminded of the implausibility of her happy ending, knowing that for others of similar circumstances, the odds are long even if not impossible. She told me in a phone interview that her goal is to have the women "recreate their own path according to their own truth." Part of that path is compiling scrapbooks with snapshots and narratives detailing their daily lives and decisions. Empathy and outrage motivate Kenneally's lengthy project. She simultaneously rails against society's injustice and disregard while counseling hope, action and prudent decisions. She believes poverty is an emotional rather than material condition. Often poverty is an excuse to exploit and separate people, but Kenneally is all about empowerment. All the while, she still attempts to reconcile her finances with her passion, struggling to survive on freelance assignments and secure grants and assistance for the Upstate Girls project.
Invaluable assistance came through Lu Olkowski. A contributing producer for an innovative national public radio series, Studio 360, she was also a founder of In Verse, an alternative media platform that sought to integrate poetry, photography and journalism. She wrote about In Verse's initiation:
"In Verse" was developed through a series of conversations with Ted Genoways, the editor of Virginia Quarterly Review, about why poetry isn't more popular and relevant in our daily lives. The central premise of "In Verse" offers a possible solution: why not engage a poet as a reporter? Send him or her out on assignment and deliver the story through poetry.
Genoways had wanted to feature Kenneally's photographs in the Virginia Quarterly Review. After In Verse took hold, the presentation came into focus. He recruited poet Susan B. A. Somers-Willett, a New Orleans native and recent transplant to New Jersey, where she currently teaches at Montclair State University. The poet embarked on what she described to me in a telephone interview as "a difficult project, an emotional project, a tearful project and a beautiful project."
The collaboration secured grants and overcame the initial distrust from the project's subjects. Kenneally had already established a sturdy, even intimate, trust and rapport with the women. After all, she's an upstate girl. But Olkowski and Somers-Willett were outsiders. As Olkowski observed, the women are living on the economic edge. It's understandable if they wonder if any hand extended will offer a pull or a push. But Kennally introduced the two into the women's homes, allowing them to not only observe but experience their lives.
The finished project is both heartwarming and heart wrenching. The women of Troy somewhat reflect their residence. Once a proud and prosperous industrial center, Troy has sunk into neglect. The history of patriotic fervor is still evident in the statues and parades that stream through town, but underlying the upfront Americana is a society on the sidelines. While Troy stood at the forefront of industrialization that propelled America to superpower status, globalization and technology have left both the industrialization age and Troy in the dust. Today, 16 percent of Troy's children live below the poverty level; the about the same percentage live in households with only one parent -- their mother.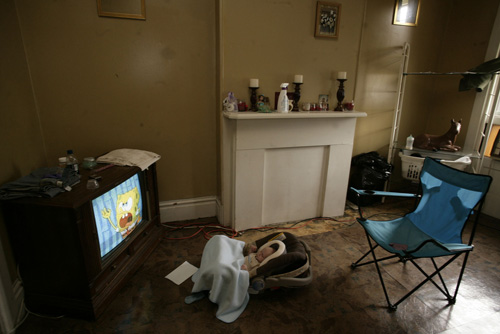 Photos courtesy of Brenda Ann Kenneally.
Men are rare in Troy. Somers-Willet described them as exotic and endangered, if not exactly extinct. Many are incarcerated in upstate correctional facilities, supporting the area's penal industry but not their families left behind. The women don't have the time or temperament to wallow in self-pity. It's barely an attitude that separates their predicament from the men. The men might be jailed, but the women are also imprisoned by poverty. It's only their resilience and strength that liberates them.
One poem, "A Call to Arms," summarizes the scenario:
Don't make the mistake of calling her
angel or saint. The tremendous broad crowning
Troy's war monument grips her sword
and blows her horn for the sake of war,
not for its spoils, and so for her no poems are written.
For her, men stuff and cock their guns.
They go upstate, these men, or just away.
Those left languish here in bronze, cast
among glistening plumes of smoke at Gettysburg
or swirling dreamlessly in the iron tomb
of the foundering Monitor. Even homeboy Uncle Sam
stands frozen, soldered together in a weird
patchwork of steel. The women are another story.
A block away, the metal belly of the 22 to Albany swells
with an army of hotel domestics who have been waiting,
eternally waiting, at the Uncle Sam Bus Stop. The driver
says God bless when they board as if this
waiting were some test of faith, as if this waiting
could approximate something the living do.
The bus hisses gas into the lindens, noses past
a slatted factory that grins an emptiness so wide
it belies its wooden ribs. The bronze bitch
atop the city hasn't turned a blind eye
to any of this. It's just that she never
promised anyone here victory, only offered
this dull blade and the collar
of nerves a girl needs
to walk down the block
and receive the beating
someone said she deserves.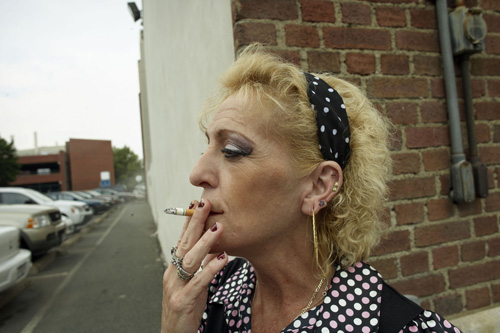 Women of Troy is a series of poems, photographs and reality shows, complete with background noise. Poems and slide shows featuring Billie Jean Hill and DJ Guerrin, two of the women of Troy, include their dialogue in the mix, a shot of realism that amplifies rather than distracts from Somers-Willet's poetry. The poetry, itself, alternates soaring verses with cutting asides and expletives. The dichotomy is disturbing and fascinating -- precisely what the creators intended. When Guerrin's mother is saluted in poetry for assisting her daughter and grandchildren, the mood is derailed when we're informed of her pet name for Guerrin, no matter how warm the term of endearment is intended -- "my bitch, my baby bitch."
Poverty is shocking. And the shots aren't glamorous. A verse describing Guerrin is a summary of the entire project: "No makeup, all attitude." Most people, as Sommers-Willet observed, tune it out, believing the subject so depressing and dismal that there can't be any value or redemption in such circumstances. "These women have moments of joy, empowerment and connection with each other and with us," the poet stated. Hill and Guerrin are just two of the women of Troy. Kenneally is another. While we won't see a stereotypical Helen of Troy in the crew and Billy Joel's "Uptown Girl" wouldn't serve as a viable soundtrack, people are left believing that the women of Troy are beautiful and bold.
Support HuffPost
The Stakes Have Never Been Higher
Related
Popular in the Community