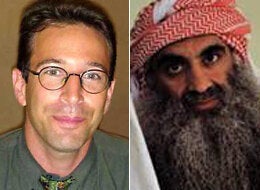 The Pearl Project began as a journalism course three years ago at Georgetown University. This class had no ordinary syllabus. Its goal: nothing less than to expose the hidden details and motivations behind the 2002 kidnapping and murder of Wall Street Journal reporter Daniel Pearl. The class drew students -- mostly female -- from as far away as Lebanon and Qatar.
The Pearl murder horrified the world and inspired a Hollywood movie starring Angelina Jolie. But the actual investigation into the killing stagnated long ago. According to Asra Nomani, the journalist and activist who taught the Georgetown class alongside journalism director Barbara Feinman Todd, that's because the FBI had to move on to other priorities. The driving forces behind a murder that transformed the modern practice of journalism remained veiled from the world.
Today, after three years of hands-on investigative reporting, the Pearl Project pulls back the curtain. The class's full investigation has been published by the Washington-based Center for Public Integrity. Among the key findings: U.S. officials used a forensic technique called "vein analysis" to confirm that the killer is Khalid Sheikh Mohammed, the man who also is suspected of masterminding the 9/11 attacks. Mohammed had confessed to killing Pearl years ago, but there had been lingering doubts. The class also determined that 27 men were involved in kidnapping and killing Pearl, and that 14 remain free in Pakistan.
For the students behind the Pearl Project, this was no academic exercise. In tracking down the identities of Pearl's kidnappers and killers, students made phone calls and even face-to-face visits to relatives of suspected Pakistani terrorists. The students' reporting not only unearths the tangled and contradictory motivations behind the murder, but sheds light on the global war on Islamic terror networks.
I had the privilege of meeting some of these brave students during their investigation. Some told me that they had only a foggy memory of the murder they were investigating, since they were just 13-years-old or so when it happened; others recalled watching the terrorists' grisly murder video while in high school. You can read more about the individual students and teachers behind this incredible project here.
Abigail Pesta is an award-winning journalist who has lived and worked around the world. Currently she is the editor-at-large of Marie Claire magazine in New York. In Hong Kong, she was a news and features editor for The Wall Street Journal. In London, she ran an editing desk for Dow Jones Newswires. She has also worked at Glamour, where she launched Mariane Pearl's popular column about women who change the world. Abby writes short stories for her website, Fine Words Butter No Parsnips.
Related
Popular in the Community