For the past few days, the hashtag #AddHerName has been making the rounds on Twitter in response to a glaring problem with the Women's March.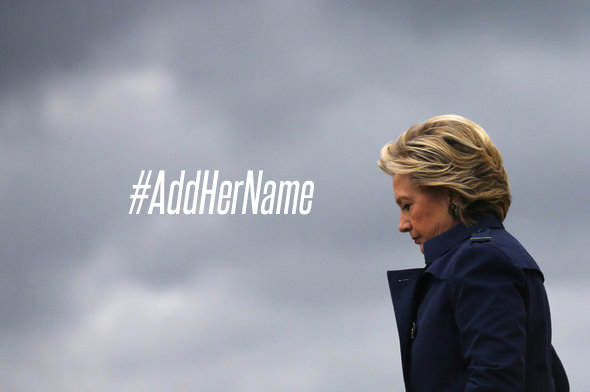 UPDATE #3: January 24, 2017 at 8:05 a.m. PST — Probably one of the most talked about stories from the event was Ashley Judd's electric spoken word performance of 19-year-old Nina Mariah Donovan's poem "Nasty Woman." Judd's tour-de-force delivery reached it's emotional climax in the final moments when she began speaking the names of feminist icons, before throwing her fist in the air and finally adding the name that so many have been waiting for.
Groups like Wise Women For Clinton are at the forefront of a mini-movement to "add her name," and have presented organizers of the march with a letter officially demanding it.
UPDATE #2: January 23, 2017 at 12:04 a.m. — David Brown, a member of Bros4America, submitted this photograph from in front of the White House, saying "I marched for Hillary. I was drawn to her lifelong advocacy for children and women. I was impressed by her many accomplishments spent in service to the public. And I was inspired by her resolve to persevere against continual attacks perpetrated by those who felt threatened by her."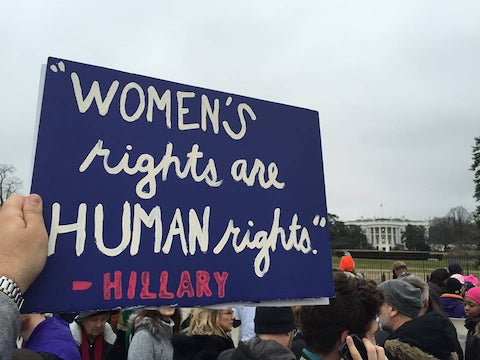 UPDATE: January 21, 2017 at 1:30 p.m. — Live on the ground here in Downtown Los Angeles, the march appears to be going smoothly, though with a much larger attendance than originally anticipated. The Los Angeles Times is reporting 750,000 have converged upon the downtown area to oppose Trump and stand for women's rights.
"Do you know who first coined that phrase?" I asked a young woman who was holding a sign sporting the iconic words ''women's rights are human rights, and human rights are women's rights, once and for all."
She blinked, staring back at me blankly for a moment before laughing nervously, "Katy Perry?"
I will march with a deep sense of regret that an event meant to defend women's rights and honor feminist champions is engaging in an egregious act of normalization. I will march even as I feel this event is committing an injustice, because I stand for women's rights and vow to defend those rights in the face of a potentially regressive Trump Administration.
The Woman's March has a shameful problem. The principle that "women's rights are human rights and human rights are women's rights, once and for all" is a well-known feminist mantra that organizers of the event say is the "bold message" they seek to send our new government today, purposefully planned to coincide with the president's inauguration. The person who brought these powerful, timeless words to prominence happens to be a woman. In fact, she is the same woman who became the first female major-party nominee for President of the United States. In an almost ironic reflection of the plight women face in our society, that nominee won an astronomical 2.8 million more votes than her opponent in that election, but was told nevertheless that the man she beat would get the job anyway, even if he was less-qualified. Indeed, she won more votes than any other presidential candidate in history, second only to outgoing President Barack Obama, whose 2012 total she tied.
This woman, a former First Lady of the United States who became the first to have a policy role and impact in a presidential administration, a two-term United States Senator from New York, and the most traveled Secretary of State in American history, also happens to be the most admired woman on the planet a record-breaking 21 times.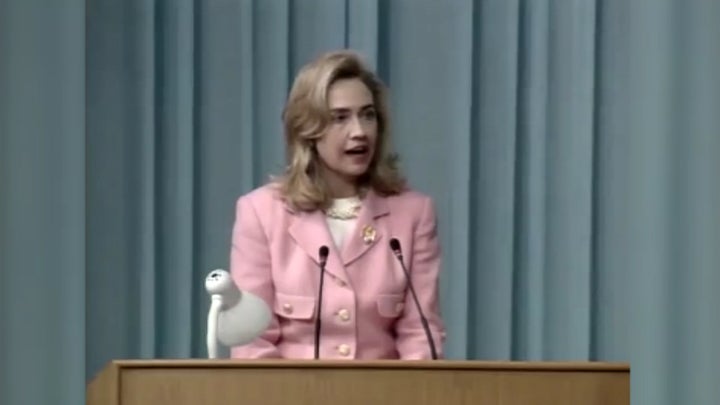 Surprise! That woman is Hillary Rodham Clinton, and the election she 'lost' and subsequent inauguration of the demagogue she lost to happen to be the disasters that organizers of the Women's March say inspired this event, which is twenty years after Clinton coined the famous words. And yet, her name does not appear on a list of honorees the organization says paved the way for women's rights. Hillary Clinton's contribution to society and to women is one that is deserving of endless respect, and gratitude, and for women (and indeed all of us), her denial of the presidency and the way she was treated in the preceding campaign season because of her gender should be deeply angering and frustrating.
Hillary Clinton shouldn't just be on the list of honorees. She should be the headliner.
Failing to adequately note and honor her normalizes the abuse she was forced to endure throughout the campaign season. How can we combat "the rhetoric of the past election cycle [that] insulted, demonized, and threatened many of us" without honoring the woman who combated that demagoguery at every turn in our name?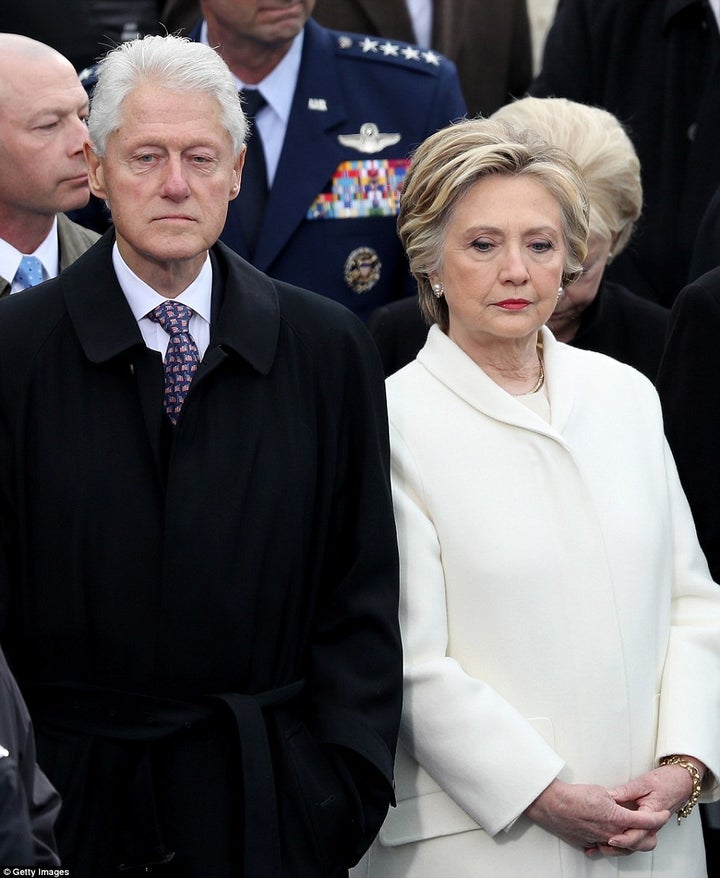 Americans watched as Hillary Clinton attended the inauguration yesterday, in the name of democracy and it's enduring values.
She did not need to be there. No one would have faulted her for skipping out. But she showed up. It was a move that highlights her valiance, courage, and resilience. It was noble. It must have been deeply painful. But, grasping former president Bill Clinton's hand, she took a deep breath and she endured it.
And then, as she and President Clinton were announced to the stage, the distant sound of people beginning to chant "lock her up!" could be heard from the crowd.
Good Morning America had the nerve to refer to her as Bill Clinton's wife upon the former first couple's arrival at the event, even though she won more votes than her husband did and has been more relevant in the past decade than he has.
Is there no limit to the amount of humiliation this great woman and this great American must face?
I march today with women. But the Women's March organizers are contributing to silencing one of their own. Omitting her name at this event, on this occasion, following this election is an egregious and unforgivable injustice for women, Americans, Hillary, and all of us.
Popular in the Community