The Library Company of Philadelphia's founder Benjamin Franklin, as many of you probably know, conducted electrical experiments in mid-18th century Philadelphia. We still have some of the electrical apparatus Franklin used in our collection. His experimentation led to the discovery of positive and negative charges, the classification of lightning as an electrical phenomenon, and the development of the lightning rod. It was not until the last quarter of the 19th century, however, that practical everyday uses for electricity developed. In 1881 the Brush Electric Light Company started to supply electricity to a small portion of Philadelphia's Chestnut Street, and from that point on, there was no turning back. The excitement and wonder created by electricity in turn-of-the-twentieth-century Philadelphia is well documented in our photograph collection.
When the luxurious Bellevue-Stratford Hotel opened its doors in Philadelphia in September 1904, electric lights illuminated the hotel's 1,000 guest rooms, lobby, dining areas, and meeting spaces. Two years later, the presence of electricity at the hotel was still noteworthy enough to be included in the title of this view.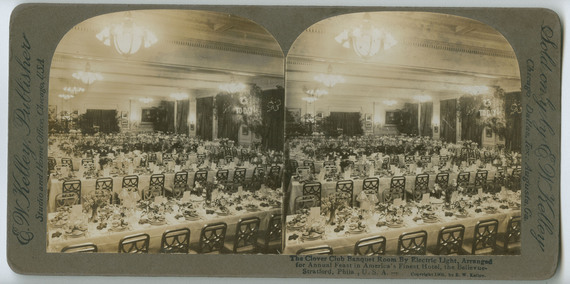 The Clover Club Banquet Room by Electric Light, Arranged for Annual Feast in America's Finest Hotel, the Bellevue-Stratford, Phila, U.S.A., gelatin silver stereograph, 1906. Gift of Raymond Holstein.
Electricity lent a magical aura to the decorations put up along Broad Street, Philadelphia's main thoroughfare, to celebrate the end of the Spanish-American War. The Philadelphia Inquirer on October 28, 1898 described this area of Broad Street during the nighttime celebration as "a scintillating avenue of fire, spanned in the centre by the huge glittering arch, which seemed like a crown of fiery gems, suspended in midair...." In the upper right corner of the photograph Philadelphia's City Hall ornamented with an estimated 8,000 electric lights can be seen.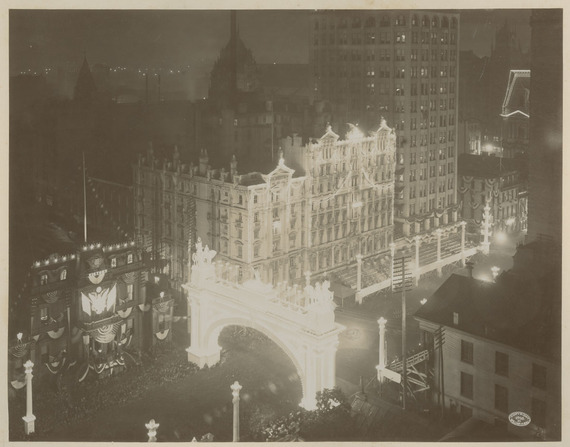 William Rau. Court of Honor, Peace Jubilee, Broad and Sansom Street, Philadelphia, gelatin silver photograph, 1898. Gift of Mr. and Mrs. Maro S. Hunting.
Although embellished with a much more modest 150 electric lights, Philadelphia's Palace Auditorium when lit up, undoubtedly, attracted the attention of those in search of inexpensive entertainment. For a mere five cents patrons were promised an hour-long show that changed daily. Another nickelodeon with its own electric sign right next door competed for the customers' money and attention.
After spending a pleasant hour enjoying a show, theatergoers with another nickel to spare could walk only a few blocks and partake of another technological wonder, the electric shoe shine. Even powered by electricity, the shoe shining experience could not be completely automated. The attendant holding the rag probably buffed the customers' shoes and a cashier was needed to make change. According to the signs, the Automatic Electric Shoe Shining Company of Philadelphia planned to open fifteen parlors in the city and the one pictured here was their first establishment. The company's dream of an electric shoe shining empire, however, probably never materialized.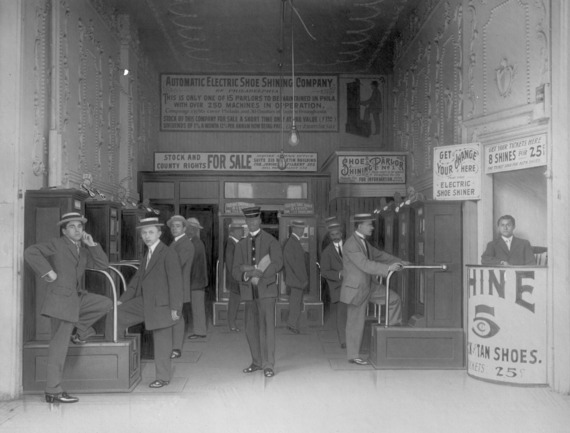 Seth Pancoast Levis. Automatic Electric Shoe Shining Company of Philadelphia, original glass negative, ca. 1900. Gift of Matthew Schultz.
We now take for granted that electric lights come on when we flick a switch, or even swipe a touchpad, but for Philadelphians at the turn of the 20th century, electricity was new and magical and the possibilities for its use seemed endless.
Calling all HuffPost superfans!
Sign up for membership to become a founding member and help shape HuffPost's next chapter