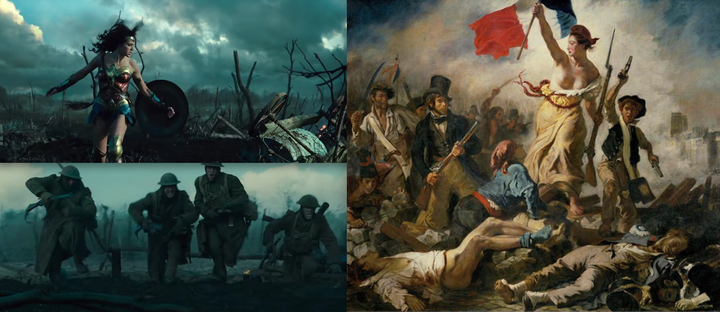 There is one scene in the immensely popular Wonder Woman film that for the past three weeks has both women and men who've seen it confessing in public that it moved them to tears. What's not surprising, yet most people don't know, is it's the kind of mythopoetic scene that has been enthralling populations around the world for at least three-to-four thousand years. That's mythopoetic, meaning the making of new yet vitally meaningful, if not symbolic, stories filled with imagery reflecting, yet also shaping and advancing, the political, legal, moral and social practices of today.
Myths aren't merely fictions or inventions. Neither are they solely archaic remnants of the past. Living myths are vital and current representations about what large segments of a population find to be both compellingly attractive and meaningful to their lives. Myth helps to perpetuate desired thinking and behavior by presenting a model of living so attractive that people come to desire and emulate it in everyday life. Myths inform our art and entertainment, even our sciences and faiths, as much in the modern world as they did throughout history as a means to self-consciously, even unconsciously, promoting the moral values, social codes and politics of the day. Yet mythopoetics are also our attempt to introduce new social customs and codes of behavior that we wish to make enduring. For instance, Wonder Woman and her Amazon origins have for decades been mythopoetic of feminism and activism confronting patriarchy with the quest for equal opportunity in business, law, the military and politics, while confronting violence and prejudice against women.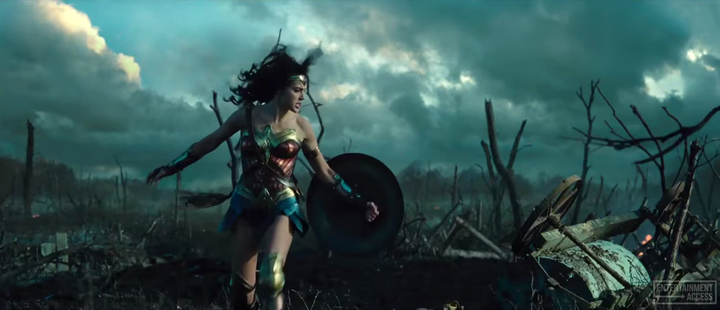 The scene in the new Wonder Woman film that people are crying over in theaters and raving about afterward happens to be among the most powerfully mythopoetic scenes ever filmed at the same time it is one of the oldest myths to have been utilized by artists and writers after it had been invented by early military strategists and leaders. And while the scene does have militarist undertones, it is used by director Patty Jenkins in the name of raising the esteem for powerful yet compassionate women as heroes and leaders to a level equal with that of men for having won over a huge and adoring popular audience around the world. This is infinitely more significant to the lives of ordinary people than the milestone of the film's having broken several glass glass ceilings for a female director, star, and fictional hero -- though those accomplishments too are essential to the lives of modern women and men. Just the number of little girls and boys who will carry their memory of the magnificently courageous and assertive Diana of Themyscira defying the authority and violence of despotic men is likely to have a century of positive impacts on the future roles of women in politics, both as candidates and voters, as well as on the legislation of laws servicing and protecting women and their rights. Perhaps had the film been released a year earlier, a woman would be in the White House today.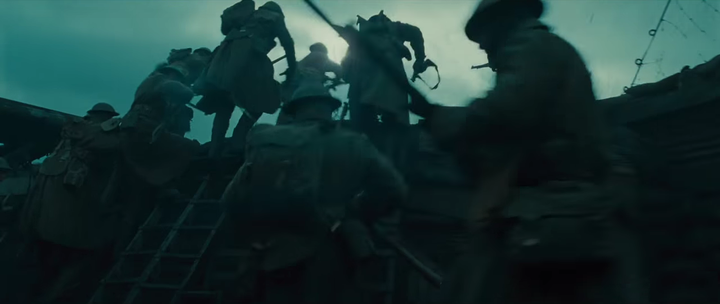 The scene holding us enrapt is set in the trenches of a 1917 battlefield in occupied France, a No Man's Land where a stalled battle awaiting a rumored armistice holds up the end of the so-called "War To End All Wars" -- as World War I was then being called for the great "advance" in military technology that both sides introduced to kill millions "more efficiently". It is one of the first places the unknown Amazon princess, Diana of Themyscira, has been brought after her hidden Paradise Island was discovered by an American pilot, Steve Trevor, when his plane pierced the curtain of supernatural mist shielding the island after it was shot down and pursued by Kaiser Wilhelm II's navy.
Only Diana, Steve Trevor and the British high command know that the armistice talks are a ruse for gaining the time required for the Germans to transport to the front a newly-invented hydrogen gas that will annihilate the allied forces. On their way to the front, Diana has witnessed innumerable casualties among civilians, including children and animals, and now at the front, among the British, French and American soldiers. Diana's compassion has been deeply shaken by the casualties and burdens of war and she wants to help. But Trevor, the first human male she has laid eyes on in the twenty-some years of her life (or the equivalent in demigod chronology) annoyingly keeps her impulses in check by insisting, "There's no time. This is not what we're here for. We're here to stop the war." Although she remains silent, her face betrays her impatience and mounting anger as her empathy turns first to indignation, then to bristling determination for rebellion. She has not come from Paradise Island to this hell to be put in check by a human, especially a man whose reliability is still to be proven. Except for nurses further back from the battlefield, Diana is the only woman in the trenches. Most of the men there are bewildered, unable to fathom why she has been brought to the brink of No Man's Land.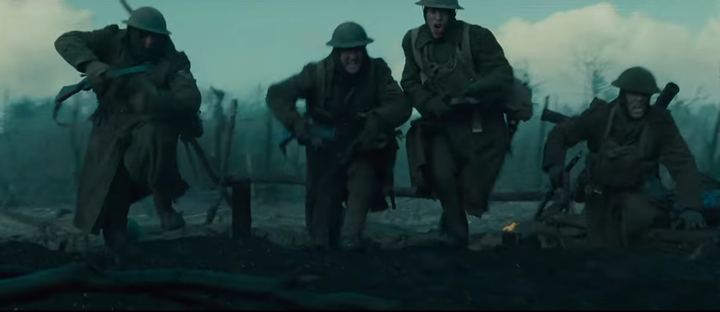 Finally fed up with the waiting and with what she perceives to be the insensitivity of the soldiers to the suffering around them, Diana pulls off the cloak that has been hiding the armor, lasso, sword and shield bestowed to the Amazons by long deceased Greek gods. She passes the unbelieving, gaping men while ignoring Trevor's entreaties to remain in the trench as she steadily and majestically climbs a ladder to the surface. As she sets foot on the desolate and demolished terrain of No Man's Land, the tempo of the score for the scene by Rupert Gregson-Williams that began with respectful deference to close ups of Diana's evocative face now begins to mount as shots of her weaponry and armor fill the frame. The camera rises to survey her confident stride as she walks resolutely forward under foreboding clouds. Suddenly we watch the first German bullet flying toward Diana in slow motion from the German vantage a mile away. Cut back to Diana, also in slow motion, as she lifts her left arm to deflect the bullet with her armored bracelet, then another now with her right. In a second she repels a barrage of bullets, then lifts her shield to repel a shell hurtling from overhead. As she picks up her pace, then begins to run directly at us, the music swells, as do our hearts. Cutting behind her, we watch Diana making leaps and hurdles that describe great arcs through the sky so that within seconds she is in the German trenches pummeling the enemy and its artillery before they can see her.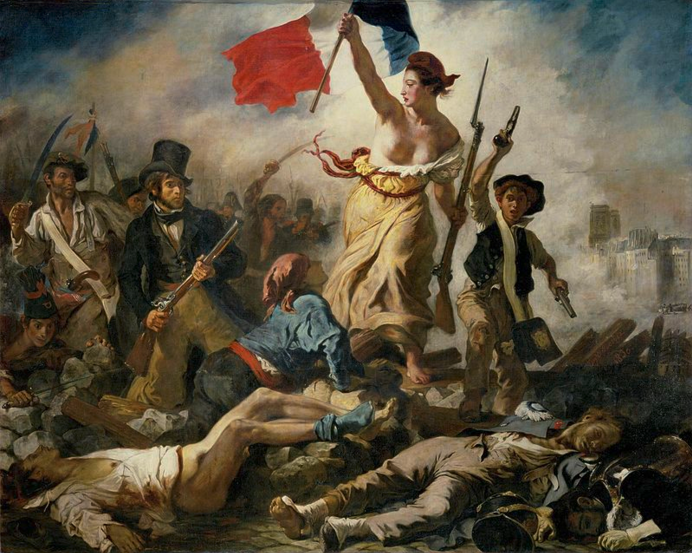 With their savior goddess revealed to them in full warrior mode, the army of allied soldiers she has left behind cannot contain their awe and newfound courage, to the point that on no apparent signal or command they spontaneously swarm up out of the trenches in full number and charge into the desolate terrain. We watch the soldiers navigate the barren, pock-marked plane where many are instantly felled, obliterated, but most resiliently forge forward, all the while cheering Diana and each other as they partake in the glory of Liberty. Those of us particularly versed in art history (admittedly a lonely few by comparison to the millions enthralled with Diana) see an enactment of Liberty Leading the People, the great Romantic painting by Eugene Delacroix, as Diana leads the resistance against the German onslaught. (It may be no accident that a century later, in 2017, Diana is to be found working at the Louvre, where the painting, Liberty Leading the People, hangs.)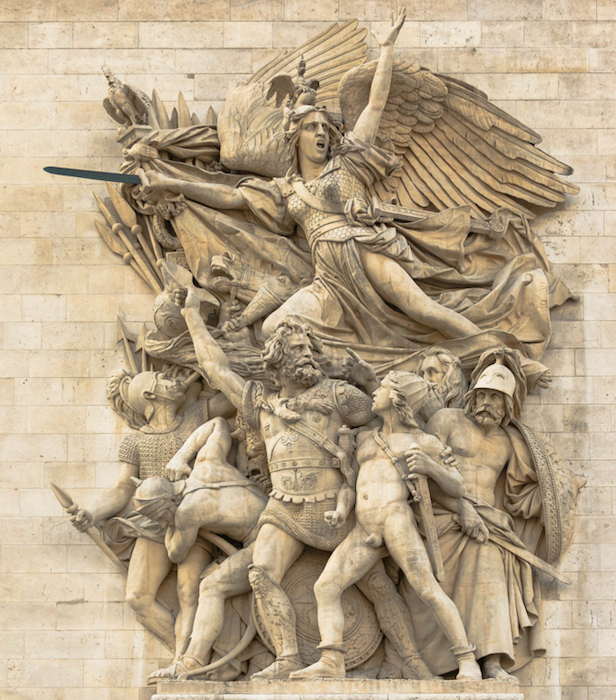 Paris also is the site of the famous Arc de Triomphe, on which the great sculptural frieze, La Marseillaise, also known as Departure of the Volunteers of 1792, by artist François Rude, displays a young revolutionary who is guided by the great warriors of history led by a giant female angel or valkyrie who brandishes a sword not unlike Diana's "god killer" blade. Although the Delacroix battle commemorates the July 28, 1830 Revolution against King Charles X of France, and the Rude sculpture immortalizes the French First-Republic's wars against Britain, Austria and other European monarchies that sought to suppress the French Revolution, we can recognize these portrayals of the most renowned of French battles for democracy chiefly for their galvanizing female personifications of the Liberty and Victory that await the revolutionaries that leap over the barricades and the bodies of the dead and dying to charge the enemy. Liberty defiantly holds the outlawed tricolor flag, which became and remains the official standard of France. In the movie frames, a kind of tricolor all its own flashes in glints and glares reflecting off of Diana's metallic armor. In fact, the original Wonder Woman became famous for wearing the tricolor of the US star-spangled banner for most of her 75 years in print and television.)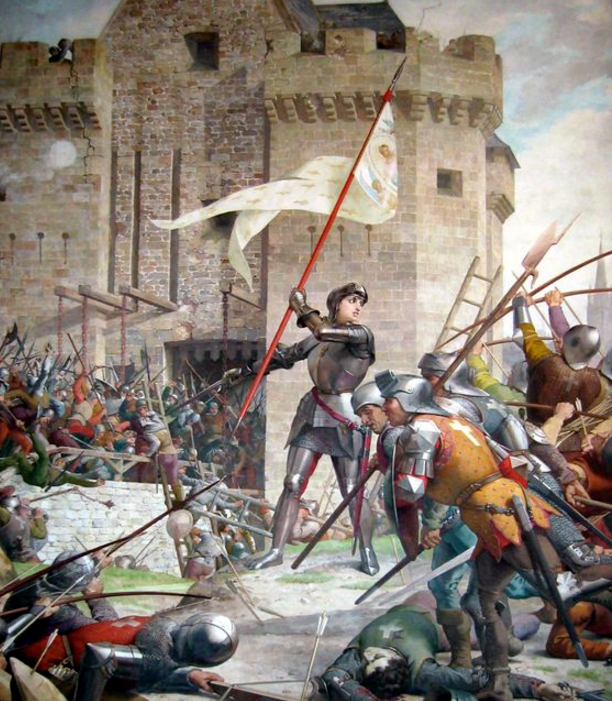 Which is why we shouldn't be surprised that the first ever Wonder Woman theatrical release is holding audiences in awe with tropes that span millennia. It is from the sculpture and vase paintings and mosaic murals of Amazons made by the ancient Greeks and Romans that Wonder Woman's inception in 1941 was derived from in the hands of the American psychologist and writer, William Moulton Marston, the artist H. G. Pete, and as we know now, with no small assistance from Marston' wife, the psychologist Elizabeth Holloway Marston. In 2014 it was revealed in Jill Lepore's The Secret History of Wonder Woman that Princess Diana's physical appearance was modeled after William Marston's lover, Olive Byrne, who lived with both Marston and Holloway throughout their marriage. The relationship of the trio affirms for many the rooting of Wonder Woman in the suggestion that the Amazons, if not Diana, engaged in lesbian and bisexual lifestyles, as some archeologists and researchers believe did the original and fierce Scythian Amazon warriors that the Greek historian Herodotus wrote about in the 5th Century BCE. We've also learned that Marston had a woman assistant, Joye Hummel Murchison, who from 1944 to 1947 scripted dozens of Wonder Woman stories. Add to this the matriarchal ideology that the Marstons derived from their friend, the intrepid feminist organizer, Margaret Sanger, and we have four feminist women surrounding or collaborating with the man credited with originating the most enduring and endearing fictional feminist icon, arguably in the world. We might even see the Marstons as conveying to us that in her origin tale of being sculpted by her mother from clay, the princess of Themyscira represents the mytho-psychological notion that the entertainment of gods and heroes is no less than the human mind's mirroring of its own protean and heroic power to create and excel in the image of gods.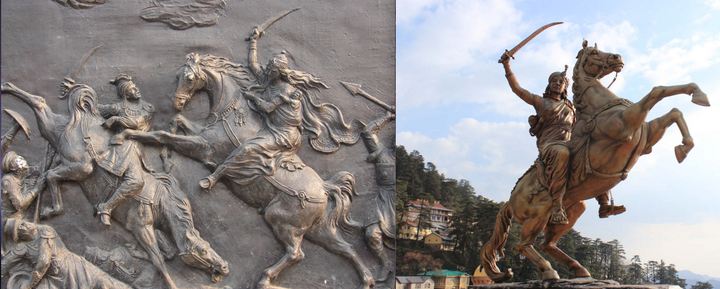 It is this continuum of history and imagination that unites under Patty Jenkin's direction to ennoble the battle scene in the trenches to a degree rarely seen onscreen or off until we in the audience become like the followers of Liberty in the painting, taking our cue from the millennia-old tradition in art honoring the goddess -- most often fashioned in the figure of Athena in the post-Enlightenment West — by cheering the allies and Diana on to freedom -- or what we imagine will become freedom. (Freedom too has proven too often to be little more than a myth.) Greece has its many sculptures of the goddess at war, such as that on the Temple of Aphaia at Aegina West Pediment, 500-490 BCE , in which Athena leads the Greeks and their gods in Battle at Troy. And there are the many black and red figure vases depicting Athena battling Ares, in the 6th-to-5th century BCE.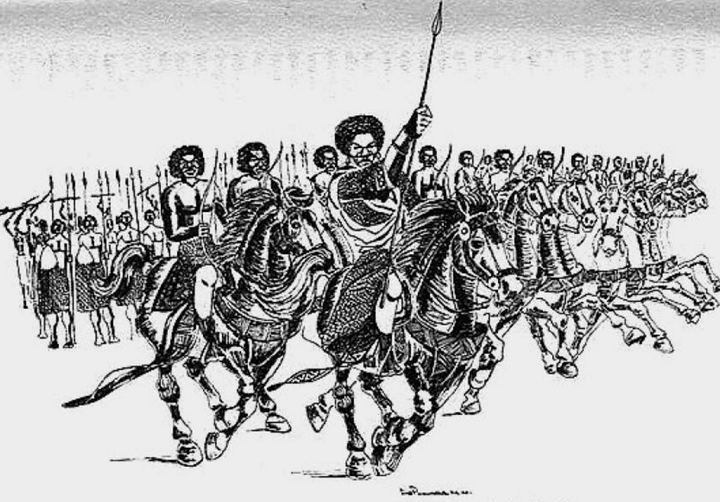 A few hundred years ago, in the high Christian centuries, we would be cheering on a different sort of female figure, the goddess-become-a-saint, the most renown being the French maid, Joan of Arc. For nearly every culture has a wonder woman who rallies the people to defend themselves. (She rarely fights alone or for herself.) In India she manifested as the real queen (rani) Lakshmibai. But India has numerous other women warriors to boast of. This is likely because of the Great Mother Devi (Goddess) tradition in HInduism. The Devi Durga in particular is of interest because not only does she save the lives of all the Hindu male gods, she is also the first principle and source for Shaktism, a major tradition in Hinduism wherein the metaphysical reality is feminine and the Devi is supreme. In Japan she is, like Joan of Arc, a real woman warrior, a Samurai named Yoshitoshi (1839-1892), as well as the historical Han Gaku, who lived around the year 1200, and who in turn is modeled after the Empress Jingû and the warrior Tomoe Gozen (pictured below). In Ugarit (Syria) she manifested as Anat, a most violent war goddess described as a fierce, wild and furious warrior in battle. In Vietnam she is Princess Liễu Hạnh, who represents emancipation and power. And in Mexico she is Ixcel, the ancient Mayan goddess of childbirth and war, a conflation of attributes guaranteeing no lack of soldiers.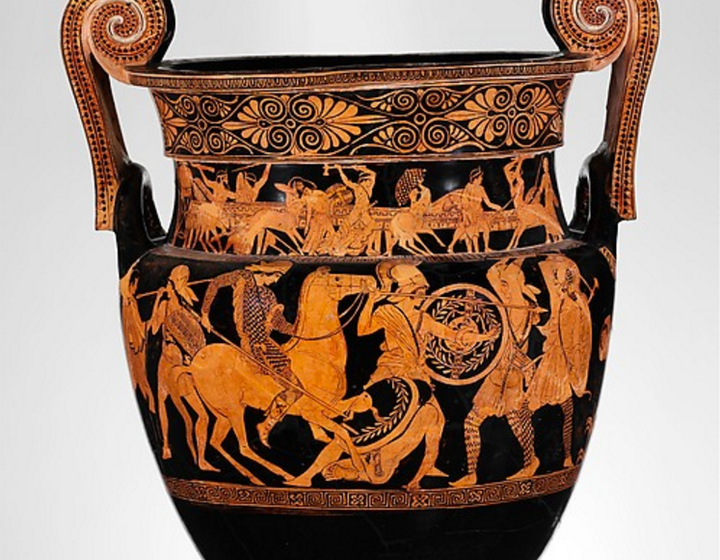 Whether or not we believe in gods and heroes is irrelevant. We remain enthralled with the archetypes of unlimited power because we consciously or unconsciously possess the power to create the world for ourselves in the mind, or more accurately, the mind-body, and in art, where we are active in the shaping of the materials we believe the world to be made from. We can see this much in Marston's symbolism of Princess Diana having been fashioned like a sculpture from clay by her mother, Hippolyta, Queen of the Amazons. Every artist senses this affinity, this connection, between life, the mind and the world as s/he creates from materials and from concepts. It is why Freud believed that in dream states every individual is an artist. We can add to this that in the unconscious every individual is a god, prolific in making the world and every thing in it. Or we may grandly articulate our protean creativity in the fashion of the mythopoets and fabulists, Homer, Ovid, Aesop, the writers of the Torah, the New Testament, the Quran. It's a story governed by the anti- or meta-logic of archetypes and symbols representing cosmologies -- which means it is intended to defy realism with an idealism that has innumerable political and moral outcomes for the society and the individuals it is written for. Justifying and buttressing political and social orders is always the aim of mythopoetics. In the case of Wonder Woman it is the emancipation of the homosocial order of a partly mythological, partly historical matriarchy enjoyed by the Amazons.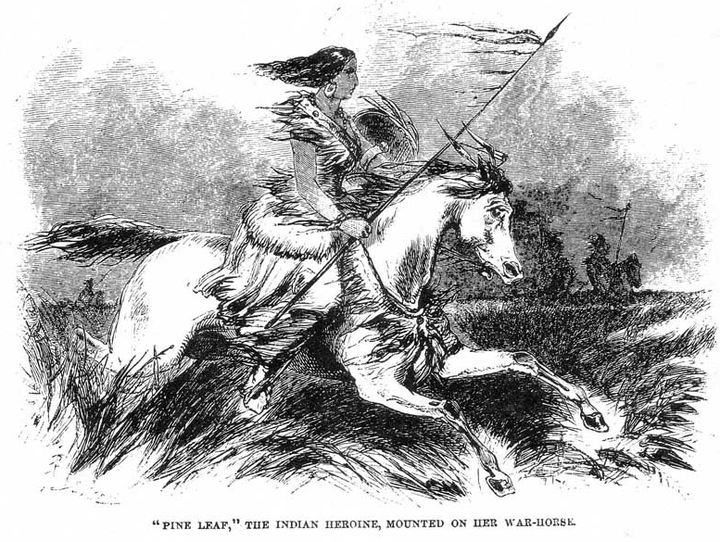 As for our crying during the Wonder Woman liberation scene, it seems there are four arcs for adults to choose from for explaining why we cry when Wonder Woman lets loose. 1) The viewer has been so emotionally enthralled with our heroine that s/he's been transported back to the childhood moment that s/he first fell in love with Wonder Woman in comic books or graphic novels. For me, that was when I was seven. 2) The idealism in this film has a purity that is exceedingly rare for an adult film. For some the "love conquers all" meme seems hokey. For many, perhaps especially those with religious backgrounds, it is uplifting. 3) We on the Left have been so wound up by the Trump, electoral, Republican, misogynist and racist travesty destroying our country that this film acts as a cathartic faucet for our despair. We cry because we want this woman to save our country. And because it should be a woman who by a majority vote leads the nation. 4) The motion picture transports us back not to childhood, but to infancy, where we are dependent on our omnipotent mothers. In this, the movie sets up what psychologist call a transference of infantile experience onto present, adult circumstances. In this case, we again become infants in our emotional response as viewers as a result of being incapable of shaping the events in the film to our liking, of being forced to observe, and unconsciously recognize, a re-enactment of our mothers taking charge. We cry because we watch a woman who recalls our all-powerful mothers. Only now she isn't just saving us. She is saving the world.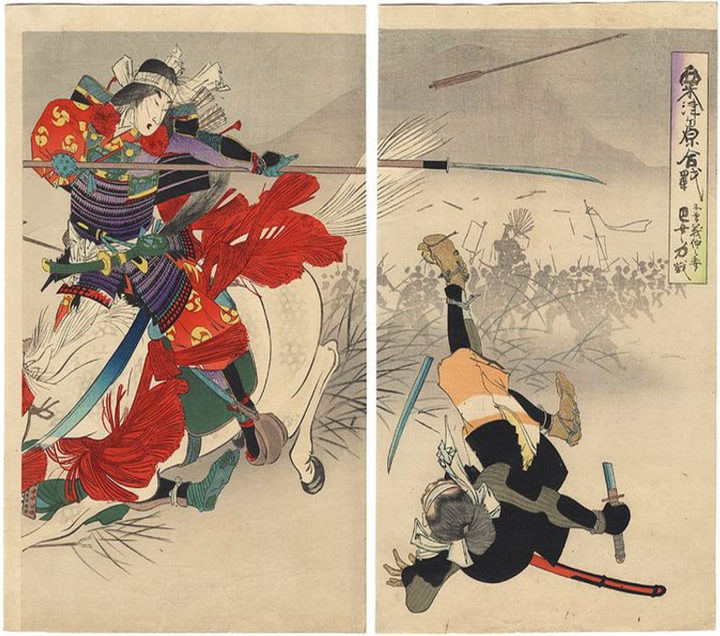 "While Clinton won black, Latina, and Asian women by huge margins, 53 percent of white women preferred the candidate who called women pigs and dogs to the one from their own demographic. Of course, no Democrat since Bill Clinton has won white women, and Hillary did better with them than Obama did in 2012. But the reminder of this old dynamic — that male power over a majority population, women, would not be possible without the willing support of members of that majority — came as a nasty surprise to some on the campaign."
Could an earlier release of the Wonder Woman motion picture have changed the minds of just three-to-four percent of those white women? I've already argued in my once-hopeful Huffpost 2016 feature, "Is Wonder Woman Helping Hillary Clinton Win the Presidency?" , that it's popular art and feminist-inclined entertainment that help to imprint feminism on girls and young women in what I call Mainstream Mythopoetics. There is also the great number of feminists who attribute their first awakening to feminism to their childhood readings or viewings of Wonder Woman. Patty Jenkin's and Gal Godot's Wonder Woman could feasibly and positively incline the demographics of women resistant to voting for women, although it is more likely the gap will be filled by an infusion of new younger American women, especially first-time voters, to redefine the electorate. Of course it isn't just about Hillary Clinton's relationship to women across America. It's about the relationship of all women in America, and in the world, to feminism and feminists. For only after this relationship is realigned in feminism's favor can we get to work on feminizing men. And we do that by showing girls and boys at an early age that a powerful woman is a glorious thing to behold.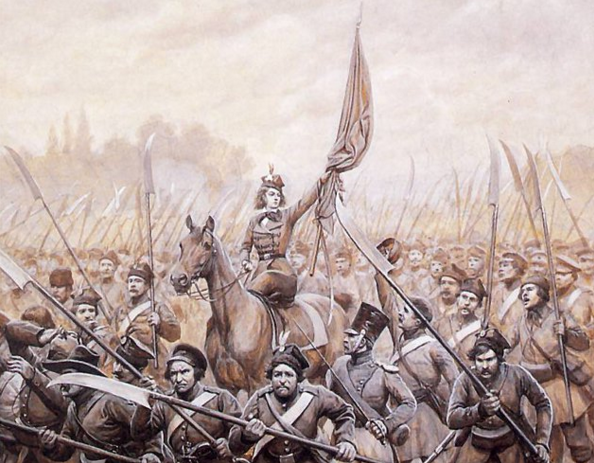 Infusing progressive humanitarian values is what popular culture, particularly mainstream mythopoetics that take on political overtones, can do for liberal-left politics that intellectual culture has not been able to do. Just this week Patty Jenkins on twitter indicated how for one kindergarten class, Wonder Woman is already waging a revolution in the sandbox with its vision not just of a new kind of woman, but as well a new kind of girl when she shared the following list.
"On Monday, a boy who was obsessed with Iron Man told me he had asked his parents for a new Wonder Woman lunchbox."
"A little girl said, 'When I grow up I want to speak hundreds of languages like Diana.'"
"Seven girls playing together during recess on Tuesday said that since they all wanted to be Wonder Woman, they had agreed to be Amazons and not fight but work together to defeat evil."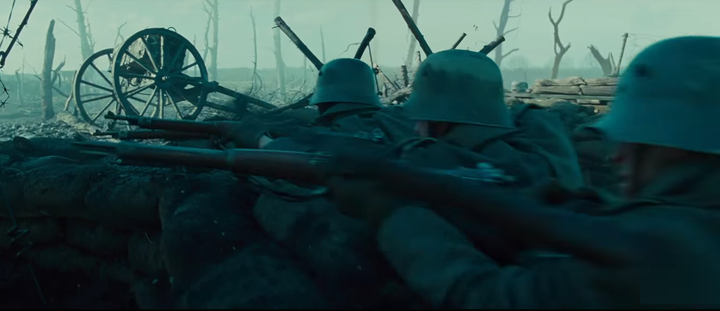 "Another girl very seriously asked the teacher if she could ditch her uniform for the Wonder Woman armor because she 'wanted to be ready if she needed to save the world'. The teacher laughed and said it is okay, and the next day the girl came dressed as Wonder Woman and not a single kid batted an eye."
"A girl came to class with a printed list of every single female superhero and her powers to avoid any trouble when deciding roles at recess."
"A boy threw his candy wrapping in the floor and a 5-year-old girl screamed 'Don't pollute you idiot. That is why there are no men in Themyscira!'"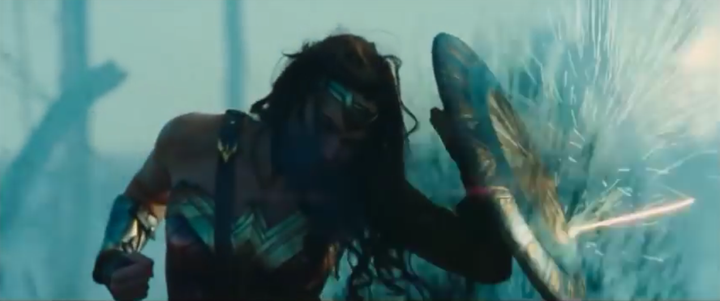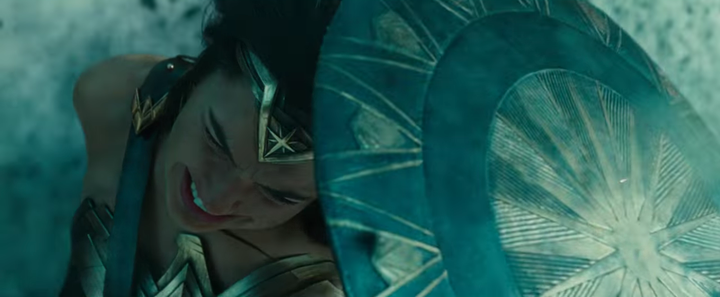 Related
Popular in the Community