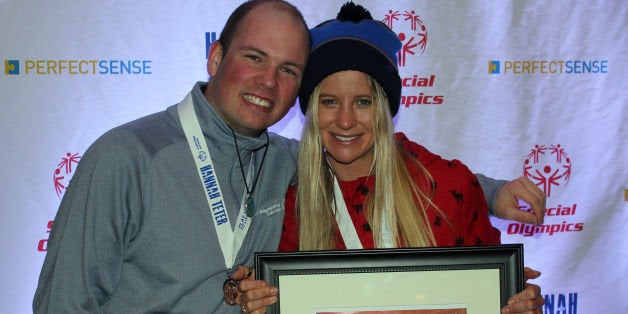 Just a few weeks ago I was honored by being announced as a Global Ambassador for the Special Olympics Movement. It was an amazing day for me as I was not only stoked about the announcement but also participated in the inaugural Unified Sports Snowboarding Races in Aspen. I had an absolute blast riding down the mountain with these athletes and I will never forget the joy that they shared with me and my snowboarding friends that day. I have always said that if I made it big, I would use my influence to positively change the world. It is a huge honor for me to represent this incredible world-changing organization.
In many ways this new role touches me very personally. I come from a close-knit family and I have four older brothers that have inspired me in so many ways. Being the youngest in the family, I always wanted to do everything my older brothers were doing, so naturally as Amen, Abe and Elijah took up snowboarding, I did too. Little did I know at age eight, that my brothers had introduced me to a sport that would not only become my greatest passion, but also my professional career. I have been equally inspired by my brother Josh, who has always had the most positive attitude in life, despite being subjected to discrimination and mistreatment as someone with intellectual disabilities. It has always been very difficult for me to understand how people can be so hurtful, using the "r-word" to disparage individuals with intellectual disabilities. The use of the "r-word" perpetuates the marginalization and exclusion of individuals with intellectual disabilities that persist in society, and it cannot be tolerated.
While participating in Unified Sports Snowboarding Events at the Special Olympics Winter World Games in Pyeong Chang, South Korea and most recently at Winter X Games in Aspen, Colorado, I had the unique opportunity to experience first-hand the incredible spirit, determination, and abilities that Special Olympics athletes possess. If more people could experience what I experienced during those events -- the fun, the friendships and the courage that was displayed on the slopes, I think that they too would see that we're more the alike than different. My brother Josh has never participated in Special Olympics, but after hearing my stories about the events and the amazing people that were involved, he is definitely excited to join in the fun. I hope that as a professional snowboarder, Olympian, and now, a Global Ambassador for Special Olympics, I will be able to change perceptions about people with intellectual disabilities.
The Special Olympics motto, "Let me win, but if I cannot win, let me be brave in the attempt," really speaks to me because it embodies exactly what I have pursued in my life. Really, that's all any of us can hope for -- a chance to be brave and to pursue a dream. I have been so inspired by the Special Olympics athletes that I have been so fortunate to meet and I am excited to continue my involvement in the Special Olympics Movement. Tomorrow, Wednesday March 5th, is Spread the Word to the End the Word Day and I plan to do exactly that! The "r-word" is a hurtful and derogatory word that I hope you too will pledge not to use. Join me on r-word.org and take the pledge today!
This post is part of a series produced by The Huffington Post and the Special Olympics in conjunction with Spread the Word to End the Word awareness day on Wednesday, March 5. To find out more about the Spread the Word campaign, please visit the website. Join us in taking the pledge at R-Word.org. Read all posts in the series here.