Roseanne Barr has always been a trailblazer. Throughout her career, the comedian often broached topics that made FCC censors deeply uncomfortable, and one of those topics was the wildly distressing idea of... menstruation.
In February of 1989, Roseanne's self-titled ABC sitcom ― which is getting a reboot slated for 2018 ― aired an episode that focused on her 11-year-old TV daughter, Darlene, getting her first period. As Roseanne told Oprah in an interview several years later, getting that episode on air was one of several battles she had with the network.
"There have just been so many [battles]," Roseanne said back then. "The menstruation show... It was hard because that had never been on television."
It certainly wasn't Roseanne's first fight in her efforts to speak openly about women's bodies on TV. "When I first went on the 'Tonight Show,' they didn't want to let me say 'uterus,'" Roseanne pointed out, referencing her 1985 appearance on Johnny Carson's late-night program. "They said, 'Well, nobody's ever said that on television."
Roseanne's response? "Then we'll be the first!"
This mantra, she said, opened doors for "Roseanne" to explore "taboo" topics like the menstruation episode. "People think if it's never happened, then it should never happen, but as soon as one person does it, it's open," she said.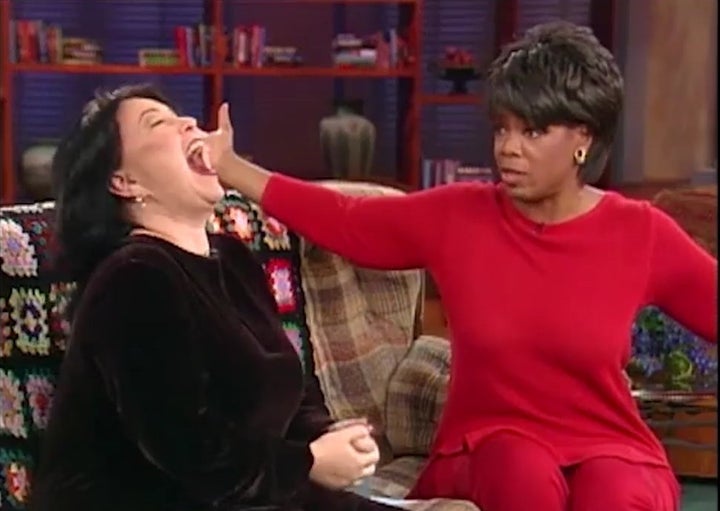 Meanwhile, Roseanne added, she never could understand the censors' concern about discussing periods.
"They were, like, really afraid, I think, that if little girls heard that they were going to start menstruating, they start doing it all over town or something," Roseanne joked. "It's one of the things we pretend on television, one of the things we pretend that doesn't happen ― as well as families arguing, as well as a million other things." 
If we can take away anything from the original "Roseanne" run, this unbridled realness is as much a part of the show as it is the star herself, which makes the reboot truly something to look forward to.
REAL LIFE. REAL NEWS. REAL VOICES.
Help us tell more of the stories that matter from voices that too often remain unheard.
BEFORE YOU GO
PHOTO GALLERY
9 Trends From The '90s We Actually Want To Come Back