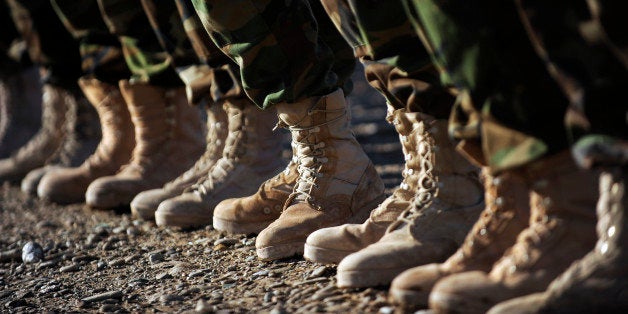 Edited by Brandon Willitts
Elliot Ackerman is a writer and decorated veteran, having spent eight years in the military as both an infantry and special operations officer. His critically acclaimed debut novel, Green on Blue, is a moving and powerful story about the ways history and conflict have shaped a generation of Afghan citizens. As part of Words After War's April book club selection, Elliot answers a few questions from Gayle Tzemach Lemmon, the author of the recently released Ashley's War.
Gayle Tzemach Lemmon: What is the origin of the title, GREEN ON BLUE?
Elliott Ackerman: 'Green on blue' is slang for the ubiquitous Afghan on American killings which have become the hallmark of that war -- green being U.S. Military shorthand for Afghan Army soldiers, blue its own. In the novel, the term serves as a metaphor for the journey taken by several of my characters. What happens when all you fight to protect threatens to destroy you? That's Aziz's story and the story of my Afghan friends who, consumed by their war, will likely never have the chance to read this book.
Gayle Tzemach Lemmon: What was your goal when you set out to write this book?
Elliott Ackerman: I tried to render the Afghan war as much as I could fro the perspective of the Afghans. I have served as an advisor to Afghan troops and much of my war experience was seen through the lens of fighting that war alongside Afghan soldiers.
The purpose of the book is through story to try to tell a very simple narrative about an Afghan that was relatable to a Western audience and to take the idea of very difficult themes and break it down in ways they would not necessarily agree with but could at least understand.
Gayle Tzemach Lemmon: You wrote the book from the perspective of an Afghan soldier, Aziz. How did that come to be?
Elliott Ackerman: In media coverage of the war, Afghans are often characterized as corrupt and deceitful. There has certainly been plenty of corruption and deceit in this conflict, but why? What inspires these behaviors? In Green on Blue, I wanted to render a world that is often overlooked, that of the average Afghans who are helping America wage its war
Gayle Tzemach Lemmon: What has the reaction been from your fellow soldiers?
Elliott Ackerman: Friends have said 'we love the book; great that you wrote it.' Most of the people I talk to about this novel are people interested in literary fiction
Gayle Tzemach Lemmon: On the transition out of uniform:
Elliott Ackerman: I don't view my writing life as tied to my service. Literature has always been a part of my life. I studied history and literature in college. My mother is a novelist, I grew up around books. This has always been a part of me; it is just something I am focusing more of my energy on now that the wars are over for me.
Gayle Tzemach Lemmon: What are you working on next?
Elliott Ackerman: I am finishing up my next novel, which is set on the Turkish-Syrian boarder and it is a love story. I write for various magazines from here.
Gayle Tzemach Lemmon: What has the experience of promoting your book been like for you?
Elliott Ackerman: You have a very intimate relationship with the material for a long time. You maybe only showed a handful, two or three trusted folks and then suddenly it is out there in the world and people are having their opinions on it and that is great. The creation is a very internal process and publishing the book is a very external process. It is nice to see the book out in the world and people having the same reaction as when I created it. The point of all art is the emotional transference and when that happens the book has succeeded.
Words After War is a literary organization with a mission to bring veterans and civilians together to examine war and conflict through the lens of literature.
Calling all HuffPost superfans!
Sign up for membership to become a founding member and help shape HuffPost's next chapter