Fabric cascades down the sides of a headdress, sensual and evoking the presence of memory in wearable objects. Domesticity and cultural heritage cement the themes anchoring artworks by artist Camille Eskell. These works are on view at the Silvermine Arts Center for the center's annual guild group show. Curated by Eric Ben Kiki, owner and director of EBK gallery, this exhibition lasts at the New Canaan, CT space through December 22nd and is accompanied by a chic catalog including Eskell's work. Eskell's highly developed artistic practice intertwines an acute aesthetic sensibility with a sensitivity toward her personal legacy.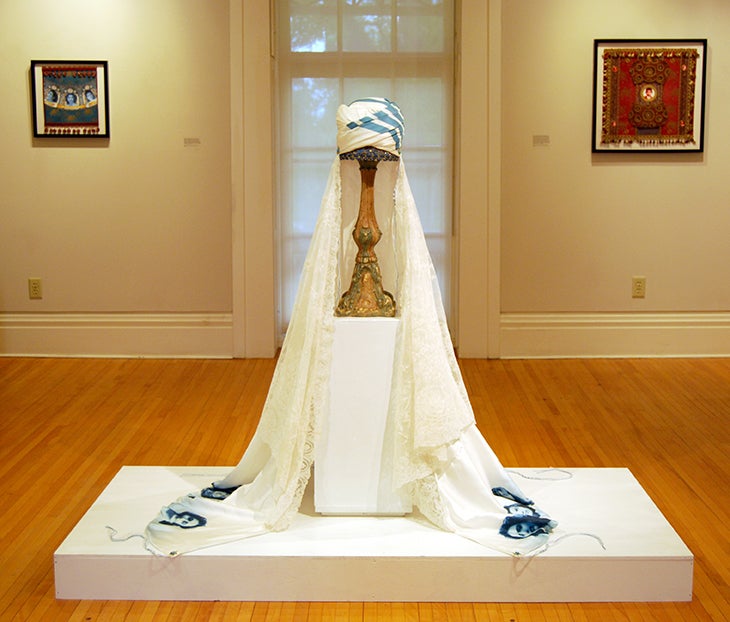 An artist with cultural histories rooted in South Asian, Middle Eastern and Sephardic Jewish traditions, Eskell is well situated to comment on multiculturalism and feminism within these disparate traditions. To this end she succeeds with aplomb, combining and contrasting forms and motifs to critique gender roles and cultural mores. With this current body of work, The Fez as Storyteller, draws inspiration from the artist's layered and complex genealogy. Threaded together like her mixed media constructions, the artist's interwoven past incorporates Iraqi, Indian and Sephardic Jewish lineages. Through examining this complex web of layered cultures and traditions, Eskell inquires into how we construct identities and how we privilege certain pasts over others. Literally stitching her personal history into her artworks, Eskell reveals to us the faces her mother interspersed with three versions of her two sisters and herself: lasting from early childhood impressions through adolescence, revealing those who have shaped her into the artist she is today. Separating judgment from praise, the artist merely presents the varied viewpoints latent within her own genealogical morass - allowing the observer to come to their own conclusion about their own family legacy and values.
Eskell's approach borders on the archaeological as she disassembles traditions and motifs, re-integrating them throughout her works. For Marriage Turban Fez: To Have and To Hold, the artist has combined a male turban, the traditional Middle Eastern symbol of masculine headwear, with a bridal veil. Interspersed throughout the fabric are a line of portraits depicting matrilineal ancestors of the artist. Eskell was raised with a strong sense of family and adherence to traditional values, demonstrated here in literal portrait form. The artwork also evokes the Jewish prayer shawl, or tallit, in its construction. French lace alludes to the family business, while specific motifs embedded within the piece draw from Sephardic Jewish tradition. The artist marries masculine and feminine, East and West within the formal composition of the artwork.
In the artist's work Magic Carpet: Little Maharajah, she more specifically addresses gender bias latent within her cultural heritage. The central image of a young boy on a tapestry is flanked by smaller portraits of the women in his life. The women occupy narrow stretches of fabric on the periphery, while the boy is the crown jewel of the artwork. His importance is offset by the gold filigree, elephants and Star of David motifs further celebrate his legacy. Gender roles are strongly cemented in the traditions Eskell was indoctrinated within, constructs that come under scrutiny in this lush and layered artwork. Weaving together family legacies, the visual representations of each family member's position and placement in social hierarchy are made apparent. The fabric requires all members of the family, to be included yet elevates a select few.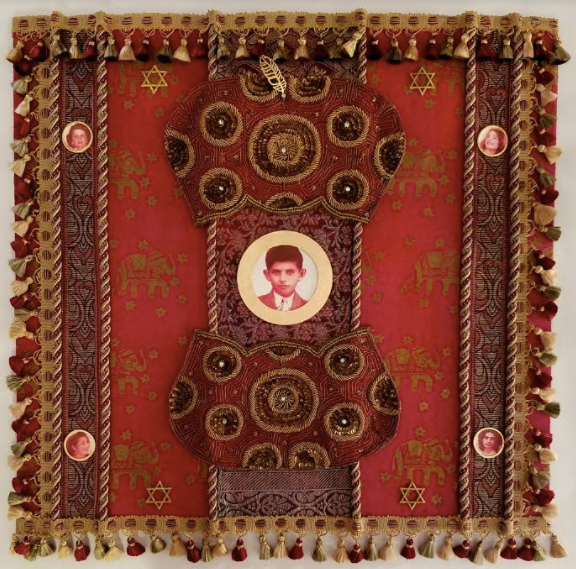 Eskell's artistic practice is a veritable labor of love, the process requiring skill and copious amounts of time to create. The artist's forebears, who left Iraq to become hat traders in Mumbai, are subtly reflected in the artist's choice of fez as object for contemplation in her oeuvre. The material and object choices latent within the artist's work form a base: a foundation for storytelling and comparing cultural narratives. A mixture of synthesis of found objects and pure creation, Eskell's compositions are beholden to their own material histories as much as they are thematically tied to the artist's personal legacy. Skillful attention to beading, sewing, assemblage and intricate fastening are required for the artist to realize her breathtaking creations. These artworks form a combination of object and subject as fascinating as the artist herself: combining themes and textures in a broader consideration of our lived experiences. The artist recognizes the importance of cultural DNA in our everyday lives, elevating this awareness to new heights in these meticulously crafted works on view at Silvermine Arts Center. Eskell's practice incorporates a rich hybridity of forms, and is truly unique in cross-cultural considerations of lived legacy. The artist's work remains on view for the guild group show through December 22, 2017 at Silvermine Arts Center, located at 1037 Silvermine Road in New Canaan, CT.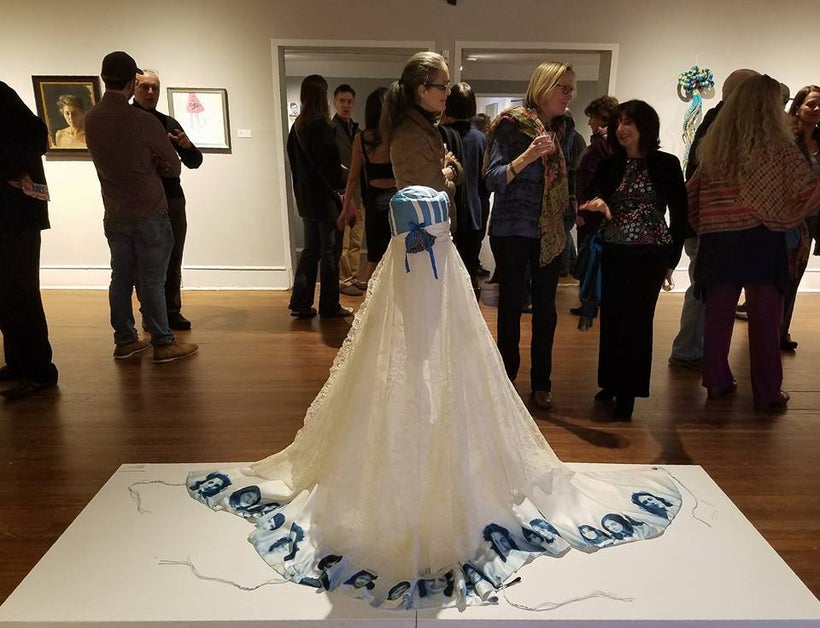 Calling all HuffPost superfans!
Sign up for membership to become a founding member and help shape HuffPost's next chapter
This post was published on the now-closed HuffPost Contributor platform. Contributors control their own work and posted freely to our site. If you need to flag this entry as abusive,
send us an email
.