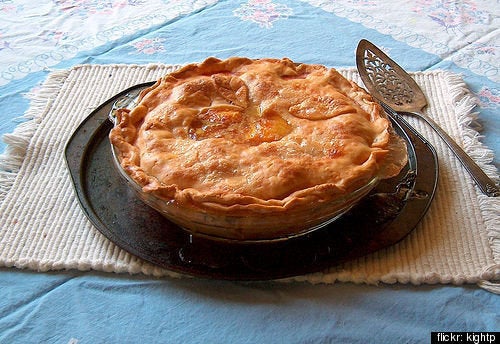 I was in Trader Joe's frozen food aisle when I remembered the HuffPo"Week of Eating In" challenge. Did I really want to do this? I wondered. More to the point, could I? It seemed disconcertingly likely to expose me as a great green hypocrite.
I work for the Center for Ecoliteracy, which, for nearly 20 years, has advocated for improving school lunches; using gardens as a way to encourage kids to eat healthy foods; and teaching young people about the connections between food, health, and the environment.
This past year, we also developed a teacher's guide to the Academy Award nominee, Food, Inc., which, as the promotion says, will make you never look at dinner the same way again.
Professionally, in short, I understand food as a green issue. But personally, I find that living it is a very different story.
As the working mother of a 5- and 10-year-old, I often absentmindedly pull something together for dinner while helping my oldest with his homework and trying to keep my youngest from filling up on crackers. My boys are hungry, tired, and cranky at the end of the day, and this does not always lend itself to fine dining -- or, for that matter, even healthy cooking. So, in addition to roasted chicken and homemade burritos, there's a Trader Joe's lasagna or some other prepared food on the table at least once or twice a week.
Realizing this didn't even make my family particularly happy, I decided to take on the Eating In challenge to see if I couldn't adopt at least a few good new habits.
Things started out a little tougher than they should have; having been away the weekend before, I never got to the weekly food shopping. So on day one, I resorted to eggs and potatoes, with a few sliced apples and cheese. Lame, but the kids liked it.
On day two, I decided to stop in a new neighborhood produce market to pick up the ingredients for a stir-fry. Owned by a family that came to California by way of Yemen, it had a good selection and surprisingly reasonable prices. I found that I liked shopping there more than the usual places I frequent; I also enjoyed cooking and eating that night's meal more than usual. The challenge made me feel just a bit more mindful of what I was doing.
It also inspired me to get a little more ambitious. Thinking ahead about rice and lentils for day three, I soaked a cup of lentils for an hour after dinner before planning to simmer them for several more. Then I got distracted by baths, books, and bedtime -- and forgot the lentils entirely until the next morning, when I found my now-mushy beans still soaking.
That's when I realized that to truly match my actions to my principles and my intentions, I would have to get smarter about this. I'd have to really plan ahead. Cook on the weekend. Get a pressure cooker. Find recipes that are quick, easy, and healthy. Aim for leftovers. Involve the kids. And, most important, I'd have to take this on not as yet another thing to do, but because it felt good in and of itself.
As Michael Pollan wrote in the Center for Ecoliteracy's Big Ideas: Linking Food, Culture, Health, and the Environment: "If we all understood that how and what we eat determines to a great extent the use we make of the world and what is to become of it, we would eat with a fuller consciousness of all that is at stake."
Living according to that fuller consciousness -- not only about the implications of our food choices but also about the pleasures of the process -- is what inspires me now.
Lisa Bennett is the communications director of the Center for Ecoliteracy and a former fellow at Harvard University's Center on Press, Politics, and Public Policy in the John F. Kennedy School of Government. She is a contributor to the Center's book, Smart by Nature: Schooling for Sustainability (Watershed Media/University of California Press, 2009).
Calling all HuffPost superfans!
Sign up for membership to become a founding member and help shape HuffPost's next chapter