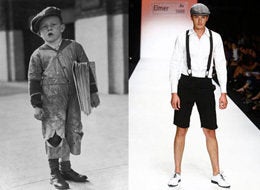 As Nick Paumgarten argued in the New Yorker this week, "hoarding is panic's quiet twin."
During this economy's downturn a purge of any sort may strike as counter-intuitive. Yet as wardrobes go, we find that people keep buying when they cannot see what they have; cannot see what it is that is working best for them in their own closets. Our focus has always been functional fashion for the modern woman, to which the idea of a working wardrobe is our most integral concept and reiterated mantra.
Favorite clothing items are often those simple basics with an exaggerated detail (eg. tailoring play or kick of patent) or perfect fit. They are no-brainers: unfussy and versatile, how every piece in a wardrobe should feel. Of course, while dramatic or extravagant special occasion pieces are necessary and fun, it is too often we find them overrunning a wardrobe rather than supplementing a great base/foundation.
A great base consists of three different layers:

- Bottoms: pants and skirts
- Outer layers: cardigans/sweaters/jackets
A way to test the functionality of one's wardrobe is that each of these layers should all go together relatively easily/fluidly and in many combinations. Outfits, or a single top that only matches a single bottom have little place in the working wardrobe.
Within a working wardrobe, the wheel need not be reinvented every time the closet is entered! Looking to French women we see fewer items and greater ingenuity of pairings. Everything goes together: making for endless outcomes. Also relevant is the European closet whose average size is much smaller than its American equivalent. We, Americans, therefore require double the diligence in curbing our hoarding practices and unchecked overflow.
In the long run, the working wardrobe philosophy saves money through engendering smarter shopping practices. With a strong foundation (based on individual lifestyle needs, body type and work realities) key classics can carry through from season to season and when loved beyond the point of wearability, may then be replaced. Shopping to replace; a clothing search with a more specific focus allows for more finely tuned and directed shopping. As the clothing search becomes less scattered, by extension, so will the overall wardrobe.
In going forward, get in your closet and spend a little time! Get playful, experiment with what you already have. Put it all together, try layering thin materials, pair clothes tonally. Think of balancing volume with cinching or showing off a wrist, elbow or collarbone. In pairing down and experimenting you may find those one or two key pieces you've been missing (simple belt, scarf, black blazer) that keeps a wardrobe fresh and can changes individual articles.
A vital aspect of the working wardrobe and the mind shift most important in transitioning towards one is moving away from the idea that each individual article of clothing must be "interesting" or "eccentric." The statement is the outfit as a whole, each article working together for overall effect and composition. Therefore, though a thin black cardigan with a subtle detail or shape may seem tame when viewed in solitary, it takes on life when paired with counterparts, when used as one character in a larger ensemble.
Andrea Longacre-White of White-Starr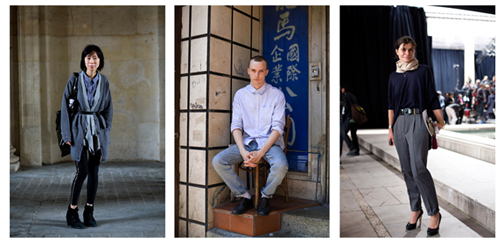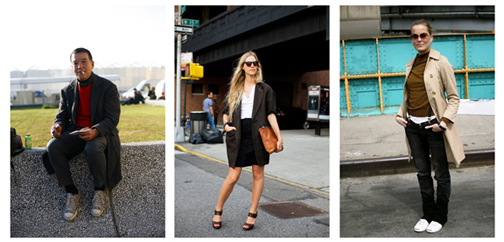 />