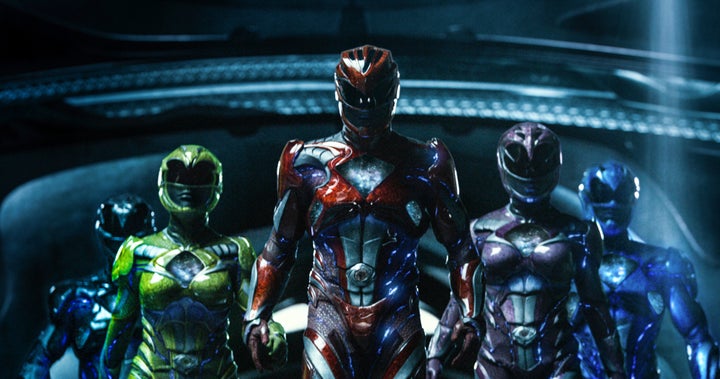 When the Power Rangers movie was initially announced I was skeptical. Details were so scarce that for the longest time it was impossible to tell if it was to be an entirely original film or if it was going to use footage from the then skipped-for-TV-adaptation Tokumei Sentai Go-Busters series from Japan. Once the former was confirmed, the worry of an overly "dark and gritty" reboot grew.
While the first trailer led me to expect a perfectly fine superhero movie a la Chronicle, I remained doubtful it would really be a Power Rangers movie. The second trailer looked like a Power Rangers movie, thrilling me and the legions of Power Rangers fans. Talk of Lionsgate already having plans for at least six more films flooded my heart with excitement for a Power Rangers cinematic universe.
Still, I was still hesitant. "Please be good," I thought when I saw a poster or ad, and especially when I passed by the toys for the film in Target.
I wanted to see and enjoy a movie based on the heroes I loved, but when I saw that the toy line (always a key part of any Power Rangers endeavor) featured the male and female heroes equally, I wanted the film to be good not only for myself but for all children who deserve to be represented as heroes. There had been a vicious cycle in the toy industry preventing successful toys of female characters. They claim toys of female characters don't sell, so they don't make many, resulting in few available toys of female characters, so they don't sell. Rinse and repeat. This is how we get nonsense like Black Widow being omitted from the playset of her biggest scene in Age of Ultron in favor of a Captain America figure.
So the movie comes out, and of course, I see it opening night. It was incredible, with the characters so developed that when Morphing Time finally arrives, it is well earned.
It is those characters, the same ones you can buy figures of right now, that make Power Rangers something truly special. Their realistic experiences and personalities resonate so strongly than so much more that larger than life, mythical characters of other superhero films. I've heard people say the Rangers are this generation's Breakfast Club, in that everyone can see themselves in at least one of them.
The characters aren't the only incredible thing about the movie(though it probably gets the most attention because this sort of diversity is rare to the point of non-existence.) The writing manages to echo a traditional Power Rangers episode without being nearly as cheesy. Rita Repulsa is the Monster of the Week while at the same time, the Rangers deal with their own personal issues. An escalating final battle resolves both story lines. The worldbuilding is expertly accomplished, opening up room for other teams and a deeper exploration of the morphing grid. Major supporting players such as Zordon and Rita have added depth. Making the Power Coins effectively the Zeo Subcrystals, in particular, is an adaptational decision that could prove extremely fruitful.
But singing the praises of the film itself can only go so far. The fact is that many had the same doubts I did prior to release, and many did not give it the chance I did. The movie did well, but coming out the same weekend as Beauty and The Beast hampered it, the long, long delay before it's release in China hurt international sales, and it hasn't even come out in Japan yet.
Lionsgate has not confirmed they will be going forward with the other six planned films, and that silence is deafening to fans. Social media is starting to chant #savethepowerrangers, spreading word of the DVD release to boost the film's profit and secure the franchise's future.
Social media pressure isn't the only thing making the case for a sequel; the film was actually relatively well reviewed, something plenty of sequel-spawning films can't say for themselves. Power Ranger toy sales have been morphenominal growing by almost 200 percent and claiming the top spot in action figure sales.
And finally, Disney had Marvel; WB has DC, and Universal, without rights to any comics, has created it's creature feature "Dark Universe." Shared universe is the name of the game, and Lionsgate needs one. They have a solid first film, better than many of Marvel's; they have a quarter century of material to mine, more if they borrow from Power Rangers' progenitor Super Sentai and related Japanese shows such as Kamen Rider.
Lionsgate's recent announcement of Power Rangers movie related events in LA and San Fransisco, as well as it's prominent showing at the Licensing Expo show that Lionsgate hasn't given up, but until they confirm their intent to continue making Power Rangers films I and many others are going to keep bothering them.
Power Rangers comes out on DVD and Blu-ray June 27, 2017 and will be available on Digital HD from Amazon Video and iTunes June 13, 2017.
Support HuffPost
The Stakes Have Never Been Higher
Related
Popular in the Community