In business and in the global economy, ten years can be a lifetime. Over the next decade, four out of ten incumbents in several industries may be displaced as technology rapidly disrupts business models, transaction costs and service delivery. National economies themselves can undergo drastic change. In 2006, oil and resource rich countries benefiting from the commodity price boom enjoyed trade surpluses, funding significant infrastructure investment and social welfare programs; ten years later, the picture in many of those countries has changed dramatically.
Trying to accurately predict the future may be a fool's errand. Who in 1986 would have forecasted in ten years time that the Iron Curtain would fall, Germany would unify, apartheid in South Africa would end and Nelson Mandela would be released from prison and become the nation's president? In 1996, just as nascent web browsers emerged, who would have predicted the precipitous growth of the Internet by 2006 and the global impact it would have on companies and individuals. And in 2006 before the release of the iPhone, who would have forecasted the massive shift to platform business models by 2016, delivered over mobile broadband, impacting consumers as well as business-to-business (B2B) activity.
So today, who can predict how the global economy will change over the next ten years, either by new technologies such as blockchain or the Internet of Things (IoT), or by geopolitics, business regulations and government policy? Even Bill Gates recognized our collective limits in trying to forecast the future when in 1996 he wrote, "we always overestimate the change that will occur in the next two years, and underestimate the change that will occur in the next ten," penned in the years before Microsoft's own significant challenges with competing operating systems, browsers and devices.
Fortunately long term strategic planning does not rely solely on predictions. Since the 1970s, businesses, organizations and governments have increasingly utilized scenario planning - divergent, yet plausible depictions of the future - to test their underlying strategy, organizational agility and operating models against various potential outcomes.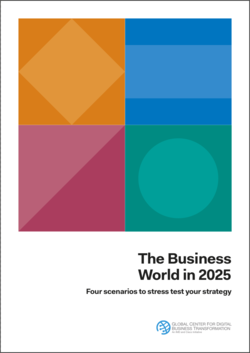 The four scenarios provide organizations with a toolkit to understand the complex landscape surrounding them by raising critical questions, challenging thinking and helping decision-makers test their strategy and underlying assumptions.
The first scenario, Global Bazaar, is a world of fundamental business transformation and continuous change, where new revenue streams are unlocked due to technology, new consumer preferences, business-friendly regulation, and an open geopolitical environment. Cautious Capitalism describes a global and open business landscape challenged by a distinct shift in consumers' digital behavior. Territorial Dominance describes an increasingly difficult international environment, where many countries step back to protectionism. And Regional Marketplace is a world divided into regional clusters, each following its own rules in trade, business policy, and Internet governance.
By reflecting on how these divergent worlds could impact a given company (or organization, government or country), leaders are able to take an outside-in view of what it takes for their entities to not only survive, but thrive, over the coming decade. The scenarios provide an external lens to stress test strategy across functions, business segments and geographic locales.
In fact it may be that the most likely outcome is that none of these "worlds" come true in their entirety in the next decade. But predicting the future is beside the point. The real benefit of the exercise is in reflecting on how your organization can best prepare for a very different world in 2025.
Related
Popular in the Community