Grand Central Terminal in New York City is a place of arrivals and departures and it is beneath the magnificent turquoise ceiling of the Main Concourse that travelers from around the world mill in and out of the station. Kat Vorotova and David Foult, the founders of Try The World, believe in capturing the essence and wonderment of travel. Through their luxury gourmet subscription box service and online shop, they bring the world directly to you within a turquoise box intentionally the same shade as the spectacular ceiling at Grand Central. "We realized that the subscription model was invented in the 15th century by people who were creating maps for explorers," explains Foult, "and you actually had to make the maps. So you had people sketching the map and every time they would discover a new area they would send the maps to the people who were actually going there. So you had to be on a subscription to make sure you had the most updated maps."

Each box is from a different global location and awakens the adventurous explorer within those who receive it. It comes with a culture guide, recipes, and pictograms with details of each product and how it supports the local community. Try The World fosters a strong community of subscribers and plans to customize future boxes based on the demands of its recipients. Boxes from a new destination are sent out every two months and are curated by notable chefs, many Michelin-starred. Chefs have included Chris Jaeckle (Japan), Christophe Schmitt (France), Jamie Bissonnette (the current Spain box) and Chef Rosengarten (Italy). Started in 2013, the business has grown tremendously and has sold over 1 million food items to date. We recently met up with Vorotova and Foult to discuss the current Spain box, the history of Try The World and its plans to dominate the global gourmet market.
J.L. SIRISUK: I want to know the origins of Try The World and how it came to be. What is your relationship with food?
KAT VOROTOVA: My relationship with food started very early on. I was a consultant in New York City and trying a lot of amazing cuisines, because of course living in New York we have the best access to the most interesting foods. So I started a food blog and a dining club - I would take people on tours of very exciting international cuisines here in New York. I also worked as a strategy consultant at a global food company and then I went to Columbia Business School. That's actually where I met David [Foult] and we realized we shared this passion for food and for travel.
DAVID FOULT: I'm French. I arrived in New York three years ago to study at Columbia. Before that, I was in France and I have a background in finance and entrepreneurship and the passion was about travel. I fell in love with Vietnamese culture- I went to Vietnam and decided to start a company there so I launched a micro-finance company to help entrepreneurs grow their business and scale their business and that's where I realized the importance of local production in the global economy and the importance of the country where the products are actually made. So I came to New York after doing an MBA in France and met Kat and we clicked on the idea that people love to discover the world. People enjoy traveling but they don't necessarily have the time or the money to actually travel. We asked ourselves, "What do you do when you travel? How do you replicate that experience?" It seemed that when you travel, you tend to do two things: you go to restaurants for the food and you go museums for the art. So food and art seem to be two very powerful ways for anyone to discover a new culture. That's why we decided to start Try The World by including mostly gourmet products - the food paired with a culture guide with music and movies and recipes telling you how to use the products and cook with the products.
SIRISUK: I didn't realize the culture guide was a part of it.
VOROTOVA: That's actually a big component of the experience because it's not just the food that you get. It's also the stories of the artisans and how to use the products. We actually suggest what you can do with this box so you can have a tapas party. We actually tell you, "Here's a Spotify link, listen to this amazing Spanish music and here's a movie you can watch."
FOULT: Because we think that food is closely related to the culture in general, in order to really enjoy the food you have to understand the general big picture of the overall culture.
VOROTOVA: Not only that food is the most social experience you can get. People enjoy food so much more when they share it with others. Our community is extremely engaged because they actually take photos of the food that they create for the products in the box and they share it on social media.
SIRISUK: Since Spain is the September/October box, I would like to know why you decided on this country.
VOROTOVA: We actually asked our community, our subscribers and everyone who follows us on social media, what countries they want us to curate food from and it's kind of a mix of what people want as well as what's feasible. So we did surveys, we found out a rank for different countries. We know that certain countries do better than certain ones we've done in the past and then we also work out the feasibility of actually sourcing 65,000 products from a country.
FOULT: So the idea is that when we decide on a country like Spain, we work on what food is very authentic in that country, work with the chef and several local experts to really try to get to the essence of the country and think, "Okay how can we try to capture that essence and bring that into a box, knowing that it will be limited by definition?" We'll do our best to include food and the arts, so hopefully people learn more about the country, enjoy the food, share the food with their friends. Also we realized that for Japan for instance if you cook the Okonomiyaki and actually learn the word Okonomiyaki and then you meet someone from Japan and you say, "I actually cooked an Okonomiyaki omelet" that person will be amazed and the result is that you actually create a connection with that person, you actually get closer to the culture.
SIRISUK: How did you choose which chef to work with on the Spain box?
VOROTOVA: Jamie [Bissonnette] is actually a James Beard Foundation Award Winning chef. He's an expert on tapas. So when we thought Spain, we're like, "It has to be about the tapas experience." You can actually create lots of really small dishes with some of the products inside and he was a perfect fit because that's all he does in his restaurants. He's an amazing personality too. So we worked with him to create recipes that are available on our online magazine.
SIRISUK: Once you figured out the proper ingredients, did everything come from Spain?

VOROTOVA: Yes, everything comes from Spain and that's really the objective of Try The World, to source products directly from the country.
SIRISUK: You actually are bringing the world.
VOROTOVA: The process starts six months in advance because it takes at least a month of research, then once we've worked with the producers and if they're interested in participating, it takes them a month to produce the volumes that we need, especially for us. Then it takes about a month or a month and a half to actually ship the products from the country and then we receive it in our warehouse in Tennessee. It takes another two weeks to receive all the products and actually put them in the boxes and ship them to our customers.
SIRISUK: What was the first box and how long was the process from idea to production?
FOULT: It took us about six weeks. We did an incubator at Google in New York and we actually were the only company that launched the product and sold to profits after the incubator. We actually sold out in two days.
VOROTOVA: The goal was to make it very quickly just to see the customer's response and what they would think about it, and collect feedback and use that to improve the product, and so after that we worked on the design. We worked on actually sourcing products from countries, working with local experts, worked directly with the brands, started manufacturing the products and launched the subscription in September of 2013.
SIRISUK: How do you feel about the growth so far? What are some things you can tell me?
VOROTOVA: It's been tremendous. Well, the first year we were still in school - we were in graduate school at Columbia and after that last summer we were making 500 Paris boxes and this summer we made 50,000 Japan boxes.
FOULT: As Kat mentioned at the very beginning, when we had the idea and launched Try The World, we were at school so we were taking classes. We also had interns who were in Columbia at the library. So we were going back and forth from classes to the library and so it grew slowly that first year and then I graduated in May of last year and started with a very strong team. Everything relies on the team- our people are very passionate about food, about travel, about the mission and they really are doing an amazing job of sourcing the best products and telling the story of the artisans.
SIRISUK: How many people are on your team now?
VOROTOVA: About 20 people now. It is a very global team so people come from a dozen countries. New York is the best place for us because of the amazing talent that it attracts. Also, I think our company attracts a certain type of person who is very open minded and excited about the world.
FOULT: People are excited about the fact that it's such a fast growing start up in New York and we want to be very disruptive. We want to disrupt a very traditional industry which is the gourmet industry. It has been doing the same thing over and over for decades and doing well. It's a huge industry - it's a 109 billion dollar industry, it's huge. Fifty percent of American consumers actually buy gourmet products. It's doing well, but it's not online. So what we're trying to do is enable anyone to taste food before they buy it and a part of that revolution is bringing gourmet online and we're doing that through the subscription box and e-shop. I think that generally people who join the team are both very passionate about the mission and also eager to contribute to be part of the first employees in a start-up that is growing very quickly, and try to do things right.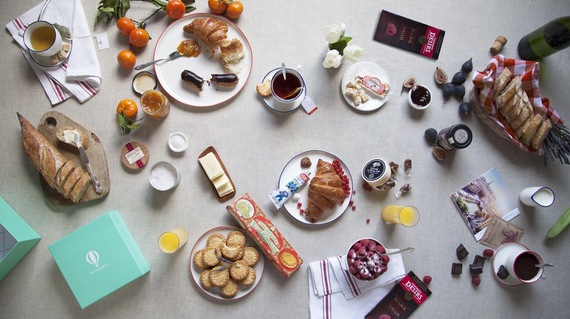 (Image courtesy of Issa PR)

SIRISUK: What are some of your early memories of your relationship with food?
VOROTOVA: I think everyone grows up with their mom's cooking or a lot of people do, so for me I grew up in Russia so my background is mostly smelling Russian cuisines and eating really diverse post-Soviet republic cuisines.
FOULT: My family from my mother's side is from Morocco and Moroccan food is actually delicious so once a week we would gather and she would cook for the family, for about 20 people around the table. That's something that I really miss in New York, actually. We did the Morocco box by the way, that she validated. She thought it was amazing. I also go back to France - I try to go back twice a year. I go there and I remember the smells, it brings me back to childhood. That's what we are trying to do every time we curate a new box, trying to get to the flavors that people miss and the U.S. is a country made of immigrants so everyone is missing a smell from somewhere whether its first generation, second or third generation. With every box we work hard to capture the essence.

SIRISUK: I wanted to know about the Moroccan cookies. I know you have a fun fact about that.
FOULT: There is a Moroccan brand called Orientines - they are making very delicious, very authentic Moroccan cookies. You know we have the box, but when you really like a product you can keep buying it on our e-shop individually so what happened is that people discovered the cookie from the box and we actually sold more on our e-shop than they ever sold in Morocco.
SIRISUK: You're continuing to expand as more people invest in the company. Where do you want to take it now?
FOULT: We want to be the expert curator of food from around the world. We grew from 500 boxes to 50,000 boxes in one year and we have very ambitious plans for next year as well. For now we are focusing on the product. The product is really our core focus because we know that if the product is right, people will love it. They will keep subscribing and they will refer a friend and share Try The World. Our core focus is Spain now and right after that in November and December the holiday box, which will be amazing. It will have products coming from seven different countries. The DNA of that box is to capture the way people enjoy holidays around the world. It's not only about just one like Christmas, it's not about religion, it's really about celebration and each product will tell how people enjoy these celebrations wherever they are around the world.

SIRISUK: What's the most recent memorable meal you've each had?

VOROTOVA: I forget the name of the restaurant but its on 23rd Street [Sushi Seki] and they have fresh wasabi root. It's actually very difficult to find real wasabi in the U.S. so they typically just take horse radish and dye it and that's what you get in your wasabi. So this place, among maybe a handful of others in New York City, actually has fresh wasabi and it's amazing. They serve you the sushi that they create for you in front of you. It's really good.

FOULT: I really like to cook, for instance I go to Chelsea market and I get fresh fish. They have fish from all over - the last one was from Spain, and I cook it at home very simply, very healthy and still tasty. I think that's my favorite dish here, except the Moroccan one my grandmother makes.
For more information on Try The World and to subscribe, visit the company's website.
Calling all HuffPost superfans!
Sign up for membership to become a founding member and help shape HuffPost's next chapter