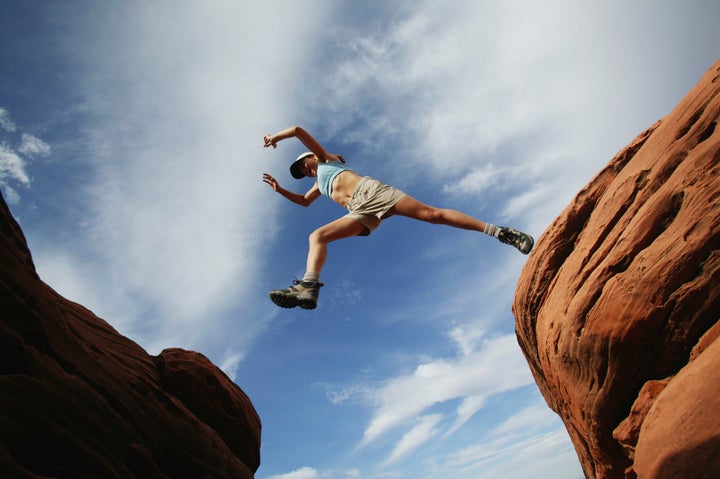 When we look at the state of the world today, we see a mixed picture. Rapid innovation in an increasingly connected society is transforming the way we work, play, and live. But we also see global economic woes, civic unrest, and political stalemates. As a result, social issues that challenge communities both domestically and globally are becoming more urgent and interconnected. Meanwhile, those of us charged with finding or funding solutions to chronic social challenges -- philanthropy, government, nonprofits -- seem to be moving too slowly and often operating with the same set of tools, concepts, and cautions of the generations before us. If we're going to keep up with the rapid pace of change and the daunting volume and complexities of these challenges, we must rethink traditional models. The old way of doing things is simply no longer effective in this new world. It's time for us to be bold, act with urgency, and resist the tendency to let caution be our guide. It's time for us to Be Fearless.
The Case Foundation turns 15 this year, and as we approach that milestone we've been taking a hard look at our own evolution and the world around us. Looking back over the years, we found that we were most successful when we were fearless -- when we have explored and experimented -- and the least successful when fear or caution somehow became a dominant driver of decision making. But what exactly does it mean to Be Fearless?
Because the very idea of Fearlessness can bring out fears, it's important to state up front what it isn't: We're not talking about reckless abandon here. We're talking about sincere, diligent efforts to innovate -- to find new ways to try to solve old problems. In short, to adopt a set of "Fearless Principles" that can create a road map for attempting to disrupt old, ineffective efforts with new approaches that might represent measurable progress. Here are some initial thoughts:
Dream big: The easy road in any undertaking is to set comfortable, realistic goals. But if we're truly going to Be Fearless -- and find breakthrough opportunities to change the world, we must set audacious goals. Many of the most significant and breakthrough efforts throughout history were made possible simply because someone decided to dream big. President Kennedy's call to go to the moon, Thomas Edison's passionate pursuit of electricity that could light and guide our world, our forefathers' audacious vision for a free and independent United States -- these are all examples of big dreams and audacious goals in their time that have changed our world forever. In more recent examples within the social change sector, we can point to global efforts to eradicate malaria deaths by 2015.
Experiment (& take risks!): Things are moving so quickly today and the playing field is changing constantly. As such, our experiments have to keep up. While it's important to look at the long term and longitudinal, society can't wait (and technologies won't wait) for a 30-year study and quadruple double blind test group. We have to experiment constantly even if we don't have the perfect set of circumstances -- when we're finished with one experiment we need to be thinking about the next. It's this type of thinking that has kept companies like Apple and Southwest ahead of the game while less nimble and often bigger players have fallen behind.
Acknowledge the ups and downs: "So, what do we do next?" According to reports, that is the brave response Bill Gates offered in 2010 upon learning that the Gates Foundation's $700 million polio effort had fallen short of stopping the disease from spreading throughout Africa. And when things aren't humming along as planned, rather than try to sweep it under the rug, "What do we do next?" is exactly the right question to ask. Look at any great business today and chances are their road to success included low moments that required fresh, new thinking and important course corrections. A Fearless mindset owns those missteps and uses them as rungs on a ladder to propel you to your next victory.
Don't fear failure: Countless business leaders, iconic entrepreneurs, and historical changemakers have shared their stories of failure that ultimately paved the way to success -- Michael Jordan was cut from his high school basketball team, Oprah Winfrey was fired from her job as a TV reporter, Henry Ford started five failed businesses before creating his famous American car company, and Nelson Mandela served 26 years in a prison cell before emerging to become the leader of a free South Africa. While no one ever hopes for failure, and with much on the line, it's natural to be afraid to fail -- but the important part is that we "fail forward" as philanthropic consultant Lucy Bernholz terms it.
In 2012 and beyond, inspired by the challenges we face, and the opportunities we are afforded, we're officially declaring our intention to Be Fearless in all that we do... in our approach to philanthropy, social change, and social good -- and we hope you'll join us in this journey.
In the next few months, you'll hear a lot more from us on this subject... but for now, we need your help to jump start this conversation by sharing with us examples of people you know that have been fearless and why, fearless social good initiatives, fearless leaders, fearless organizations, or your personal stories of fearlessness. So, let's get started. Will you Be Fearless with us?
Please share your thoughts on what it means to Be Fearless -- whether in the comments below, using #BeFearless on Twitter, on our Facebook page or on our blog... we want to hear from YOU!
Popular in the Community