To say that Roeland Kramer knows Dutch tiles is a bit like saying that Tiger Woods knows golf.
Roeland and his brother Sebastiaan own Kramer Kunst & Antiek, a large antique store at the corner of Nieuwe Spiegelstraat (Amsterdam's Antiques Row) and the Prinsengracht Canal, that specializes in Delftware and tiles. The shop has been in Roeland's family since the 1970s, when his grandfather bought it; Roeland began working there in 1990, when he was 10 years old, and he has never left. In addition to working at the shop, Roeland recently completed a master's degree at Amsterdam University. His thesis was a study of the tile collection at Amsterdam's Rijksmuseum. On a recent afternoon, Roeland helped me climb a steep staircase to a balcony overlooking his shop, where we sat for an hour while he gave me a primer on Dutch antique tiles.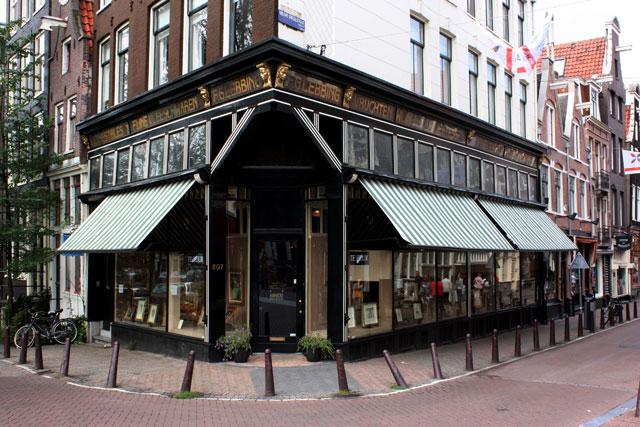 Kramer Kunst & Antiek, Amsterdam. All images courtesy Roeland Kramer.
Dutch pottery manufacturers began to make tiles in the 16th century, first influenced by Italian, and later Chinese manufacturers (the famous Dutch blue actually began as an imitation of Chinese porcelain). The Dutch initially used tiles for practical purposes - for safety in the fireplaces of their wooden houses, and in their kitchens. Over time they also began to use tiles for decoration, as the wealthy could show their affluence and taste by displaying more elegant and intricate designs. In the Golden Age of the seventeenth century, there were more than 400 tile factories in Holland; their numbers dwindled over time, and there are only two today.
Delft blue tile depicting a child
performing feats (ca. 1700).

Delft blue tile depicting a child
"making water" (ca. 1675).
Antique tiles exist in large numbers. Kramer Kunst & Antiek sells about 3,000 a year, from an inventory of 10,000 in the store, but the store has a staggering total of about 500,000 antique tiles at a warehouse outside the city, probably the largest collection of antique tiles in the world. Roeland has traveled all over Holland, removing old tiles from houses that are being renovated. And his experience with tiles lets him read them as if they were written texts.
Delft blue tile depicting
Delft blue tile depicting
a game of hoops (ca. 1675).
One of the most fascinating things about Dutch tiles is how precisely they can be dated. Among the key variables in determining when and where a tile was made are the kind of clay used, the thickness, the design, the glaze, and the subject. Antique tiles vary greatly in price. Kramer sells beautiful seventeenth-century tiles for as little as €30; these show simple images of common subjects. The rarer the subject, the higher the price. A rare subject in excellent condition can have great value to collectors: Roeland sold one extremely rare tile, a sea creature made in Rotterdam in 1610, for €25,000. Most tiles were made by artisans whose names are not known, but a few individuals have been identified. Pytter Grauda, a painter who worked in Harlingen in the late 17th century, is known for his scenes of chivalry; Kramer has a number of his tiles, which they sell for €300-600.
| | |
| --- | --- |
| | |
| Delft blue tile by Pytter Grauda (ca. 1625). | Delft blue tile by Pytter Grauda (ca. 1675). |
Dutch tiles continue to be an area of scholarly research. The Rijksmuseum's collection had not been studied in recent decades, until Roeland spent six months looking through the museum's 20,000 tiles for his thesis. As a result of his work, some of the museum's outstanding tiles are currently on display.
Delft blue tile depicting
Delft blue tile depicting
an elephant (ca. 1700).
Next time you're in Amsterdam, I strongly recommend including a tour of the Rijksmuseum's spectacular collection of Delftware, in Special Collections. Afterwards, walk a few blocks north from the museum to see Kramer's wonderful collection of antique tiles. Roeland Kramer is both knowledgeable and patient in sharing his expertise for Dutch tiles, and after a session with him you might wind up with a beautiful historical souvenir, and perhaps a new hobby.
Delft blue tile depicting
Delft blue tile depicting
a house (ca. 1900).
REAL LIFE. REAL NEWS. REAL VOICES.
Help us tell more of the stories that matter from voices that too often remain unheard.