"It was like all fairytales. One must travel through darkness to find the light." – Elizabeth B. Joyce, With Love and Fury
William Joyce is the subject of my sixth Porch Light Profile. Bill is nothing short of a creative genius. He is an artist, storyteller and filmmaker. He is the author and illustrator of more than 50 children's books. He won an academy award in 2011 (which he visualized accepting when he was a kid) for his short film, The Fantastic Flying Books of Mr. Morris Lessmore, and has won four Emmy Awards. The company he cofounded, Moonbot Studios, will be releasing their first feature film in 2019, The Extincts.
Bill's talent is wide ranging. He is funny, candid, and refreshingly grounded. He grew up in a loving family where his artistic ability was recognized and encouraged. As a boy, his dream was to become a secret agent or Superman. After being introduced to Maurice Sendak's picture book Where the Wild Things Are when he was five, Bill decided he wanted to make picture books. He shifted his focus from superhero to becoming a "maker upper" when he grew up. By creating worlds that people believe in and characters that they love, Bill had figured out the way to have superpowers without a cape.
For the most, part Bill has never veered from following his muse. He has admitted to taking on a project or two when he was younger just for the money and hating it. Over the years, he's learned that he is most successful when he works off his inner impulses.
"The thing about artists is a lot of times they end up being successful because they aren't trying to make money. They are just trying to be true to their vision and that touches people. I've never written or illustrated anything that I thought about like 'Oh, this is going to make a million bucks.) It just needed to come out, and if it's good and pure people respond, and you can honestly make some money."
Bill's artistic gifts are a part of the fabric of his being. He learned at an early age to use his storytelling skills as a tool to work through the struggles in his life. As far back as he can remember, he has used his artistic ability as a kind of therapy.
"At age five, I was already using drawing and storytelling, although, I didn't realize it, as a way of dealing with life. My sisters teased me mercilessly. The only real revenge I could get on them was to draw them getting eaten by dinosaurs. They were the reason I learned how to write at a young age. I had to be able to sign their drawings with, 'Love, Bill.'"
As a storyteller, Bill always trusted his creative vision. Beneath the enchanting illustrations and plots of his books run the undercurrents of his world. "I'm often not fully aware of what the story is I'm telling. There are many times I'm surprised by the themes that come out in my writing."
On an Instagram post, Bill relates the story of his wife being hugely pregnant with their first child when he suddenly stopped the book he was working on to make the book, Bentley & Egg. Bill was confused as to why he was so compelled to do a book about a frog who is in love with a duck about to lay an egg. But his wife had no problem cracking the code, "Look stupid, you're the frog, I'm the duck and this….she pointed to her stomach…..is THE EGG!"
Bill suspects he has unwittingly used the same process of working through his emotions throughout his entire career. "The tragedies that I've been through and the losses that I've experienced have all shown up in the Guardians novels, and even in my picture books, in subtle ways. In my stories there is a sense that there will always be losses in life, but you power through them. If you lose something that you love, the memory of that love will sustain you and never die."
Bill knows first hand about love and loss. In 2010, his radiant light of a daughter, Mary Katherine, died of an inoperable brain tumor. She was only 18. Her presence can be found in his Guardians of Childhood books. She is also included in his picture book and film, The Fantastic Flying Books of Mr. Morris Lessmore. In them, Mary Katherine appears as a young lady who understands all Morris needs is a good story and sends him her favorite book. Although Morris was originally based on his friend and publishing mentor, Bill Morris, there has to be an aspect of William Joyce in that character.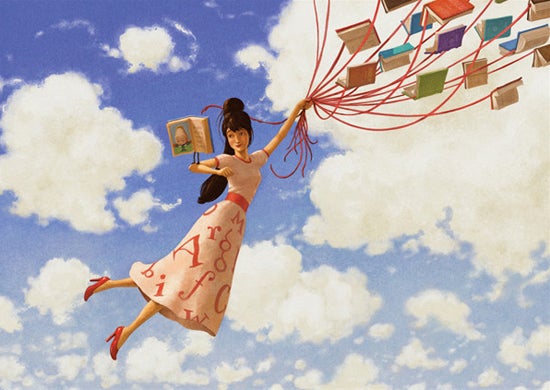 Shortly after his daughter's death, Bill's wife Elizabeth was diagnosed with ALS. After a long illness, Liz succumbed to the disease in 2016. She and Bill had always been a team. So sure that together they could handle whatever life gave them, it was heartbreaking when she was no longer at his side. Liz was a beautiful and brilliant woman. Before her illness she appeared as characters in many of his books.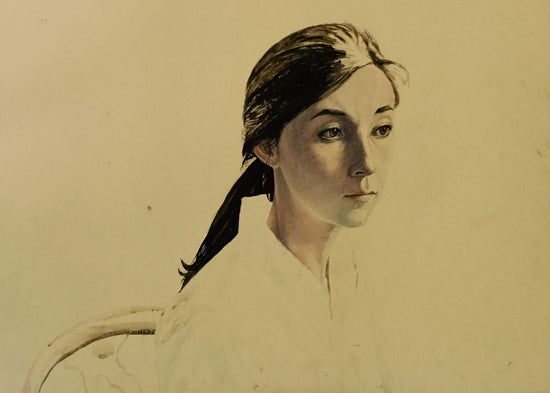 In answer to my observation of his remarkable resilience in light of these losses Bill responded:
"It was tough. There were many, many days when I didn't know if I was going to make it through. There were a couple of things that saved me. One was that I had to take care of our son, Jack. That makes you strong. I also had my artistic outlet. I got more work done during those seven years of illness and tragedy than anytime in my life. The stories were pouring out of me. I guess they were my refuge but also my salvation. I was making sense out of all of the stuff that was going wrong by writing about it without knowing I was writing about it. In my book, Ollie's Odyssey I'm not writing a book about illness, I'm writing about a little boy who loses his favorite toy and realizes that even in finding it things may never be the same, but that's okay."
Many people believe that the creative energy an artist channels is from a higher source. That's exactly how Bill Joyce sees the gifts that move through him. They are coming from something greater than himself.
"Whether you want to call it a higher source or the human spirit, whatever it is, I am lucky it's a part of me. During that dark time I talked to other friends who are creative people. Maurice Sendak was the most helpful usually. He said 'Art tortures us, but it's also our salvation. And these are the times when it really can save us.' He was right. My art is what saved me."
As with all creatives, William Joyce's gifts are twofold. The light that pours through him is not only for his legions of fans. The light is a part of his healing, too.
************************************************************************************
*Coming up next: Profile of Sheri Salata. She stepped down as co-president from Oprah Winfrey Network to form her own brand innovation agency, STORY, alongside Nancy Hala.
Related
Popular in the Community