While supporters celebrated Friday's U.S. Supreme Court decision that deemed marriage between people of the same sex to be constitutionally protected nationwide, many outside the U.S. or with a global view cautioned that the struggle for LGBT rights did not end with the right to marry, or within America's borders.
Ryan Cherlin (L) kisses his boyfriend Jared Stalzer in front of the Stonewall Inn. They said they had no plans to marry. (Michael Luongo/The GroundTruth Project)
"Our work is far from over -- not in the United States and not around the world. Marriage equality is one slice of the pie, but homophobia and transphobia morph into different shapes in law and practice. Nearly 80 countries still criminalize same-sex intimacy and countless prohibit so-called 'cross-dressing,' said Jessica Stern, the executive director of the International Gay and Lesbian Human Rights Commission (IGLHRC). "Today is not an end but a new beginning."
The U.S. joins just 20 other countries worldwide to recognize gay marriage, while 78 countries still discriminate against and criminalize homosexuality itself with punishments of jail or even death. Broadly speaking, countries in North and South America, as well as Western Europe have led the charge toward equality, with much of Africa and the Middle East vehemently opposed to homosexuality. In East Africa, for example, religious organizations have pushed forward more restrictive laws on LGBTs. Russia flaunted new laws limiting freedom of expression for gay people ahead of and during the Sochi 2014 Winter Olympics, while gay Egyptians have abandoned their Arab Spring dreams of free association following arrests and intimidation.
Many citizens of the countries that legalized gay marriage long before the U.S. expressed congratulations but also pointed out that this was a long time coming, particularly from a nation that the world views as a leader in human rights.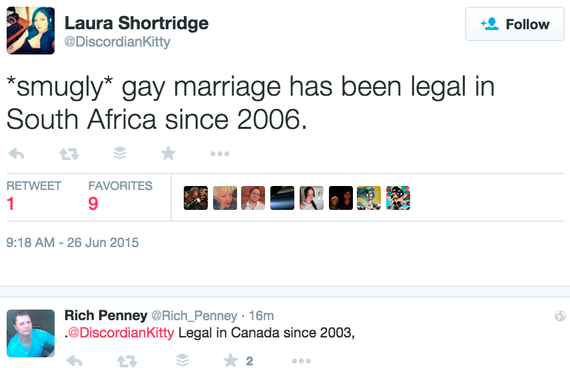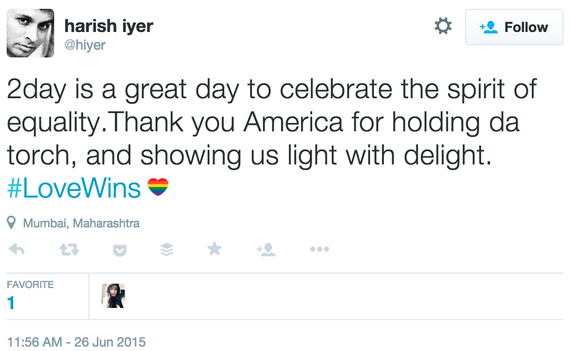 And precisely because the U.S. is believed to hold such global influence, international LGBT rights advocates are asking the American government to go beyond just setting an example and actually send a clear, direct message through its foreign policy.
The American Jewish World Service (AJWS), a Jewish international development and human rights organization, urged President Obama to reform foreign aid spending to "ensure that U.S. tax dollars are not being used to subsidize discrimination abroad, so that people in developing countries are not denied lifesaving services on the basis of their sexual orientation or gender identity."
A queer woman from the Middle East who wishes to remain anonymous told The GroundTruth project that she did not expect America to stand up for gay rights abroad, particularly when "assimilation of gays in the West is used to demonize Muslims and Middle Easterners" in order to maintain a narrative that supports current U.S. foreign policy. Besides, she said, "Saudi Arabia declared just a few days ago that it would never grant gay rights. I don't see the U.S. ending relations with the Kingdom anytime soon."
The U.S. has enforced such measures in the past, but only in select countries.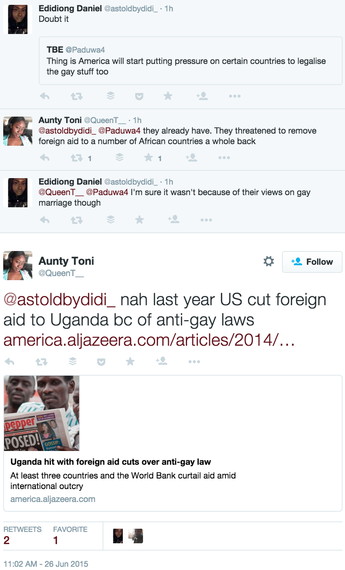 Meanwhile, on a day that mass attacks in Syria, Somalia, Tunisia, Kuwait, and France dominated international news, citizens of those countries found it difficult to celebrate, when there were more pressing matters affecting their countries beyond marriage equality, an issue which seemed far removed for them.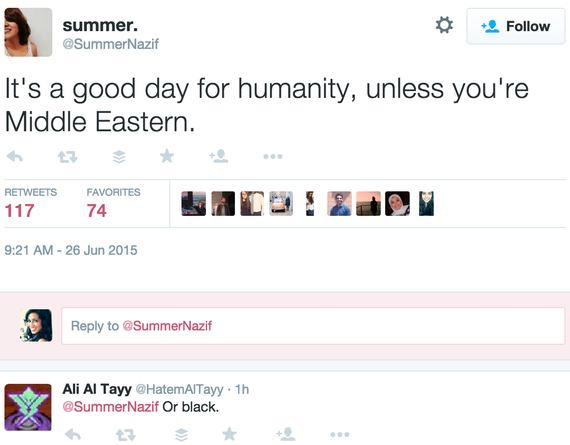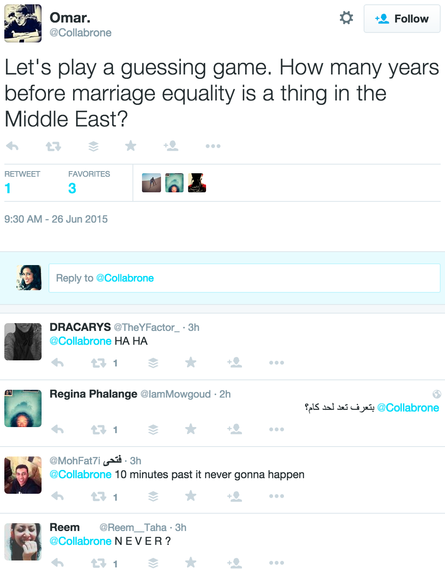 Popular in the Community