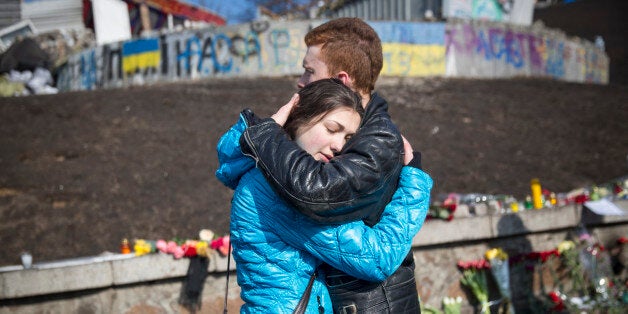 The WorldPost presents a roundup of some of the world events to watch in the coming week. 1) What's next for Ukraine?
Events in Ukraine have progressed rapidly, to say the least. The past few days saw the Rada, Ukraine's parliament, vote to oust embattled President Viktor Yanukovych, free former Prime Minister Yulia Tymoshenko from jail and give presidential powers to parliament Speaker Oleksandr Turchinov. There was also a welcome cessation of the violence that dominated last week, as citizens held peaceful rallies at Independence Square and memorialized those killed in the demonstrations.
As the smoke clears, uncertainty over what happens next in Ukraine appears. Andrew Higgins in The New York Times, and Julia Ioffe reporting from Kiev for The New Republic offer smart analysis of the question marks the embattled nation faces.
One of the more pressing mysteries right now concerns the location of President Yanukovych, who is being hunted after a warrant for his arrest was issued Monday. After fleeing the capital on Feb. 22, a silent Yanukovych left behind not just a fractured country, but also zooful of exotic animals, which protesters found after storming his opulent palace.
2. Venezuelan protests continue to build steam The government of Venezuelan President Nicolas Maduro is struggling to contain the widespread demonstrations that now enter their second week. The jailing of protesters and opposition leaders has drawn condemnation from U.S. Secretary of State John Kerry, but has not stopped thousands from flooding the avenues of Caracas in protest.
3. South Korea and the United States conduct army drills Monday marks the start of annual joint military exercises between the United States and South Korea, a time-tested event that never fails to anger whichever Kim is in power in North Korea. While ostensibly innocuous and designed to strengthen the ongoing alliance between Washington and Seoul, the drills also function as a reminder to the region the U.S. still has more than 28,500 military personnel stationed in South Korea.
North Korea, in turn, habitually levels threats, as demonstrated earlier in the month with a vow to renege on an agreement to reunite families separated by the Korean war. Though both the exercises and in-kind response are the norm, any subsequent reports of Pyongyang acting extra crazy has been clearly anticipated.
4. Egypt's military tries former President Mohammed Morsi
The ongoing trial of former President Mohammed Morsi is set to continue on Feb. 27, with fresh charges levied by prosecutors that the Muslim Brotherhood leader leaked "state secrets to Iran's Revolutionary Guards as part of a plot to destabilize Egypt," according to Agence France-Presse. Morsi was read these accusations on Sunday, while he sat in a soundproof glass cage to prevent him from shouting in court.
The seriousness of the crime, which is punishable by death, shows how far Egypt's military is willing to go in the continual vilification of both Morsi and the Muslim Brotherhood. It also demonstrates how quickly fortunes can change in post-Mubarak Egypt, which will elect a new president in the coming months. Further tipping the hand of its power brokers, Egypt's military-backed government resigned Monday, a move that likely paves the way for General Fattah Al-Sisi, the country's Defense Minister, to announce his candidacy for president. Al-Sisi is the odds-on favorite to become Egypt's next president.
REAL LIFE. REAL NEWS. REAL VOICES.
Help us tell more of the stories that matter from voices that too often remain unheard.
BEFORE YOU GO
PHOTO GALLERY
Protests In Venezuela