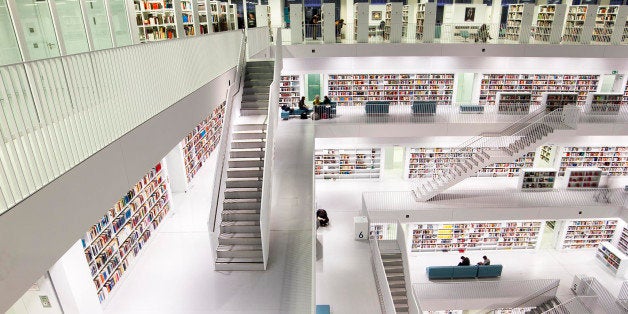 Much has been said about the value of libraries and the fear of their decay, both here on the Huffington Post, as well as elsewhere across the web. Recent conversation toggles between heralding efforts to bring libraries into the 21 century and articulating a romanticized fear about losing the print archive. But there are much more rudimentary questions at the heart of this debate: most notably, what does the word library mean today, and--perhaps more important--what will it mean in the future? With the recent trend of "bookless libraries," such as Stanford and Florida Polytechnic University as well as public libraries like this one in San Antonio, questions about the very definition of terms like library and book are raised. Is an institution that contains no print matter a library at all? Is a library the building or the books?
What concerns me about this shift in the ontological status of library-hood is what might be lost in transition. Practically speaking, libraries provide access to books certain communities might otherwise not have. To borrow a book from a library is free. Libraries offer services: cultural events, community outreach opportunities, job search assistance, ESL classes, programs for everyone ranging from single parents to ex-inmates to those struggling with homelessness, special-format materials and equipment for readers with disabilities. Libraries make reading sustainable--through the notion of circulation, books can be consumed without printing more copies and using more trees.
Certainly reading digital books is sustainable too, but this practice does not endorse the more intangible lessons that libraries foster: for example, libraries promote the notions of borrow and share. They provide a physical artifact by which readers across regions and eras might communication through marginalia they scrawl on and errata they leave between pages. (For a fabulous recent investigation of this practice, see Ander Monson's haunting Letter to a Future Lover.) Furthermore, libraries provide spaces for communal reading. They require the practice of browse, and are organized such that browsing becomes an exercise in discovery. And, perhaps most important, libraries are one of the only institutions in which we congregate that still sanction silence.
One can imagine a discussion not unlike this one some day about the campus-less university. College Now a Collage on the World Wide Web! the headlines will read, No need for campuses, those spaces where burgeoning thinkers gather en masse! Asynchronous, independent coursework so you never face the awkwardness of real-time human discourse!
Truth: I am a 20-something very old soul.
Truth: this piece is charged with pathos rather than ethos; I am not a librarian, nor an information science technician. Rather, I am a reader, one who has seen libraries--public and private, academic and otherwise--morph from buildings with books to "academic centers" and "information commons," full of coffee stations and DVD rental and long tables for working on laptops. And I have found that I am coming to miss the ever-disappearing institution Faucault writes about in "Fantasia of the Library," that space where the magic of the possible is unleashed. As he puts it: "[...] Fantasies are carefully deployed in the hushed library, with its columns of books, with its titles aligned on shelves to form a tight enclosure, but within confines that also liberate impossible worlds."
Here is my fear: That one day a grandfather will address his grandchildren from three time zones away. The children will circle around the screen from which his image is broadcast. He will announce that he is telling them a story about a very old institution, an institution that distributed books for free as long as visitors committed to one thing: promised to bring them back. The children will tilt their heads and wrinkle their noses in confusion. How very vintage! They will think. How terribly archaic that sounds! And the grandfather will tell them how these strange buildings riddled the world. And the children will think he is moving away from sharing history and toward the realm of myth.
"Only in extinction is the collector comprehended," Walter Benjamin claims in his 1969 essay "Unpacking My Library." And while I do not conceive of libraries as merely collections, our celebration of the "booklessness" that characterizes an increasing number of libraries today suggests we are interested in eliminating all that clutter, all that material and matter we call books.
There are efforts to combat extinction. The American Library Association has created a division that echoes that of the American Alliance of Museums' Center for the Future of Museums. But the most impressive is a grassroots effort from Olso artist Katie Paterson who has launched a project called Future Library (Framtidsbiblioteket) in which select writers compose manuscripts that are locked up and left unpublished for a century. Meanwhile, Paterson has planted trees for the books to be printed. The first book commissioned is by Margaret Atwood and will be printed in 2114. "Future Library is bound to attract a lot of attention over the decades, as people follow the progress of the trees, note what takes up residence in and around them, and try to guess what the writers have put into their sealed boxes," Atwood says. "This project, at least, believes the human race will still be around in a hundred years!" Indeed it does, and in so doing, risks.
"My library is an archive of longings," Susan Sontag says in her notebooks, and aren't all libraries? And maybe that's the thesis of this post: Our archives of longing should be composed of tangible artifacts we share, not just with those from the past or in the present, but with those who are yet to be born.