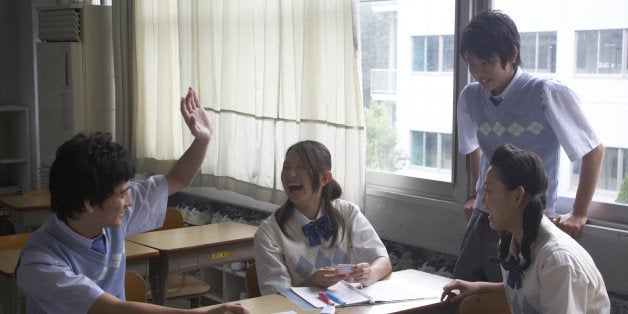 It's fairly obvious that we have to take a holistic approach in empowering women in business, and that every nation has a unique set of needs. Women need greater access to capital, better policies in place, more mentors and educational opportunities and adequate maternal healthcare, to name just a few. All of this has to happen if we want to create the 600 million jobs that our global economy is going to need by 2025.
That's where the Dell Global Women Entrepreneur Leaders Scorecard comes in. The Scorecard is essentially a guide that establishes benchmarks in 31 countries that make up 76 percent of the world's GDP. The study measures 21 indicators that highlight important aspects of a country's institutional and business environment, gendered access issues and individual-level entrepreneurial characteristics grouped into five categories: business environments, access to resources, leadership and rights, pipeline for female entrepreneurship and potential for high-growth women-owned businesses.
The most important part: the goal of the Scorecard is to make actionable recommendations for countries based on the research, rather than just point out what is holding women back from success. For example, the United Kingdom needs a gender procurement policy and more data on entrepreneurship. France needs more women CEOs. The United States, despite being ranked number one, needs more women in leadership positions as well. And of course women's access to capital is a pervasive problem that needs to be tackled, worldwide.
But what we don't talk about enough are the programs that can set girls up for success. On a basic level, we need to make sure that our girls are getting educated, that they're protected from violence and that they're healthy. Additionally, girls need positive role models, opportunities for hands-on learning outside of the classroom and a group of good friends.
A multilayered approach is necessary to boost girls the same way it's obligatory for empowering women. There are several amazing organizations that have designed programs that address the needs of girls. Some of my favorites are the Girl Scouts of the USA, Learning Labs, GirlUp (which I'm proud to have had a hand in!), IT Is Not Just for Geeks and the Dell Women Entrepreneur Network's Youth Track. I should also mention the important role of organizations advocating for girls' education, which have done a phenomenal job of raising awareness of the 62 million girls that should be in school today but are not. These include my hero, Malala Y. and the Malala Foundation and initiatives like Let Girls Learn, driven by First Lady Michelle Obama and Girl Rising, which used the power of film to bring these girls' plight to global attention. All of these noteworthy programs give girls around the world opportunities that they wouldn't have otherwise.
The Girl Scouts of the USA turns girls into leaders, instilling in them the confidence they need to follow their dreams. It's no coincidence that virtually every female astronaut who has flown in space is a Girl Scout alumna and that 15 of 20 of the U.S. Senate's women are former scouts. Susan Wojcicki, the CEO of YouTube, presidential hopeful Hillary Clinton, former Secretary of State Madeleine Albright, tennis greats Serena and Venus Williams and even Taylor Swift sold Samoas and earned colorful badges for their volunteer efforts. Dell recognizes how significant the Girl Scouts of the USA is (and has been for more than 100 years) and has supported them for more than a decade. Most recently, Dell partnered with GSA on an interactive game for young girls, "Be the Video Game Developer," which introduces them to the high-level concepts for engineering a game and promotes critical thinking. And because Dell loves Thin Mints as much as the rest of us, the company is helping girls take their businesses global, while creating the entrepreneurs of the future, by supporting enhancements of the e-commerce Digital Cookie platform launching later this fall. So you can get your cookie fix AND support your local troop (all the proceeds go back to the troops that sell them) -- a win-win for everyone!
On a more rudimentary level, in countries such as Nigeria where electricity is an issue, solar-powered classrooms are allowing girls to get the educations they need. Learning Labs use virtualized, cloud-based computing technology to keep each workstation powered with just three to five watts of energy, as opposed to 150 watts for traditional PCs. It only takes six solar panels to power a classroom of 10 thin client stations for an entire day, and the new labs have been built with fresh air-cooled servers so the climate doesn't cause the technology to overheat. The Dell Learning Labs are a creative solution to a longstanding problem with Nigeria's educational system.
Programs such as Girl Up have made progress in terms of other fundamental rights for children. For example, in 2012 the organization supported the Children's Law of Liberia, which guarantees children's rights, like their right to health and education. It also offers girls protection from child marriage, and provides victims of domestic abuse with support.
Though each initiative is vastly different, each addresses an issue holding girls back from becoming empowered leaders.
As a society, we need to stop talking in platitudes about how to boost women and girls. Instead, let's focus on what's working, replicate our successes as much as possible and come up with creative solutions in areas where we fall short. There's a lot of room for improvement, but enlightening reports like the Dell Global Women Entrepreneur Leaders Scorecard and groups like the Girl Scouts of the USA are pushing us forward. I urge you to support the organizations that are supporting the success of women and girls. Let's keep up the momentum and create the opportunities that these girls need!
Calling all HuffPost superfans!
Sign up for membership to become a founding member and help shape HuffPost's next chapter