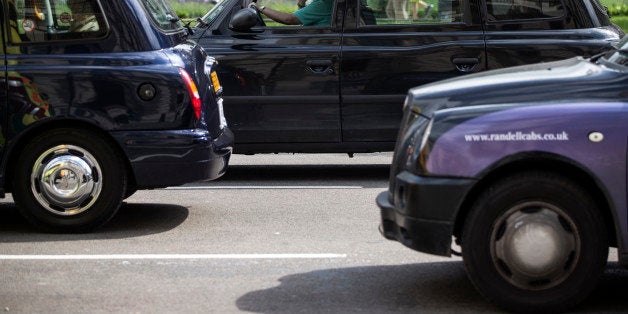 New York City's yellow cabs might be world famous, but with a 98 percent chance of getting a driver who's on the phone 100 percent of the time, they're far from the world's best. Or coolest, even.
But where on Earth can you catch a cab that you'll be telling your friends about when you get home? From top-hatted chauffeurs to vintage Cadillacs, here are 5 of the world's sickest taxis.
Tokyo, Japan
The Japanese are a notoriously polite/tidy people, so it's no surprise that their cabbies would be as well. Japanese drivers wear chauffeur's hats, freshly pressed shirts, and white gloves. Even better, they have a weird hand crank device with which they can pop open the back door. See for yourself here (you can stop after :02). Also, they refuse tips!
Mumbai, India
While uniformly black and yellow on the outside, it's the inside of Mumbai's famous Premier Padmini cabs that really shine. Local drivers are able to showcase their personality/sense of style with plush, personalized interiors decorated with colorful logos and images painted onto the rear window. Unfortunately, these older, non-air conditioned cars (many of which've been around since the '70s) are slowly being phased out.
Bangkok, Thailand
These colorful, three-wheeled Tuk Tuks (or auto rickshaws) consistently lure guileless tourists into paying more for a ride than they would in a metered cab. And then they proceed to scare the crap out of them by weaving through traffic, flying over potholes, and narrowly avoiding pedestrians and larger vehicles. That said, it's a Thailand experience!
London
London's hackney cabs are as British as their ubiquitous red phone booths, and are consistently ranked among the world's best. Not only do the cabbies deftly navigate London's 25,000 twisted roads, but sitting in the back of one of these bad boys makes you feel like Jay Z.
Munich, Germany
In the land of fast cars and the autobahn, why shouldn't cabbies get to indulge their need for speed? Surprising no one, even the most mundane cab ride around Munich will be in the back of a BMW, Audi, Mercedes, or even a Porsche. And you may even pass one of the city's six urban naked zones.
Related