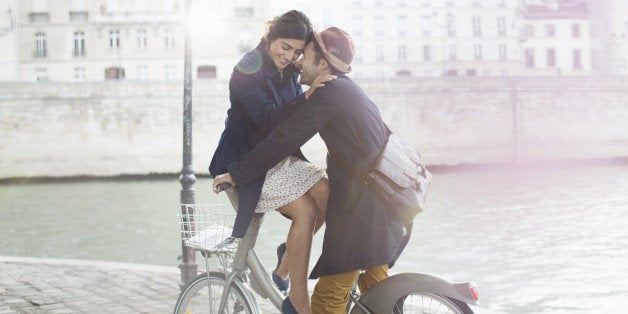 It was a tradition as classic as taking a selfie with the Mona Lisa.
For the past few years, couples have visited France's Pont des Arts bridge to write their names on a padlock, affix it to the bridge and throw away the key -- thus sealing their bond for eternity. But earlier this year, the city of Paris announced that it would bid adieu to the custom and remove the locks because the weight of all that affection was literally more than the so-called Love Lock Bridge could bear.
But have no fear, romantic types everywhere: We've identified some other smoochworthy spots in Paris and beyond. Pucker up.
Related: Three great reason to book a Europe trip now.
Paris, France: Some cliches exist for a reason. The Love Lock Bridge may no longer be an option, but there's a perfectly good Eiffel Tower that's sure to leave you feeling amorous. Visit at sunset, and spring for some bubbly inside the landmark's Champagne Bar.
Talk about a French kiss. Credit McPig/Flickr Creative Commons.
Guanajuato, Mexico: Legend has it that ill-fated young lovers Ana and Carlos would meet in this passageway to carry out their clandestine romance. According to superstition, couples who visit the spot should kiss on the third step, which is painted red, to avoid bad luck. While you're in the area, hold hands as you check out Guanajuato's museums, monuments and public gardens.
This little spot in Guanajuato, Mexico will be right up your alley. Credit Kent MacElwee/Flickr Creative Commons.
Share a sweet smooch on Chocolate Avenue. Credit PBS.
New York, New York: There's no shortage of flashy places to smooch in the Big Apple, but we like Ellis Island for its less-obvious appeal. During the 19th and early 20th centuries, newly arrived immigrants would reunite with relatives at a particular pillar in the Great Hall. Today, the so-called kissing post is marked by a plaque; the spot's storied history makes for an emotional smooch.
Like Ellis Island itself, a kiss can symbolize new beginnings. Credit Steve Cadman/Flickr Creative Commons.
Casablanca, Morocco: The Rick's Cafe made famous by Humphrey Bogart and Ingrid Bergman in the classic movie Casablanca was purely Hollywood fiction. But in 2004, American expat Kathy Kriger opened a real-live restaurant of the same name, complete with a player piano and decor inspired by the film. It's the perfect place to order a meal and kiss as if it were the last time.
A kiss in Casablanca could be the beginning of a beautiful friendship. Credit Amina Tagemouati/Flickr Creative Commons.
Popular in the Community