Sport has an indefinable magical quality. It transcends common divisions and national borders. It brings people together in a unique way. We only need to look at the outpouring of grief around the globe when legendary boxer, Muhammad Ali, passed in June. Ali was known to many as 'the Greatest', but the greatness of sport goes far beyond the amazing feats of strength and endurance demonstrated by Ali in his day, and sportsmen and women in ours. The unrivalled passion of fans is a defining factor in making sport truly great, and demonstrates how sport can evoke emotion in everyone, bringing people together from all walks of life.
Cast your mind back to the 2012 Olympic Games. One of my fondest memories of the London games is the cheery army of volunteers - our 'Games Makers' - standing proudly in their magenta tops helping locals and visitors alike. They epitomized the collective spirit of the event.
Rallying people behind their nations, heroes or clubs, there are few things that unite and drive emotion in the same way as sport.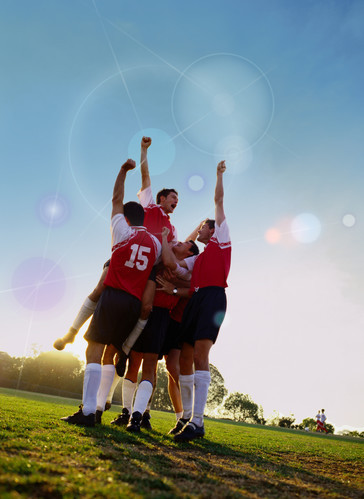 But sport is at its best when it stands for something bigger. When it captures that passion to unite and energize people behind a larger cause. Campaigns like 'Let's Kick Racism Out of Football' and Unicef's partnerships with FC Barcelona and the All Blacks show this. And the impact of United Through Sport, who work with disadvantaged children to combat social, health and educational issues through sport, is a shining example of what can be achieved when we put our minds to it.
Increasingly we're seeing sport get behind another great social challenge of today - climate change. London's Queen Elizabeth Olympic Park, where 98% of construction waste was diverted from landfill, shows us what sustainable sport can look like. As does Sir Ben Ainslie's Land Rover BAR team headquarters, the first professional British sports team headquarters to hold a BREEAM Excellent rating for sustainable buildings. The facility has 432 solar PV panels generating 130MWh per year, and provides 100% of its electricity from renewable sources.
The real potential for the marriage between sustainability and sports though is not just carbon neutral kits and circular economy stadiums, but what we can inspire fans themselves to do.
Think about it. If every Manchester United fan across the world switched to renewable energy, we'd be saving mega tonnes of carbon. If every Usain Bolt aficionado ran to work, instead of driving, we'd take hundreds of thousands of cars off the roads.
So the real question is this: what is the magic formula that gets fans rallying behind these global issues? What is the tipping point where we get them to come on the journey with us around climate change?
Inspiring fans to live, work and play more sustainably is what the 100% Sport Campaign is all about. Championed by BT, 100% Sport has learned a few things about engaging fans along the way.
Former Arsenal midfielder Mathieu Flamini is a unique ambassador for sustainability in sport. Flamini co-founded GF Biochemicals, an alternative energy company that produces levulinic acid (LA), a clean solvent sourced from biomass that can replace a host of petroleum-based products. His story has reached millions around the world - setting an example to all fans.
Similarly, Forest Green Rovers is committed to becoming a sustainable sports club, with low-energy flood lights and solar panels along the stadium roof with 45kW capacity. And Manchester City has produced the UK's first eco-programmes made from recycled materials, whilst local rival Manchester United has created a 'Go the Distance' pitch made from the recycled rubber of 2,200 tyres. We need more of this kind of leadership.
Sports stars hold enormous influence in today's society, and all can employ this influence to tackle big issues, and encourage fans to do the same.
Ben Ainslie is doing just that with us here at BT, fronting the launch of the 100% Sport campaign and working to set the standard for sustainability in sport with his British America's Cup team, Land Rover BAR. And Australian rugby international David Pocock is another sports star using his profile to inspire fans to live more sustainable lives. In the lead up to the 2015 World Cup Final, the biggest game of Pocock's life to date, he put aside the overused big game rhetoric and instead used his time with the media to inspire rugby fans to take responsibility for climate change: "We need action and we're not seeing action...it's all of our futures."

3. Technology
Technology around sport can be the key to unlocking action on climate change amongst sports fans.
Arsenal FC has fitted flushless toilets into The Emirates stadium, as well as voltage optimisation equipment and LED lights which have reduced power use by up to 20%. And the Phoenix Open on golf's PGA Tour has set a bench-mark for sustainability at sports events - 100% of all waste generated during the week-long event, attended by more than half a million fans, is re-used through methods like waste-to-energy facilities.
For the entire summer, the spotlight was rightly on sport. Here at BT, we want to put the spotlight on sustainability, too. And through 100% Sport we're asking fans to tell us how they #go100percent for a more sustainable world, whether that is by switching to renewable energy, increasing recycling or inventing new ways to travel to events. Because we know when we act as a team, we're unstoppable.
Calling all HuffPost superfans!
Sign up for membership to become a founding member and help shape HuffPost's next chapter