This post is part of the Relay for Kids in partnership with SOS Children's Villages. Each time you share this post, Johnson & Johnson will donate $1 (per action) to support children worldwide affected by crisis. Scroll to the bottom to find out more.
They were so young, and yet looked so sad. I looked into the faces of these children... hundreds of them... all gathered together at a UNICEF program in Malawi, one of the countries hardest hit by AIDS. It was 2005, antiretrovirals were not yet readily available in southern Africa and average life expectancy in some of these countries had dropped from the mid 60s to the low 30s.
The children before me were among the thousands who had lost their parents to AIDS. There were programs to help provide them the basic food, shelter and sometimes education, but it was never enough to meet the incredible need.
I remember visiting an SOS children's village in Botswana, where so many residing there were children whose parents had been taken by the scourge of AIDS. The care and support these loving people provided was making such a difference in these young lives.
More recently, over 16,000 children have lost parents in the Ebola crisis in West Africa. While the spread of the disease may be subsiding, the impacts will be felt by these children for their lifetimes.
Conflict continues to rage around the world. No child should have to witness the atrocities of war, be forced out of their homes and communities, or be abducted and forced to be a child soldier or sex slave. But it continues to happen. I met with former child soldiers in the Democratic Republic of Congo, Uganda and Sierra Leone. They literally had their childhoods taken from them.
Today, millions of children have had to leave Syria and are living in refugee camps in surrounding countries. Some are no longer in school, others are struggling to get enough to eat, and many have seen family members brutally attacked and even killed.
The world's children deserve better.
By sharing, you make a difference for kids in crisis: From March 23 until April 24, each time you 'like' or share this post via the social media icons above or comment in the section below, Johnson & Johnson will trigger a $1 donation (per social action) to SOS Children's Villages, the world's largest organization dedicated to orphaned or abandoned children, up to $30,000*. $1 provides food, shelter and medical care to a child in crisis. In addition, you can also Donate A Photo** and Johnson & Johnson will donate $1 when you upload a photo for SOS Children's Villages -- you can help raise up to $20,000 in seconds with the click of your mouse or snap of your smart phone.
Johnson & Johnson, SOS Children's Villages and The Huffington Post created the Relay for Kids to support children around the world who have been affected by poverty, conflict, disease and natural disasters. Visit www.sos-usa.org/relayforkids to learn more.
*Blogs must be shared between March 23 to April 24, via Facebook, Twitter, StumbleUpon, reddit, Tumblr and Google+ from the Huffington Post. Each share will trigger a $1 donation up to $30,000. There are no limits on how many times you can share a post.
** via the Donate A Photo app for iOS and Android. Johnson & Johnson has curated a list of trusted causes, and you can donate a photo to one cause, once a day. Each cause will appear in the app until it reaches its goal, or the donation period ends. If the goal isn't reached, the cause will still get a minimum donation.
Editor's Note: SOS Children's Villages is a partner of Johnson & Johnson, which is a sponsor of The Huffington Post's Global Motherhood section.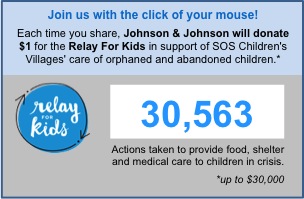 Calling all HuffPost superfans!
Sign up for membership to become a founding member and help shape HuffPost's next chapter