For almost two years, he was bedridden, in such intense pain that just touching his bed would cause him to shriek out in agony. But the story of the late Dr. Venkataswamy, known simply by colleagues and friends as Dr. V, is a story of individual triumph against unthinkable odds. If it was just that, it would be enough. Instead, the story had just begun there: Dr. V went on to become a legendary eye surgeon who quite literally lit the eyes of millions. The magnificent institution he built, Aravind, now sees 2.7 million patients every year, and most mind-blowingly, treats the majority for free. A case study on Aravind has been studied by every Harvard MBA for the last 15 years, and it has become a beacon for social entrepreneurs the world over.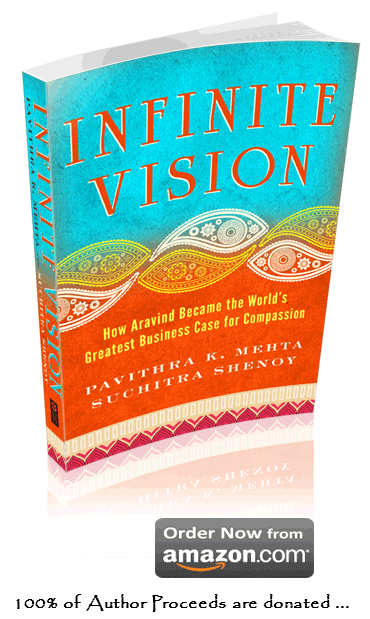 And yet, it has been a story relatively unknown -- until now. Infinite Vision: How Aravind Became the World's Greatest Business Case for Compassion tells the inspiring story of Dr. V and Aravind, and more significantly, unveils the radical principles at the core of its evolution: from an 11-bed clinic in a dusty Indian town, to the world's largest eye hospital. Counter-intuitive ideas, like how compassion doesn't have to be a secondary thought -- it can actually drive operational efficiency. Or how if you are really focusing on service, resources do organize themselves. That if you really want to solve a problem, there's no question that cooperation beats competition. And perhaps most subtly, that when individuals (and especially leaders) stay rooted in inner transformation, it fundamentally alters the way in which organizations develop.
Dr. V wasn't someone who was trained in institution building: when he started, he had no business savvy, no capital, no strategic plan -- and yet, the father of modern day management, Peter F. Drucker, wrote to Dr. V in a letter, "May I say how profoundly I admire your work and how deeply gratifying it is for me to hear that you appreciate mine." The crux of it is that Dr. V was lit up inside. As a simple village boy he'd developed a conviction to become a doctor. But while serving as a physician in the army, barely in his thirties, he had contracted severe rheumatoid arthritis, an excruciating condition that caused his body to attack his joints. "Pain has been a constant companion. It has never left me," he said in his 80s. He had become permanently crippled as a result, with his fingers and toes forever twisted out of position.
Pain or not, he still had this burning wish to serve people. Given the limitations of his crippled condition, he decided to become an eye doctor, and painstakingly trained himself to learn how to do precise eye surgeries. In India, and in much of the developing world, it was a skill set much in need. There were millions of people who were blind, the majority of them because of cataracts -- a condition treatable with a one-time, relatively quick procedure. But the problem was that 70% of India's population was rural, and 80% of its medical resources were in urban areas. So instead, Dr. V went to the people. He pioneered government-sponsored medical camps, heading out to the villages to treat people in droves. By the time he retired, he had already given 100,000 people eyesight with his own two hands.
And still, the story had just begun. There was lots to still do, and Dr. V dreamt a seemingly impossible dream: to rid the world of preventable blindness. Along with his siblings and their families, many of whom had become eye doctors themselves, he started his simple clinic with some revolutionary guiding principles: Turn no one away, regardless of whether they can pay or not; give everyone the same high quality of care; don't depend on anyone for funding, whether government, foundation, or philanthropist. These creative constraints he placed came from a deep conviction in his own values -- and also seemed to destine him for limited impact.
Instead, he changed the face of eyecare on the planet, and he did it by finding inspiration in the most unthinkable places. Like McDonald's. Because of his experience doing rural camps as a government doctor, he knew that he had to develop highly efficient, scalable, repeatable processes to treat the masses that came. In McDonald's, he saw just that: No matter where you go in the world, you can get the same quality product for low prices. "If McDonald's can do it for hamburgers, why can't we do it for eyecare?" was his question. And sure enough, he developed systems today that allow Aravind surgeons to do more than 5 times the number of cataract surgeries done by an Indian doctor (and 10 times what a US physician does).
The questions we ask shape the directions in which we look, and such unique questions yielded some major insights -- Dr. V realized that if he wanted to make a global dent in eradicating this form of suffering, he had to start thinking not just about his organization, but also to start training others. So they started giving away all their secrets, and today, have trained something like 15% of all ophthalmologists in India, and overall, thousands of professionals from 69 countries. He also made some quixotic decisions. When Intro-Ocular Lenses (IOL's) came on the scene in the West, global health professionals called it a "luxury that developing countries could ill-afford." Dr. V saw it differently, and silently manufactured a revolution -- quite literally. At a time when India was far from being the hotbed for technology outsourcing that it is today, Aravind started manufacturing these IOL's, driving the price down globally from $150 to $10. It now makes 7% of all IOL's in the world.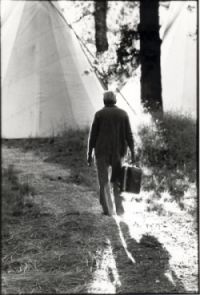 It's been said that the work of this one man touches 40% of eyecare in the developing world today. But Dr. V touched much more than that. His is a story of transcending personal suffering, of the joy of selfless giving, and the possibility of infinite vision. As renowned author Ram Dass wrote, "In the world of blindness, Dr. V has performed a miracle."
In Infinite Vision, Pavithra K. Mehta and Suchitra Shenoy tell a riveting story of this miracle, inspiring a clarity of values and emboldening big, service-hearted dreams. But more than anything else, it is a story that brings us closer to our own unfolding. How can we be the greatest instruments of our deepest calling?
---
Note: This is a story that's special to me. Pavithra K. Mehta, the co-author of this book, is my wife -- and Dr. V's grandniece. 100% of the authors' proceeds are being gifted to Aravind's sight-restoring work. You can keep up with Infinite Vision on Facebook or on Twitter @ivisionaries.
Support HuffPost
The Stakes Have Never Been Higher
Related
Popular in the Community