"The moment we crossed into the Medina (the old walled city of Marrakech Morocco), it seemed as if all chaos had broken loose: donkeys pulled wagons full of stones and trash in every direction; women squatted on the pavement selling bread, limes, onions, tomatoes, and fresh mint tea. Men and women, young and old, their heads wrapped in towels, walked toward the public bath house, small birds feasted on open sacks of rice and wheat while cats darted in and out of the crowd, snatching heads of freshly slaughtered chickens as they fell from the butchers block to the street. The pungent smells in the medina -- olives, rose water, shoe polish, cigarette smoke, freshly baked bread, manure, roasted peanuts and popcorn, blood from freshly slaughtered animals, hashish, leather, urine, and car exhaust -- created a fifth dimension." (1)
This blog is the second installment of a "Do What You Love: Travel" series published here on February 3, 2015. It describes my road trip to Morocco and how I accidentally came upon Rita Kallerhoff. Ms. Kallerhoff is an artist who has lived such a mind blowing life she could easily be described as legendary.

She came to my attention this past winter when I flew to Morocco along with my travel buddy River Mouth Mason. We checked into Riad Wardate Rita, a bed and breakfast in the old Medina part of Marrakech.
It was tricky to find, and the above quoted passage perfectly sums up our experience. Down the ancient, twisting, cobble stone streets of this fifth dimension a cool and exotic oasis greeted us. As we stepped through the pockmarked wooden doorway, light streamed in through stained glass windows, splashing onto the walls in a burst of colors. A swimming pool greeted us in the center courtyard with birds singing, and the winding fronds of exotic desert plants reached up like arms to hug the radiant blue sky. Our twin room above the main courtyard had such an tiny door the little elfin Lannister, Peter Dinklage, would have to bend down in order to get inside the room. We were charmed.
I noticed oil paintings everywhere that reminded me of Frida Kahlo, the famed Mexican artist. With a bit of Paul Gauguin mixed in they all shared striking bold faces, tribal scenes of from far off lands, and they touched a deep well in my soul.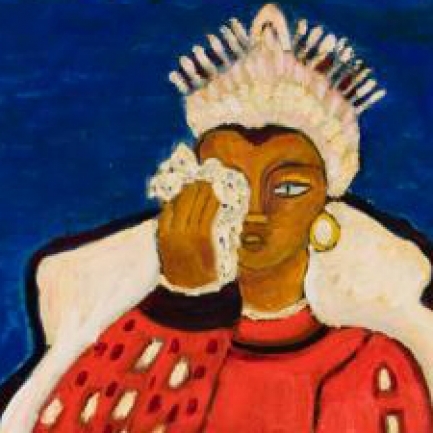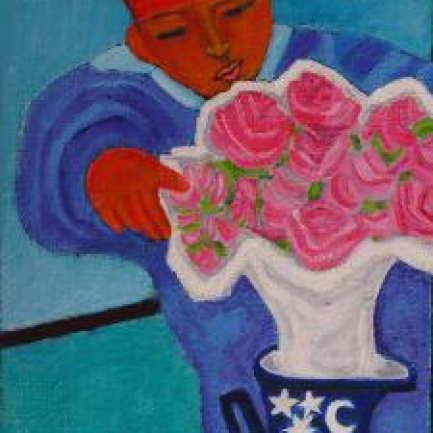 River Mouth and I toured Marrakech for a few days. We ate fresh seafood at the food stalls in the great square Jamaâ El Fna. We visited the exotic floral gardens of Yves Saint Laurent's Jardin Majorelle. We also got hustled by every local taxi driver, tour guide, sales person, anyone who could squeeze us out of a few extra dirham (the national currency at present aprox. 10 dirham= 1 US dollar). River Mouth bought tribal African masks from the market to ship back to his father in Canada, I tried to buy hash from our taxi driver. Both efforts were successful. The noise, squalor, intensity of the ancient narrow streets wore us down after a few days, and we decided to travel to the coast.
River Mouth grew up in the ruggedly beautiful British Columbia coast near Vancouver, Canada. Like both Rita and myself, his parents divorced early on and he was raised mostly with his mother. Before we left for the trip we both talked about finding a beach town to unwind, he surfing and I writing songs. On the morning we were leaving for the quieter coast village of Essaouria, I found a copy of The Muse Moves On, Ms. Kallerhoff's memoir in the sitting room of the Riad. I put it in my backpack and didn't ask if it was for sale.
Once I started reading it goose bumps went up my spine. Suddenly I was diving into her world. The world of a genius who's life was a cabaret of travel, art, sex, love, loss, men, women, fame, misfortune, and redemption. The book was SO well written I couldn't put it down. I savored and lingered over every word. It read like a delicious serving of life itself. When finished I gave it to River Mouth. He too was awestruck.
As we walked the streets of Essaouria we read about Rita's coital escapes to the very same ocean front streets before us with a lover decades earlier. Later, as we decompressed in Sidi Kaouki, an even more remote surfing village, we opened a page of the book to a painting of the very same white washed building in front of us where an emerald sea comes to gently kiss the beige sand.
We both vowed to return to Marrakech after the surfing trip to see if we could locate this mysterious figure. Two weeks later I simply emailed the Riad, inquiring if they knew who Rita was and where she might be? I received a very friendly reply that indeed Rita was in residence. The email said she would be delighted to meet us for tea, or even a friendly dinner. Not wanting to curry any special treatment, I booked us a room for the night at a nearby hotel. I had no idea if Rita owned Riad Rita or was an honored artist in residence? Even after our meeting it's still unclear, adding to the mystery surrounding her.
When we returned to Marrakech we went for dinner. A hotel page answered the door and ushered us inside to the main courtyard. Like a figure stepping off the pages of a great novel, she appeared at the top of the stairs in a white a silk head wrap; cake colored chiffon scarf protecting her neck, with teeth jutting slightly ahead of her jaw and her dress billowing like a curtain in the breeze. She exuded a quiet confidence as if she had access to deeper information below the surface. The night air in February is chilly and was sobering. Here was this woman born in post WWII Germany, with a father who abandoned her, and a burlesque dancer for a mother who, for a time, had to put her into an orphanage. She had to use her wits, looks, charm, and youth to escape a stifled childhood and a narcissistic parent, and make her way in the world with an education only the streets of a city like Paris can provide.
"That night at Elle et Lui I met the woman I was later to dub the Dragon Lady, a beautiful 24 year old with larceny in her very soul. She owned a cream colored Bentley driven by an attractive, young chauffeur. I could tell she was used to getting what she wanted, and what she wanted at that moment was me. Her large, yellow, cat like eyes set off her delicate features like a Modigliani muse that would soon rule my life." (2)
Here was a soul who had lived so fully, traveled the world so extensively, lived like a millionaire and been homeless, loved so deeply and lost so profoundly, I could only hope to see what wisdom might be garnered by our meeting.
In one chapter Rita and her friend Helmut lived blissfully away from the pressures of the world on the beach in Puerta Vallarta.
"We foraged the beach and the forest for much of our food and one of our favorite meals was fiddle-head ferns sauteed with butter, wild garlic and a liberal helping of magic mushrooms that grew unchecked in the moist, black earth behind the house." (3)
Much of her writing was about her relationships. First her mother and emotionally abusive step father, then a series of both men and women who came to both free and enslave her. There were also reproduced prints of a number of her oil paintings scattered throughout the book with explanations about the inspiration for each. These beautiful works brought her stories to life in a most engaging way. Her paintings have been shown in galleries over the years in New York, Europe, Morocco but it seemed almost tragic that such a fine artist has gone unrecognized for so long by a majority of the art world.
"The truth is, if an artist needs something, they have to supply it themselves. Then perhaps the world will supply it." (4)
At our dinner bowls of piping hot chicken tajine were served, and as the evening wore on the shisha water pipe came out as a guitar was passed around. River Mouth, myself, and another guest took turns entertaining with songs. I was delighted to not only engage in art and philosophy discussions with Rita, but to see her take an interest in River Mouth. This young man so fresh on his journey to find himself and see the world, meeting an elder and patron saint of the art world. They talked for hours while she showed us various paintings and told the back story behind each one.
It seemed only too soon that we had to part, but I vowed through this column, not to be stingy and keep Rita Kallerhoff all to myself. To share my new found treasure with the world.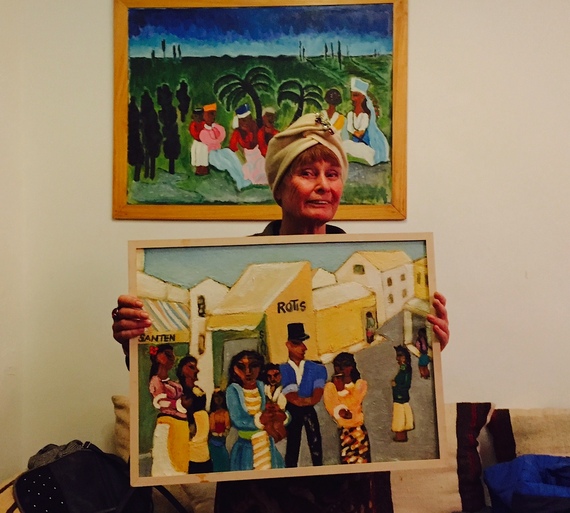 Rita Kallerhoff from her memoir The Muse Moves On.
(1)Page 127
(2)Page 30
(3)Page 39
(4)Page 103
Popular in the Community