A beautiful space where you can retreat after day spent exploring is essential to a picture-perfect vacation. So we enlisted guest judge and interior stylist Kirsten Grove to help us uncover 10 truly exquisite rooms in B&Bs around the world. These light-filled, inviting and stylish spaces are full of beautifully integrated furnishings and accents, from custom local artworks to precious antiques. Here are 10 inspirational B&B bedrooms that set the bar for interior design.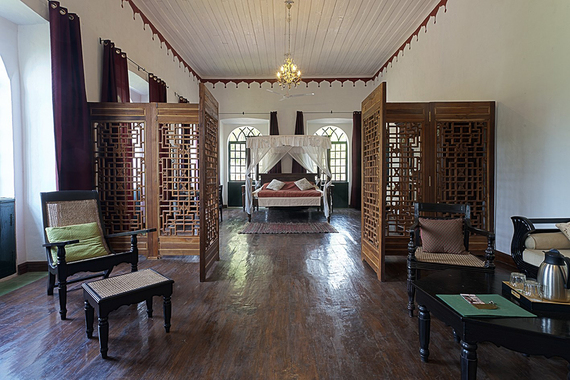 The Macao Room at Siolim House
Goa, India
The Macao Room is "by far the best room at Siolim House," says Varun Sood, owner of this 17th-century heritage manor inn located in Siolim Village, in the Northern Part of Goa on the River Chapora. Sood describes the room as "a magnificently large bedroom with wood floors and a wood false ceiling between the tile roof and the room. ...Hand-painted frescoes on the walls make this room a historical wonder to sleep in. [The room has] antique furniture and collectibles sourced from across Goa and India, to match the style of the time, and an antique four-poster bed. The room itself is situated on the first floor of the main building, [and is accessed] via the old staircase and through an ancient large wooden trap door that would have been a security feature in the original house."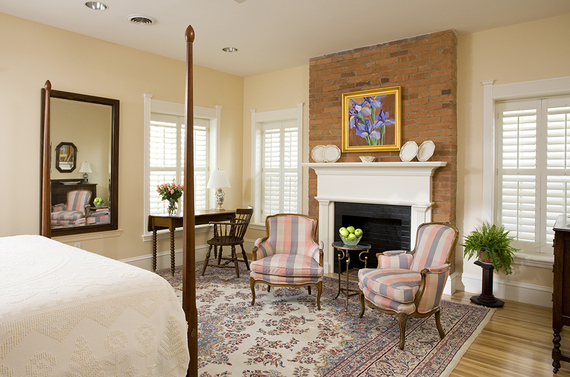 The Pearl Gazvin Room at Embassy Circle Guest House
Washington, D.C.
Laura Saba, owner of Washington, D.C.'s Embassy Circle Guest House, tells us, "The Pearl Gazvin room is named after its beautiful antique Persian carpet. The goals of the room design are comfort, spaciousness and light. The furniture and art are a mix of antique and modern. It is great fun when we are able to repurpose antique furniture--the elegant wall mirror is actually the door to the armoire that is serving as the first-floor bookcase. All four original paintings and collages are composed by guests who have stayed with us."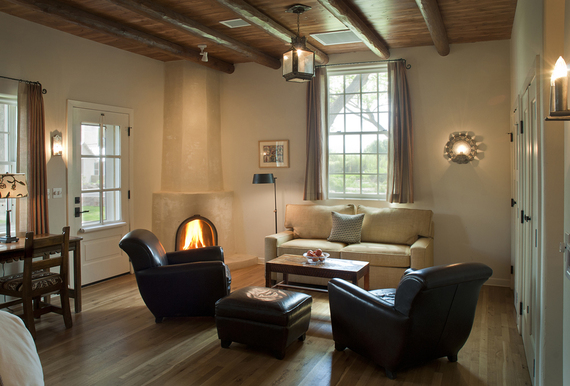 Meem Two at Los Poblanos Historic Inn & Organic Farm
Albuquerque, New Mexico

Built by celebrated New Mexico architect John Gaw Meem, and full of precious artwork made by local craftsmen, Los Poblanos is a manifestation of the region's deep artistic heritage. Nancy Kinyanjui, general manager of the property, told us that Meem Two was reconstructed "with painstaking attention to detail, to be true to John Gaw Meem's architectural and interior designs." The room features re-purposed beams and other elements salvaged from John Gaw Meem properties, as well as Mexican-tiled bathrooms and New Mexico artwork. There is a kiva fireplace and a king-size bed. A private patio offers beautiful views of the Sandia Mountains.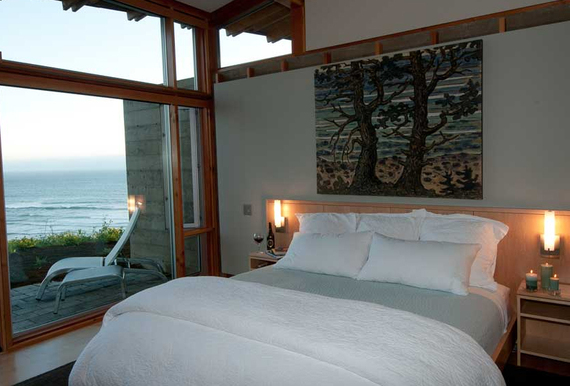 Guest Room Overlooking the Pacific at the Awtrey House
Nehalem, Oregon

The Awtrey House is one of the few places where you can spend the night in a space created by famed architect James Cutler. Dennis Awtrey, who owns the Awtrey House with his wife Peggy, tells us that the sea-facing rooms (there are just two rooms at the intimate inn) allow guests to "gaze at the hypnotic Pacific Ocean from a private terrace, watch the shadows play on the wood beams of soaring ceilings, fall asleep to the peaceful song of the ocean and wake to the morning sunlight filtering through walls of floor-to-ceiling glass." What's more, says Awtrey, "The guest rooms flow outside to a wind protected terrace, allowing for year-round outdoor enjoyment of the ever-changing ocean."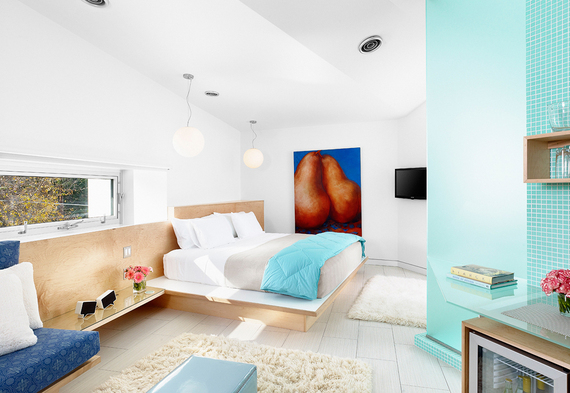 The White Suite at Kimber Modern
Austin, Texas
According to Kimber Modern innkeeper Kimber Cavendish, the White Suite at this Austin, Texas, property is "in a class of its own." With a king-size bed custom-built from maple, a glass desk, floor-to-ceiling windows, a large frosted-glass bathroom that has a six-foot Kaldewei soaking tub and large walk-in shower, and a complimentary fully stocked mini bar, the White Suite is a well-designed wonderland within the Lone Star State's capital city.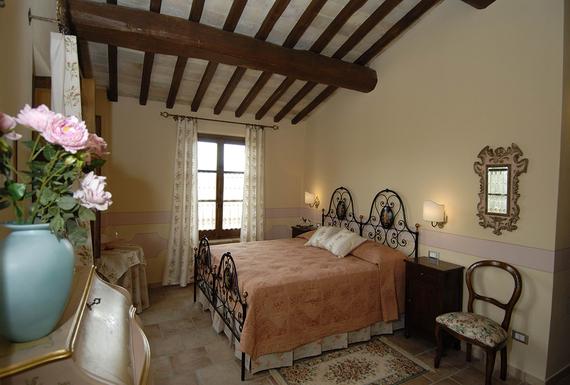 The Deluxe Double Room at Relais Genius Loci County Inn
Bevagna, Italy

Old World romance flourishes within the beautifully designed Deluxe Double Room at Relais Genius Loci County Inn. According to the inn's owner, Mary Thomas, "As an art historian, context and clarity of purpose in decor guided us throughout this project. Each room is distinct, with a focus on an important antique piece. ...Our goal was to ensure that the decor not only 'belonged' stylistically to the 1850s farmhouse and villa that is Relais Genius Loci, but also to the timeless Umbrian views from the rooms' windows. We strived for coherence among these important aspects." The features of the Deluxe Double Room, from the terracotta floors to the exposed hand-hewn beams in the ceiling, join style with history in this classically graceful Italian villa inn.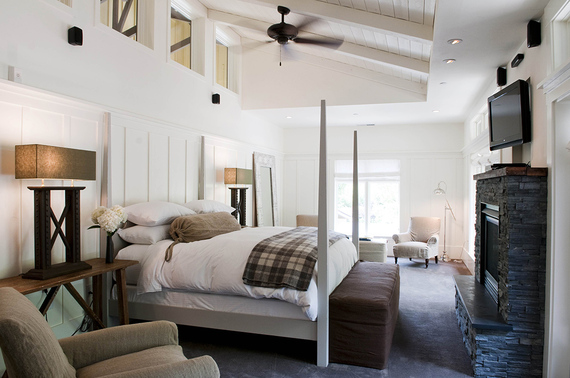 The King Luxury Room at Farmhouse Inn
Forestville, California

The King Luxury Room at Farmhouse Inn, an award-winning California Wine Country B&B, has a spacious private deck with a double-sided fireplace, surrounded by forest; heated marble floors, a steam shower and a large Whirlpool tub in the bathroom; and a poured-concrete fireplace made to look like fieldstone. The enormous 700-square-foot room, decked in clean white decor with country-flavored accents of plaid, stone and gnarled wood, was created by noted interior designer Myra Hoefer.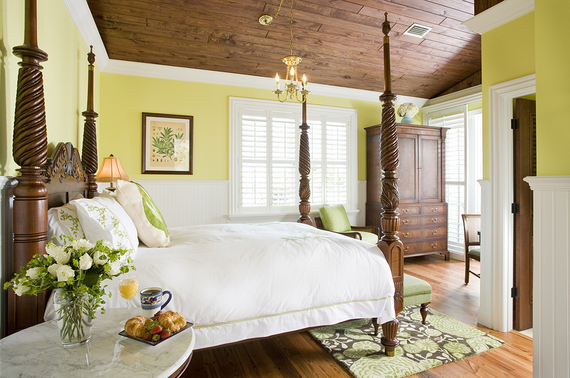 The Sunrise Room at Port D'Hiver
Melbourne Beach, Florida

From a large latticed balcony with French doors and ocean views to a roomy spa tub for two, The Sunrise Room at Port D'Hiver, an oceanfront boutique B&B, has all the luxurious trimmings your beach vacation calls for. The room's bright but clean design mixes upscale elegance with tropical flair. The focal point of the room is a big, beautiful four-poster bed carved from mahogany and dressed in crisp white down.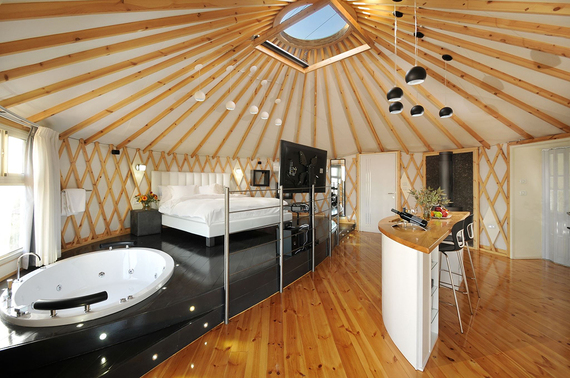 The Presidential Yurt at Gan Hamlachim
Amirim, Israel
Nestled in a village in Upper Galilee, you'll find Gan Hamlachim, a couples-only retreat with two distinctive lodging options: a yurt and a suite. The Presidential Yurt made our list thanks to its stunning design and uniqueness. (It is, after all, a yurt.) According to Yuval Eli, owner of Gan Hamlachim, "We chose to combine the simplicity of a yurt with a minimalist design ... and the best technology to enhance the experience." The fully soundproof space contains a king-size bed, a home theater system with a 3D LED smart TV, a Jacuzzi bath, a fireplace and a kitchen. Catch views of the Sea of Galilee from the private balcony.
The historical Senator's Cottage at Tickle Pink Inn is the last remaining structure from the century-old estate of State Senator Edward Tickle. According to inn owner Al Gurries, "This two-bedroom hideaway includes a wood-burning fireplace, living room, kitchenette and Whirlpool tub. Its large private patio overlooks the ocean." A skylight above the bed drenches the room in light, and wide windows yield views of the surrounding flowers and pines.
This article originally appeared on BedandBreakfast.com. BedandBreakfast.com is the world's most comprehensive site for discovering unique accommodations and booking bed and breakfast getaways. With more than 10,000 properties and nearly 75,000 rooms, BedandBreakfast.com connects travelers with extraordinary B&Bs, country lodges, urban inns and small hotels worldwide.