If you want to get your message out think "podcast." According to survey data published by Edison Research and reported by Pew Research, 21% of Americans age 12 or older say they have listened to a podcast in the past month. That means there are more than 50 million active podcast listeners in the US. That's big growth since 2013, when the share was only 12%. Most are listening on iTunes, followed by popular networks like Stitcher and TuneIn.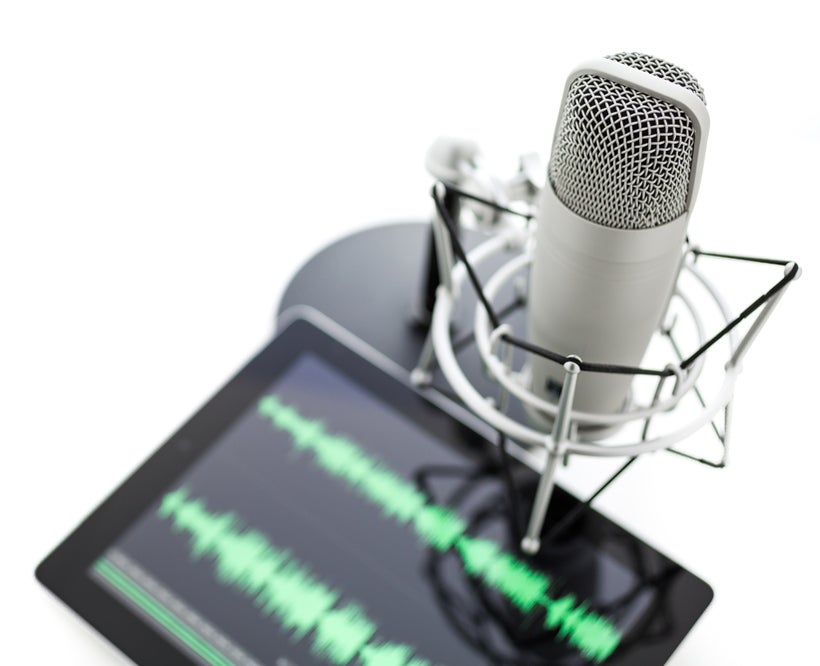 How can a podcast help your company? Your growing company needs to establish a leadership position in your market. This can set your company apart from others in the same field. Think of Tom's Shoes, Warby Parker, Starbucks, or a host of other brands that take a position on current events, charity and giving.
Is taking a position bad? In the old days of business (before the transparency introduced by social media) companies tried to be all things to all people. If you take early radio and TV as examples, they tried to be bland on purpose to appeal to a mass audience. In an interesting paradox, the world is more connected now, and yet markets are simultaneously more fragmented.
Micro-markets are stitched together by common interests.
Starbucks forms alliances around community, education, veterans, and coffee. Co-working spaces like WeWork form alliances around work, urbanism, and community. Slack, the nearly-ubiquitous chat app, forms alliances around connection and innovation. These companies make their opinions known through blogs and other media because they have to. Social media has changed everything - forcing companies to become more transparent about their motives and goals. Customers and potential customers care about what companies stand for, and note differences among them. ExxonMobil stands for one set of values while the Environmental Defense Fund stands for another.
How do you make your position clear? Podcasts are a terrific delivery system for micro-cultures stitched together by common interests. They are also great as delivering opinions and positions, whether you're using the medium for a corporate message or a personal one. If you're considering a podcast, here are some key insights to help plan the journey.
Top Five Most Popular Podcast Subjects
The five subjects of the most popular podcasts are pop culture, storytelling, finance, politics, and science.
Pop Culture
The most popular podcasts on pop culture include The Q+A, a series on the craft of film. It is available on iTunes, Podbay, and TuneIn. The Nerdist is a series featuring interviews with "nerdy" celebrities. This podcast is downloaded 5.8 million times every month. It is distributed by the Nerdist Industries network, and is also found on iTunes, Podbay, and TuneIn. Fresh Air, broadcast over 624 NPR stations and also available in podcast form on iTunes and other networks, attracts five million listeners each week.
Storytelling
In the storytelling genre, Serial tops the list. The gripping true crime story received 50 million downloads in 2016. It is distributed on PodcastOne and also available on iTunes. This American Life, a show about life in America, is heard by 2.2 million people on more than 500 NPR stations, and an additional 1.5 million people download the weekly podcast. It is delivered to stations by PRX - The Public Radio Exchange - and is available on iTunes and Stitcher Radio. CrimeTown, a series about corruption and crime in Providence, RI, finds its audience on Gimlet Media, and is available on iTunes and Stitcher Radio.
Politics and Current Affairs
In this category, The TED Radio Hour is the number one show. According to National Public Media, it has been the most downloaded NPR podcast for 22 straight months, and among the most downloaded English language podcasts. The TED formula is working well in podcasting! It is broadcast by NPR, and is available on iTunes and Stitcher Radio. Majority Report, a series about current events with progressive commentary also tops the listener stats, available on its own channel as well as Stitcher Radio, Podbay and iTunes. Citizen Radio covers news with a comedic twist, and is available on its own network, iTunes , Stitcher Radio, and TuneIn.
Finance
Planet Money, an NPR show about the global economy, is downloaded 1.4 million times each month. NPR carries it, and is also on audioBoom. A relatively new series about innovators, How I Built This, has become quickly popular. It is broadcast by NPR, and is available on iTunes and Stitcher Radio. The Dave Ramsey Show, which covers personal budgeting and financial security, is downloaded by close to 48 million listeners a month. It also functions as its own channel, and is available on iTunes, TuneIn, Stitcher Radio, and LearnOutLoud.
Science
At the top of the popular science list is Stuff You Should Know, a series that explores how things work. It's a spin off of the HowStuffWorks science media empire. It's available on Podbay and iTunes. Hidden Brain, a series about human behavior and the unconscious patterns that shape it, is broadcast by NPR, and is available on iTunes. Astrophysics has its own popular podcast, StarTalk Radio, which is on SoundCloud, iTunes, Podbay, and TuneIn.
Why is This Info Valuable?
If you are considering starting a podcast in any of the categories mentioned, you'd do well to check out how others have succeeded in that genre. For example, if you're interested in a science podcast, have a listen to StarTalk Radio. Examine the structure of the show, the most popular topics as measured by the downloads they've received, and most popular guests. You'll learn a lot about what your podcast should sound like.
Want more info about podcasting? Subscribe to our list, and get notified about new podcasts my agency, Red Cup, produces. (Info at http://podcast.redcupagency.com). We also have a free e-book about podcasting coming out soon, and when you join our list, we'll let you know when it's ready.
Calling all HuffPost superfans!
Sign up for membership to become a founding member and help shape HuffPost's next chapter
This post was published on the now-closed HuffPost Contributor platform. Contributors control their own work and posted freely to our site. If you need to flag this entry as abusive,
send us an email
.